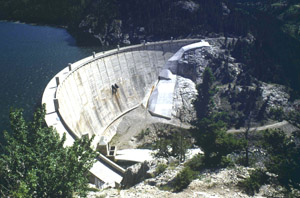 In 1907, engineers with the U.S. Reclamation Service met at Great Falls, Montana, to open bids for a dam on the Sun River. But, alas, there were no bids to open. So remote was Montana's Sun River that no contractor wanted to venture there. Willow Creek Dam, the first dam built on the Sun, thus had to be built by "force account," meaning Reclamation had to use its own personnel and equipment. Twenty years later, when construction began on Gibson Dam, with a contractor hired, the nearest railroad was still a distant 23 miles. Situated in the Lewis and Clark National Forest, just west of Augusta, Montana, (population 284) Gibson Dam today remains off the beaten track, although its place is central in the history of structural dam design.

Constructed between 1926 and 1929, Gibson Dam holds the distinction of being the first American dam not only to be analyzed according to the trial-load method, as were Pathfinder and Buffalo Bill dams, but designed using it. The trial-load method relies on mathematical equations to determine stresses and strains acting on a dam. Gibson Dam, like Pathfinder and Buffalo Bill dams, functioned as an arch and gravity dam combined, meaning the load was distributed between horizontal arches (pushing the load out to canyon walls), and vertical cantilevers (directing the load down to the dam's foundation). The method, historian Norman Smith writes, "put arch dam design on a much sounder footing" and would be used later in dams as large and as famous as Hoover on the Colorado River. 

Gibson Dam, standing 199 feet high with a crest length of 960 feet, is an imposing, concrete half-moon able to store 99,000 acre feet of water in its reservoir. An acre foot is enough water to cover one acre a foot deep, or 325,851 gallons. Because a gallon of water weighs 8.33 pounds, an acre foot of water weighs 1,357 tons. Imagine how rock-solid Gibson Dam needed to be to store not just one acre foot of water, but 99,000 acre feet.

To deal with these weighty issues, engineers with the Bureau of Reclamation started to build scale models of dams. An exact replica of Gibson Dam was one of the first two built (the other was the Stevenson Creek experimental dam in California). The models, Popular Science magazine reported in August 1929, were made of the same material to be used in the dam, even if it meant carting dirt and bits of rock a thousand miles to the lab. Once the model was complete, engineers created a miniature flood by pressing heavy mercury against the upstream face of the model dam, testing to determine how high its wall could go before it gave way. The formula for Gibson Dam demanded that the dam's base be built to a maximum width of 117 feet, tapering to 15 feet wide at the top. 

The Utah Construction Company of Ogden won the contract in September 1926 with a bid of $1.5 million, and excavation began that December. Utah Construction's project superintendent, Albert E. Paddock was among a handful of men killed on the project. With the dam just months from completion, Paddock was struck by a workman who tumbled to his death from a tower above.