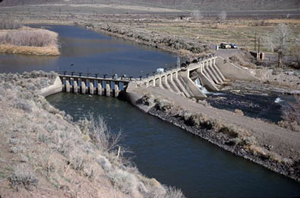 There's nothing imposing about Derby Diversion Dam. It's only 31 feet high, a gated, concrete structure flanked on the left by an earthen embankment. Situated on the Truckee River about 20 miles east of Reno, Nevada, the little dam makes no claims to unique design or construction. But when it comes to the history of water in the West, Derby Dam stands tall as the first project of the brand new U.S. Reclamation Service (today's Bureau of Reclamation), organized under the Reclamation Act of 1902. The act committed the Federal Government to construct permanent works--dams, reservoirs, and canals--to irrigate arid lands in the West. The Reclamation Act was a bold Federal experiment in internal improvements that laid the foundation for a powerful government presence in water matters in the West. 

On March 14, 1903, Secretary of the Interior E. A. Hitchcock authorized five Bureau projects. Among them was what became known as the Newlands Project, named after Nevada Congressman Francis Newlands, who sponsored the Reclamation Act. Not surprisingly, a dam in Newlands, Nevada launched the project. Begun on October 2, 1903, and completed in May 1905, Derby Dam diverted water from the Truckee River basin through a canal to a reservoir on the Carson River, 32 miles to the south. Today, the Newlands Project provides irrigation water for about 73,000 acres of cropland in the Lahontan Valley near Fallon, Nevada, and bench lands farther west, near Fernley. 

The story has not always been a happy one. As early as 1908, just three years after completion of the dam, problems were apparent. Irrigation water from the Truckee did not always drain properly after application, and too little was available late in the season. Over time, farmers created an irrigation district and built an extensive drainage system, but many farmers were unable to meet their obligations. There would be congressional legislation and lawsuits. The dam also has been an issue for the region's fish population and the American Indians who depend on fish for food.