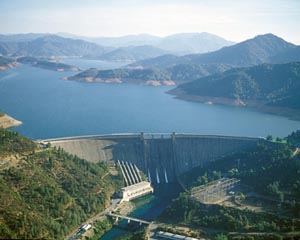 Northern California's Shasta Dam is a keystone of the Bureau of Reclamation's huge Central Valley Project, which involves 35 of California's counties and two major watersheds: those of the Sacramento River on the north and the San Joaquin River on the south. Together, these watersheds extend for nearly 500 miles, feeding the heart of California's long, flat Central Valley, one of the most fertile and productive garden spots in the world. Grown here are more than 250 varieties of crops, including the almonds, artichokes, avocados and wine grapes that make California famous for more than movie stars. 

Shasta Dam, dwarfed only by Hoover and Grand Coulee dams when it was completed on the Sacramento River in 1945, is breathtaking not only for its great size, but for its majestic setting in the southern range of the Cascades. The 602 foot-high, concrete, curved gravity dam holds back an immense blue reservoir, Lake Shasta, which boasts a 365-mile shoreline nestled amid evergreen hills and the snow-covered volcanic peak of Mount Shasta. 

Shasta not only stores water to irrigate valley farms to the south, but it protects them from floods and the intrusion of saline ocean water that flows in from San Francisco Bay. The dam also provides water for towns and industries and furnishes hydroelectric power. Shasta is only one of 20 dams and reservoirs on Reclamation's Central Valley Project, but it has been a key component from the beginning.

The project did not begin with the Federal Government, but with the State of California, which long recognized the benefits to be had by connecting the thirsty Central Valley with the state's water-rich mountains. Stretching 400 miles from north to south, the valley's precipitation fluctuates significantly. While the southern end below Bakersfield receives an average of only five inches of rain a year, the northern area around Redding gets more than 30. Then again, because most of the rain and snow falls from December through April, the Central Valley is subject to flooding in the spring or prolonged droughts. One drought was so severe in 1863-64 that it devastated California's cattle industry, which was once prominent in the region's history.