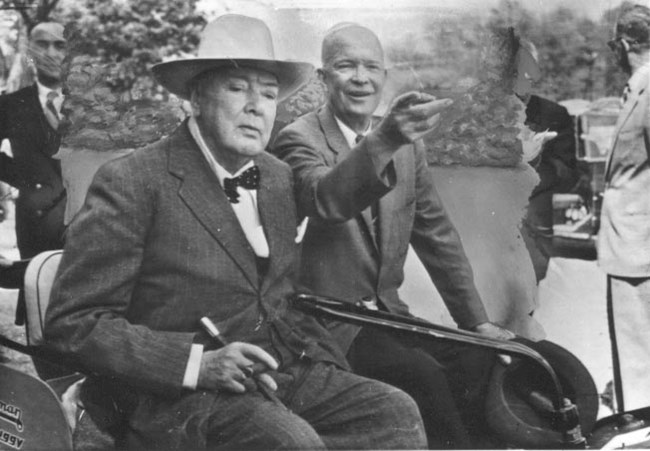 Plan Like a Five-Star General!
Looking to visit Eisenhower National Historic Site? Great! Our staff came up with these ten suggestions on the best ways to enjoy your visit at Eisenhower NHS!

1. Know Where To Go
Want to visit Eisenhower National Historic Site and don't know how? It's easy! Visitors may now drive directly to Eisenhower National Historic Site! Use the GPS address 250 Eisenhower Farm Rd or follow the directions on our maps page here. Once on-site, follow signs for visitor parking and you will soon be on the grounds of Ike and Mamie's beloved farm.
In addition to the Eisenhower farm, visitors can go to the Gettysburg National Military Park Museum and Visitor Center. There, you can find Eisenhower items in the museum bookstore and see a special museum exhibit about the Eisenhowers in Gettysburg, including original items from the Eisenhowers themselves.
2. Download the NPS App
Easily downloadable from the Apple or Google store, the NPS App is a fantastic resource for exploring your parks. Once on the App, search for Eisenhower National Historic Site. From there you can enjoy our self-guided audio tours, peruse our calendar of events, and learn more about what things to see and do.
3. Tour the Eisenhower Home
Want to see the only home that Dwight and Mamie Eisenhower ever owned? Well, you're in luck!

Tours of the Eisenhower home are offered several days of the week during our spring, summer, and fall seasons. A full schedule of dates and times can be found here.

House tours are free and available on a first-come, first-served basis. Tours are limited to 40 visitors. Check in with the park ranger or volunteer at our visitor contact station near the Eisenhower home. For those with groups of ten or more, contact us here about house tour availability, as spots can be limited.

Can't make it here for a tour? Explore the Eisenhower home or Show Barn anytime via our 3D virtual tours.
4. What hours is the site open?
While the Eisenhower home is only open for tours on select dates (see above), the grounds of Eisenhower National Historic Site are open seven days a week, from sunrise to sunset.
5. What else is there to do at Eisenhower National Historic Site?
No visit to Eisenhower National Historic Site is complete without seeing the grounds of the Eisenhower's beloved Gettysburg farm. Below are some notable features which visitors can explore. These places are open seasonally depending on staffing.
Built in 1887, the Eisenhower bank barn gives visitors a chance to explore Ike's agricultural interests.
Visitors can step inside an old cinderblock milk house which Secret Service agents used as an office space during Eisenhower's presidential and retirement years.
On days when staffing allows, the doors for the Eisenhower garage will be opened to give visitors a closer look at the original vehicles Ike and Mamie used in Gettysburg. Included in the collection is a 1955 Crown Imperial limousine used by the President and First Lady.
Walk to the neighboring property of W. Alton Jones, which General Eisenhower used for his prized black angus show herd. These farm fields and buildings are part of Eisenhower National Historic Site, and just a short walk from the Eisenhower home.
Take in the beautiful views of south-central Pennsylvania which the Eisenhowers loved so dearly.
Visitors ages 5-12 can participate in our Junior Ranger program.
Those visiting with their four-legged friends can discover our B.A.R.K. Ranger program.
6. What other ranger programs do you offer?
In addition to tours of the Eisenhower home, we offer a variety of free ranger guided programs that are available seasonally. Click here for our full schedule!
7. Where can I get my NPS passport stamped?
Eisenhower NHS passport stamps are available at our visitor contact station on-site (open on days we are offering house tours) or at the ranger information desk in the Gettysburg National Military Park Museum and Visitor Center.
8. Be Safe!
When visiting Eisenhower NHS, we want all visitors to be safe! Be sure to check the weather conditions before visiting and be advised that most of the site is outdoors. Bring sunscreen, water, and be sure to check for ticks after walking the grounds of the farm.
Each of us plays an important role in preserving America's National Parks for the next generation. Make sure to leave Eisenhower National Historic Site just the way Ike and Mamie left it so that others can enjoy the same breath-taking views of their Gettysburg farm in the future.
10. Come and see us again!
Enjoyed your time here? We hoped you would! Be sure to come and visit us again. Eisenhower National Historic Site hosts lots of great events year-round. All events can be found on our annual event calendar here.

Our biggest annual event is our WWII Weekend, held the third weekend of each September. You can learn more about it here.