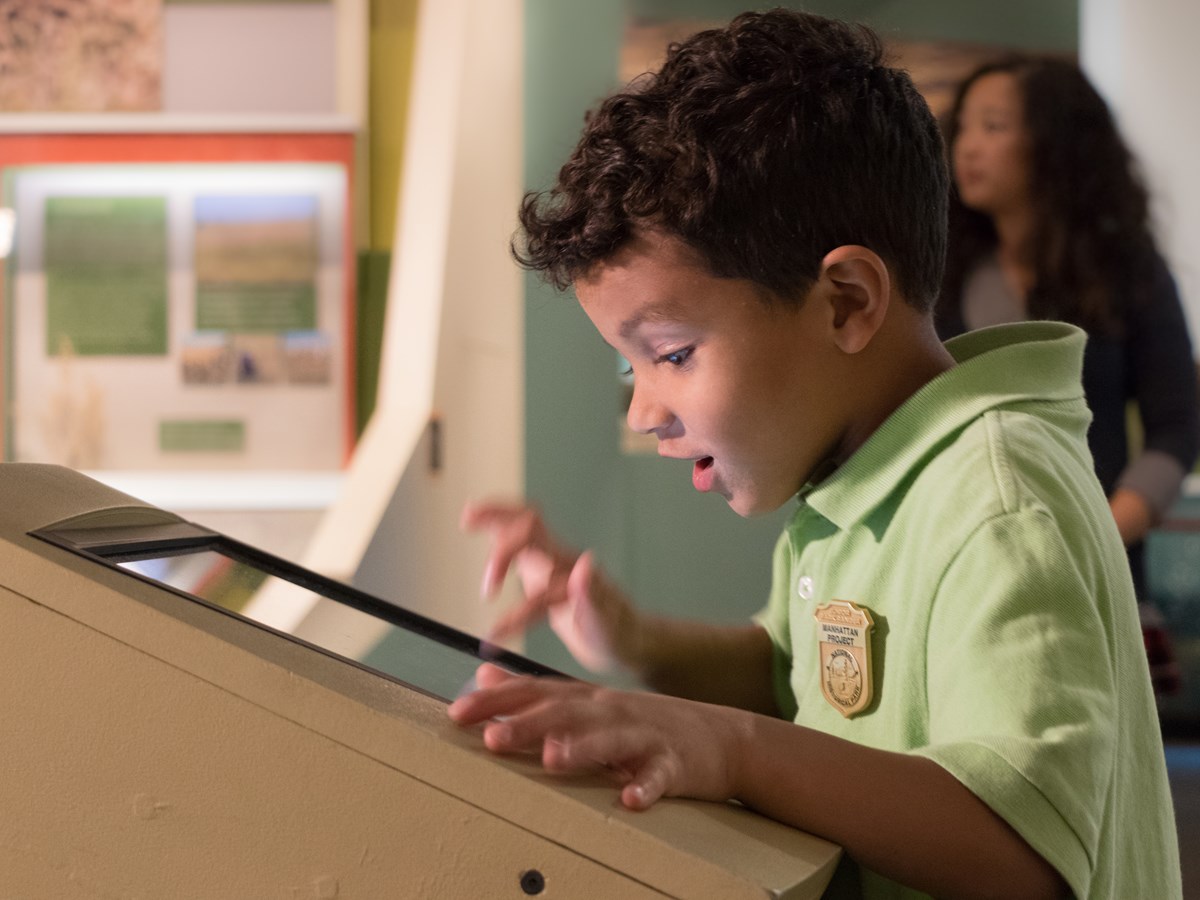 Planning a visit to Manhattan Project National Historical Park this summer? Use these tips to make the most of your trip!
1. Pick a Site, Any Site
Manhattan Project NHP operates at three sites: Hanford, WA; Los Alamos, NM; and Oak Ridge, TN. Before you plan your visit, make sure you know which site you're looking for!
2. Download the NPS App
Download the official NPS App before your visit this summer and find information about places to visit, things to do, and where to find passport stamps!
3. Ranger Programs at Hanford
Get ready for Junior Ranger Park Popups this summer! Kids will be able to complete fun activities and learn more about the Manhattan Project at our Junior Ranger Park Popups. Find more information on the park's calendar.
4. Stop by the Los Alamos Visitor Center
The Los Alamos Visitor Center reopens Friday, May 28 with modified operations. You can chat with a ranger or volunteers outside and learn more about the history of the area and the Manhattan Project. The Los Alamos History Museum also offers great opportunities for learning about the community and its past.
5. Ranger Programs at Oak Ridge
Enjoy Paddle With A Ranger and Throwback Dances on the historic Oak Ridge public tennis courts and more with park rangers this summer. Visit our calendar of events.for more information.
6. Hanford for Kids
Download Hanford's new Junior Ranger book and learn about the science, engineering, and people of the Manhattan Project!
7. Los Alamos for Kids
Go on a self-guided Junior Ranger tour of Los Alamos using the NPS app to learn more about the different people who have lived on the mesa. To learn more about nature in the area, visit the Los Alamos Nature Center.
8. Oak Ridge for Kids
The Children's Museum of Oak Ridge is a great place for kids of all ages to visit this summer. And the Manhattan Project Oak Ridge Visitor Center is there too! Don't forget to pick up a Junior Ranger book during your visit!
9. Watch the Park Film
Want to learn more about the Manhattan Project? Check out our park film, Hanford Made, and other videos on Manhattan Project NHP's YouTube channel.
10. Ask a Ranger
Do you have a question about Manhattan Project NHP? Stop by a visitor center to ask a ranger your question.? Not near a visitor center? Follow us on social media and post or send us your question there!