Los Alamos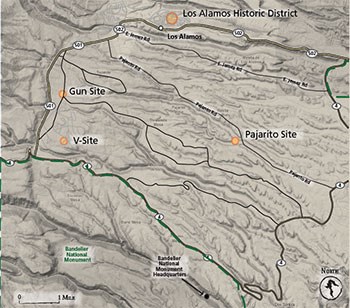 Located on a remote mesa in New Mexico, at Los Alamos over 6.000 scientists and support personnel worked to design and build the atomic bombs.
The park currently includes three areas at Los Alamos (locations shown in the map):
Gun Site Facilities: three bunkered buildings (TA-8-1, TA-8-2, and TA-8-3), and a portable guard shack (TA-8-172). These buildings were associated with the design of the "Little Boy" bomb.

V-Site Facilities: TA-16-516 and TA-16-517 V-Site Assembly Building - used by laboratory personnel to assemble components of the Trinity device

in July 1945

Pajarito Site: TA-18-1 Slotin Building, TA-8-2 Battleship Control Building, and the TA-18-29 Pond Cabin. Pajarito Site was used during the war for plutonium chemistry research and later became the main site for critical assembly work at Los Alamos after the war.
Visiting Los Alamos
While there is currently no public access to the Department of Energy (DOE) facilities listed above, walking tours are available in the town of Los Alamos. Stop by the Los Alamos Unit Visitor Center to chat with park rangers about current park events.
While you're in the area, you may want to visit other historic sites in the town of Los Alamos or the Bradbury Science Museum which houses more Manhattan Project information and exhibits.

Visit Los Alamos provides information on lodging, activities, and restaurants in Los Alamos, NM.


Directions & Transportation
From Albuquerque take I-25 north to Santa Fe (take NM 599 for most direct route), then US 84/285 north to Pojoaque. At Pojoaque take the NM 502 exit to Los Alamos.
Driving time and distance from:
Bandelier: 20 min. (12 mi.)

Santa Fe: 45 min. (35 mi.)

Albuquerque: 1 hr 50 min. (93 mi.)

Taos: 1 hr 20 min. (65 mi.)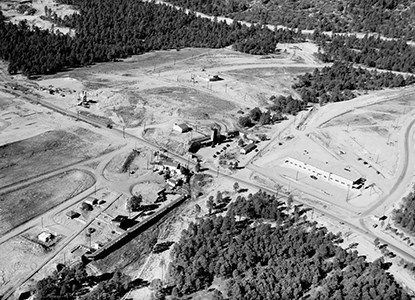 Last updated: February 17, 2021