Article
Top 10 Tips for Visiting Lincoln Boyhood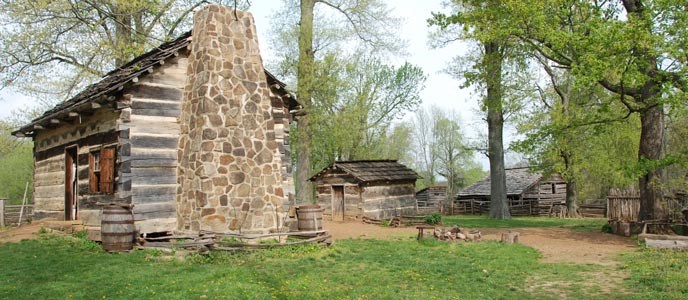 Plan Like a Park Ranger
Planning a trip to Lincoln Boyhood National Memorial? Here are some tips that will help you have a fun and memorable visit to the site where Abraham Lincoln lived during his formative years.
The 
Memorial Visitor Center 
is open from 9:00 am to 12:00 pm and 1:00 pm to 4:00 pm daily. The building is closed from 12:00 to 1:00.  Keep in mind that the park is in the Central Time Zone.
With some
restrictions
, you may bring your pet with you to Lincoln Boyhood National Memorial. At all times, pets must be restrained on a leash no longer than six feet in length. 
Are you interested in the Bark Ranger Program?  Stop by the Information Desk to receive your Bark Ranger Activity Checklist and receive your B.A.R.K. Ranger Dog Tag.
Except for service animals, pets are not allowed in the Memorial Visitor Center.
The Junior Ranger program allows park visitors to learn more about Abraham Lincoln and earn a Junior Ranger badge. Pick up your Junior Ranger book and badge at the Memorial Visitor Center. Learn more about the
Junior Ranger program
.
You may watch the
park interpretive film
at your convenience. It's available on the park website and the new NPS app!
Bring a bag and carry your trash out with you.
Stay hydrated, bring plenty of water, wear a hat, and stay cool!  If you need a place to cool off, the Memorial Visitor Center is air conditioned!
Bring your walking shoes and enjoy over two miles of
park trails
that take you through the property once owned by Thomas Lincoln. Walk the same ground as Abraham Lincoln did when he was a boy growing to a man.
Visit the gardens and crop fields as they are planted, tended and harvested throughout the summer! Park grounds including the farm yard are open sunrise to sunset. Cabin viewing, through a plexiglass panel over the doorways, is available from 8:00 am to 3:00 pm daily. Learn more about the
Lincoln Living Historical Farm
.
Download the free
Official NPS app
to access self-guided tours, find things to do, and more! Quality of cell phone service depends on your provider, so consider downloading content before your visit so that you can access it offline.
For more trip ideas from parks across the country, visit
go.nps.gov/summer
.
Last updated: June 2, 2021