Gulf Islands National Seashore is a popular national park, with more than 5 million visitors each year. It boasts some iconic locations of historical and natural value, such as Fort Pickens, Fort Massachusetts, and the Florida National Scenic Trail. However, it also holds spots that go unnoticed or unattended by the average visitor.
Leave behind the crowds and explore some of the hidden gems of Gulf Islands National Seashore.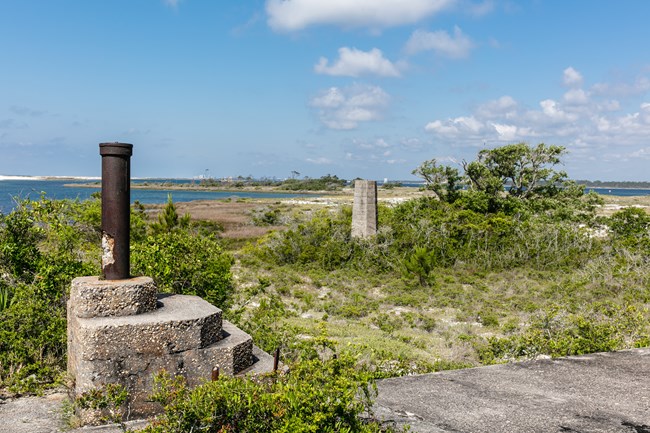 1. Perdido Key Historic District
At the end of
Perdido Key
where Fort McRee once stood, you'll find an uninhabited area where visitors can wander through grasses and brush to find historic Batteries 233, Slemmer, and Center. Remote for a reason, the tip of this island is only accessible by boat, or by walking roughly five miles along the beach past the end of Johnson Beach Road. Look down to the clear shoreline and across the Pensacola Pass to see Fort Pickens towering in the distance. This is one of the few places in the park where
backcountry camping
is allowed, but potential campers should be aware - there are NO facilities, and walk-in or drop-off camping is not allowed.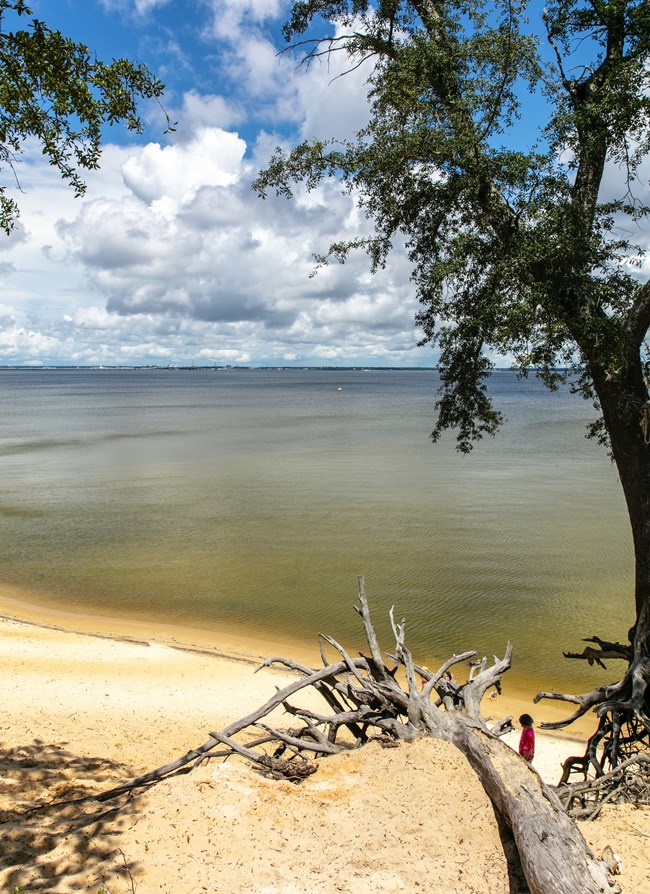 2. Pensacola Bay Bluffs
Located on the north side of the
Naval Live Oaks Area
, this picturesque location provides a stunning view over Butcherpen Cove and Pensacola Bay. Follow the North Bay trail to the group camping area, where you'll make a left onto the
Andrew Jackson Trail
and continue walking for a few minutes until the bluff appears on your right. On a clear, sunny day, you may be able to see fish or stingrays swimming in the water below. Be careful of the steep, dirt cliff, wear proper footwear, and descend slowly if you choose to dip your toes in the water.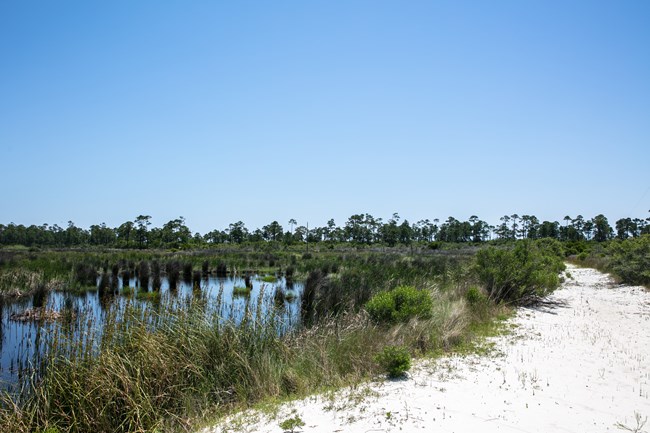 3. Horn Island
This
remote barrier island
found off the coast of Mississippi is only accessible by boat. As designated wilderness, you'll find no facilities here. Potential backcountry campers should be prepared with all necessary supplies. There is a sand path from one side of the island to another, which provides access to solitude and a private beach on the Gulf of Mexico. Spend the day roaming the island and settle in for the night to see a sky full of stars.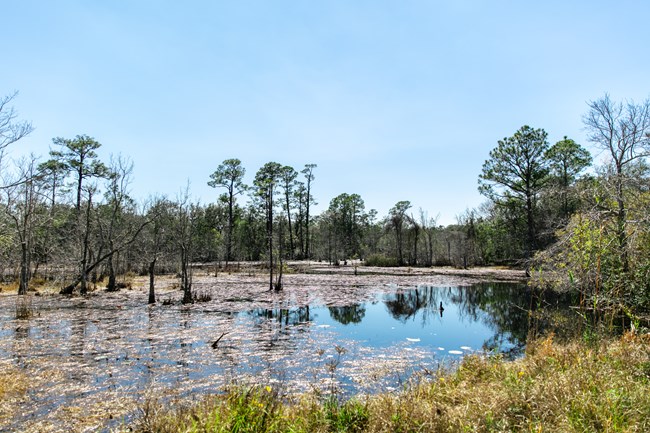 4. Brown's Pond
Found on the north side of Highway 98 near the Naval Live Oaks Area, Brown's Pond serves as a great spot to view wildlife such as fish, turtles, lizards, and birds. Visitors wishing to hike can begin the
Brown's Pond Trail
, which intersects with several others.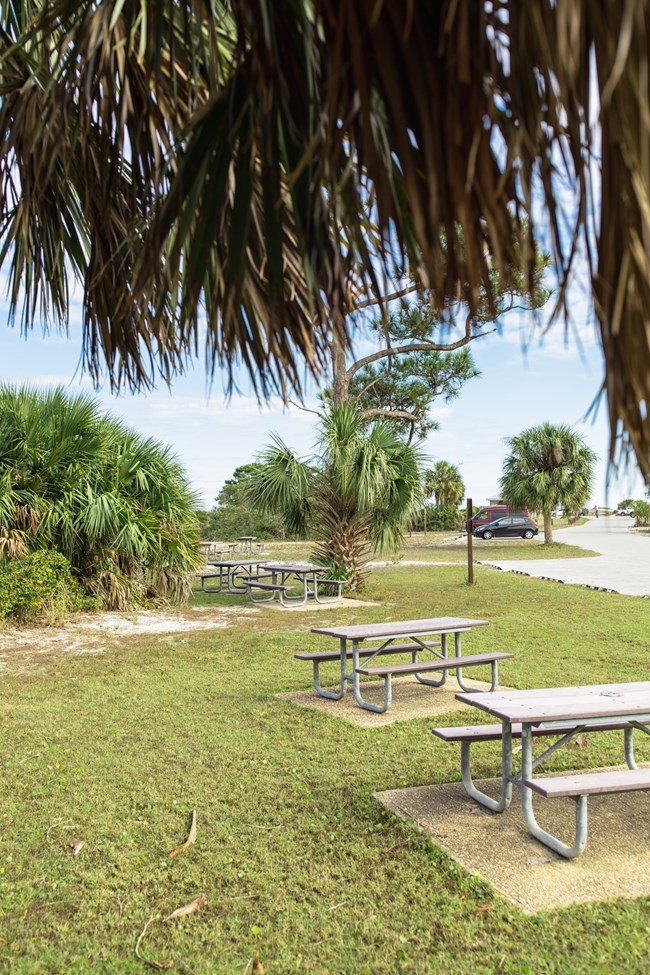 5. Okaloosa Area
The Okaloosa Area of Gulf Islands National Seashore is located nestled between the city of Fort Walton and Destin. It is the perfect location for families looking for a private picnic area overlooking the water. Pull into this unassuming spot and you'll find a boat ramp, restrooms, an outdoor shower, beach access, and ample parking.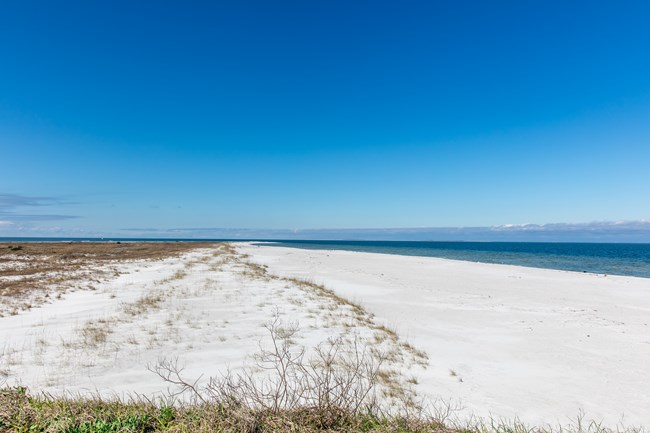 6. Ship Island
Though you may find dozens of visitors on the
swim beach
or roaming Fort Massachusetts, it only takes a few minutes of walking to turn this island into a quiet paradise. Visit on a weekday, or on the edges of peak season, and you'll find far fewer visitors. If you want to explore Fort Massachusetts by yourself, skip the guided tour and download the NPS mobile app for a self-guided version. Our ranger will still be nearby to answer any questions you may have. Check out ferry tickets
here
.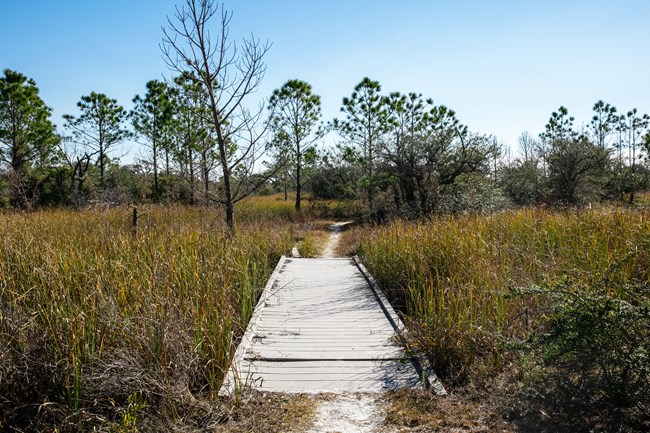 7. Blackbird Marsh Trail
The
Blackbird Marsh Trail
is a half-mile loop trail located in the Fort Pickens Area. Visitors can access it via Campground Loop A, or from the Florida Trail. Enjoy a slow-paced, quiet walk to learn about the surrounding plants and environment.