Article
Plan Like A Park Ranger - Top 10 Tips for Visiting Puʻuhonua o Hōnaunau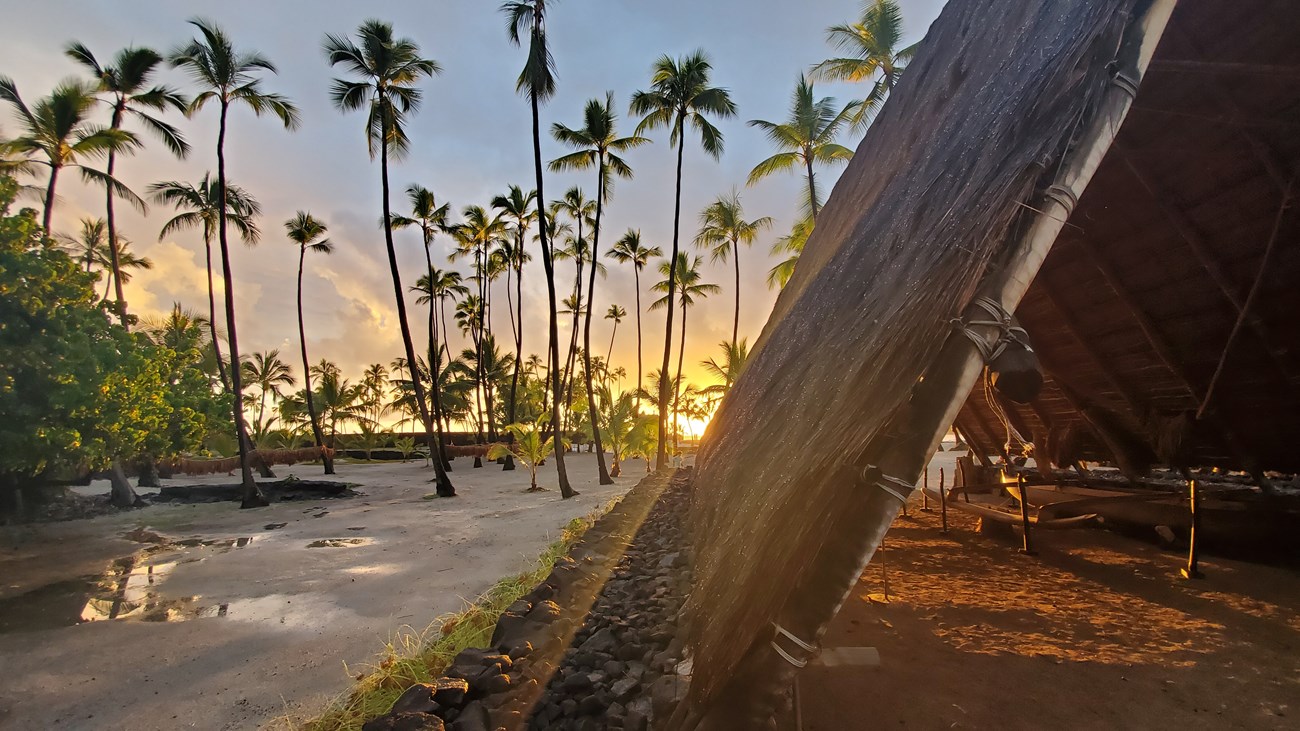 Plan like a park ranger and use these insider tips to have a great visit to Puʻuhonua o Hōnaunau National Historical Park. We're expecting an especially busy summer season and want everyone to have a great experience. A little advance trip planning can ensure that your only surprises are happy ones. Check out our top 10 list to get the most out of your visit.
Top 10 Tips for Your Next Visit
Puʻuhonua o Hōnaunau is wahi pana (sacred place) for the Native Hawaiian people. Think about a place that is sacred for you (a church, monument, temple, etc.). How would you want others to interact with your sacred place? Try to engage with Puʻuhonua o Hōnaunau in a similar way.

Need some tips? Here are some practical ways to be respectful during your next visit:
Stay quiet and observe cultural ceremonies from a distance.
Cultural demonstrators often wear traditional clothing that might be more revealing than you may be used to. Make sure to engage with demonstrators in a respectful manner.
Please refrain from making rock stacks (cairns). There are many unmarked archeological sites within the park and moving rocks can disrupt these fragile sites.
Refrain from sunbathing or setting up beach chairs in the Royal Grounds and Puʻuhonua. The picnic area or is a better place for this.
Stay on marked trails to avoid disrupting archeological sites.
Don't sit, stand, walk on, or lean on rock walls. Most rock walls in the park are constructed using uhau humu pohaku (Hawaiian dry-stacked masonry) and do not have mortar or cement between rocks. Some of these walls, like the Great Wall, are hundreds of years old. 
Learn about Hawaiian history and the living native Hawaiian culture! Check the self-guided audio tour on the official NPS app, attend a ranger talk, or talk story with a cultural demonstrator to fully engage with the park.
No food is available in the park, so make sure nobody gets "hangry" and come prepared. Bring a picnic and sit in the shade of coconut trees as you look out over the water in the picnic area or grab a bite to eat on your way down to the park.
Many Hawaiʻi Island guidebooks list Puʻuhonua o Hōnaunau as the popular snorkeling spot known as "Two Step", but it is actually located just outside of the park at the Hōnaunau Bay Boat Launch.

If you do plan on adding a snorkeling adventure to you visit to the park please follow these tips to ensure that you are recreating responsibly:
Have a Plan B. This area is very popular, parking and space on the lava rock shoreline is limited, and it can often be overcrowded. There are many fantastic places to snorkel on the Big Island, make sure to come with alternative snorkeling spot in mind if it is too busy.
The area is primarily a boat launch, so snorkelers need to be mindful of boat traffic in the water and on land. Avoid standing, swimming, or snorkeling in the area directly in front of the boat launch and the channel leading towards deeper water. 
Be respectful of the local community. Practice Leave No Trace principles and visit with aloha.
Respect coral & wildlife. Keep your distance from honu, dolphins, and other species. Don't touch or step on corals. Always wear reef friendly sunscreen.
Make sure to bring your own snorkel gear along as there are no places to rent gear nearby.
Bring a water bottle & sun protection!

It can be very hot, sunny, and humid, especially during the summer months. Protect yourself from heat related illness by staying hydrated. A water fountain and water bottle filling station are available at the visitor center.

Throughout the park, there are few areas with shade. Protect yourself from the sun by wearing sunscreen or sun protective clothing, a hat, and sunglasses. Help protect Hawaiʻi's coral reefs by always using reef-friendly sunscreens.
Walking along the rocky coastline on the 1871 trail or accessing the lava rock tidepools can be physically challenging. The lava rocks are uneven, loose, sharp, and are sometimes wet and slippery. If you plan on exploring beyond the Royal Grounds and Puʻuhonua, trade your "slippers" (flip flops) for sturdy shoes.
Download the free Official NPS app to access self-guided tours, find things to do, and more! Quality of cell phone service depends on your provider, so consider downloading content before your visit so that you can access it offline.

Available on the app for Puʻuhonua o Hōnaunau NHP is a self-guided audio tour of the Royal Grounds & Puʻuhonua, a "Meet the Kiʻi" tour of temple images, and a lot of ideas for things to do at the park.
Puʻuhonua o Hōnaunau is a small park that can be very busy, especially during peak hours (10am – 2 pm & sunset). Please visit with aloha and practice patience and kindness with park staff and your fellow visitors. Like many places you'll go this year, we may be short-staffed. But if you can give us a little more time, we're here to help.
Think about the family or group of friends visiting the park after you. They also deserve to have a great time, so be sure to practice Leave No Trace principles. The park is home to a variety of animals, please remember to never feed animals as it damages their health, alters natural behaviors, habituates them to humans, and exposes them to dangers.
South Kona sunsets are stunningly spectacular and something you won't want to miss! Bring your whole ʻohana and grill out in the picnic area as you watch for a green flash as the sun slips below the horizon. Be ready to hit the road after your sunset show as the park closes 15 minutes after sunset.
Last updated: June 1, 2021