Cultural Demonstrations
For the benefit and inspiration of all people, Puʻuhonua o Hōnaunau National Historical Park protects the wahi pana (sacred place) and interconnected cultural and natural resources of the Hōnaunau, Kēōkea, and Kiʻilae ahupuaʻa, so traditional Hawaiian values and practices will thrive now and into the future.

Park Purpose - Puʻuhonua o Hōnuanau National Historical Park Foundation Document
BECOME INSPIRED as NPS staff and cultural practioners demonstrate traditional Hawaiian craft techniques such as weaving baskets from lau niu (coconut fronds), bracelets from lauhala (dry leaves from the pandanus tree) or play Hawaiian games. Almost every day in the park you can experience a taste of life in ancient Hawaiʻi.

You can join in too! Pick up the rules to kōnane (Hawaiian checkers/chess) at the Visitor Center and head out to the papamū (kōnane game board) to challenge your friends or family to a game of wits and strategy.
Witness the Fascinating Work of Cultural Practitioner, Kahakaʻio Ravenscraft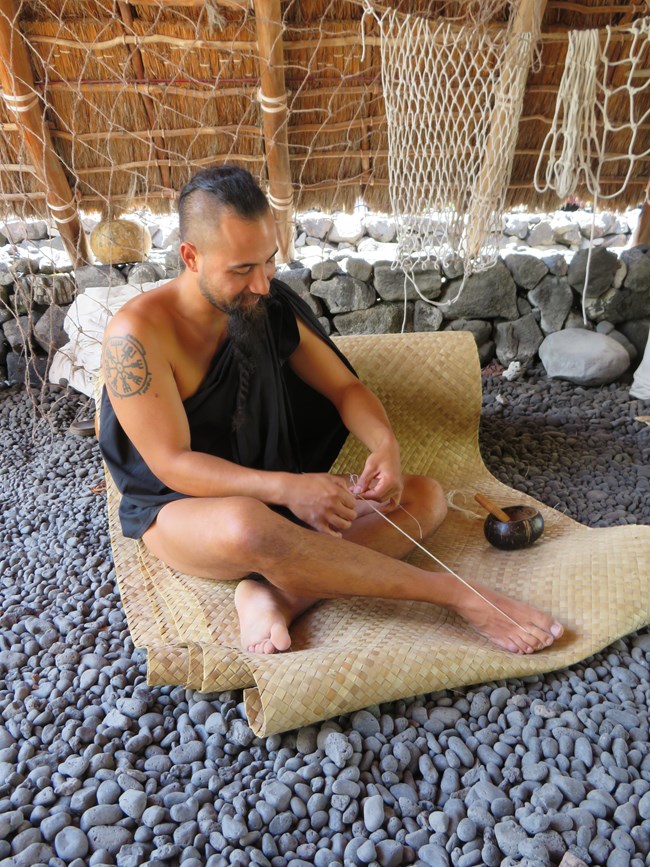 Step back in time and witness the hana nō'eau (traditional skills) of nā kanaka maoli (native Hawaiians) or listen to the fascinating tales of the wā kahiko (times past).

If you are visiting the park on Thursday-Monday, you may have an opportunity to experience culture in action by Kahaka'io Ravenscraft, National Park Service Park Guide and Cultural Practitioner. Kahakaʻio is a descendant of the area and is an incredibly skilled traditional craftsman and implement maker. He is also very knowledgable and an excellent storyteller.

Look for Kahakaʻio in the small hālau (thatched structure) where he is perpetuating the ancient traditions and recalling the stored history of our wahi pana (legendary places).

If you miss him when you visit the park, check out Puʻuhonua o Hōnaunau NHP's Facebook page to hear Kahakaʻio tell the stories of ancient Hawaiʻi.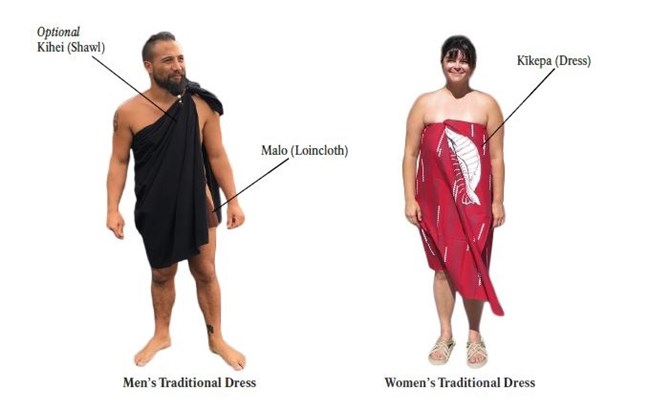 Traditional Clothing
Cultural demonstrations in traditional clothing are conducted to provide an authentic historical experience to visitors. Please show respectful and appropriate behavior towards the demonstrator(s). Have a question? Demonstrators are an excellent source of knowledge and would be happy to answer any questions.
Traditional Clothing Items
Traditional Hawaiian clothing was minimalist due to the climate. Men wore malo (loincloth) and women wore paʻu (skirts). Both men and women could wear a kihei, or a rectangular shawl, for added warmth or comfort. Today the women's traditional paʻu has evolved into a kīkepa (dress) for additional coverage.


Last updated: June 20, 2021