This article is part of a series about National Park Service (NPS) Careers. Visit our Work With Us page to learn more about the different types of work NPS employees do.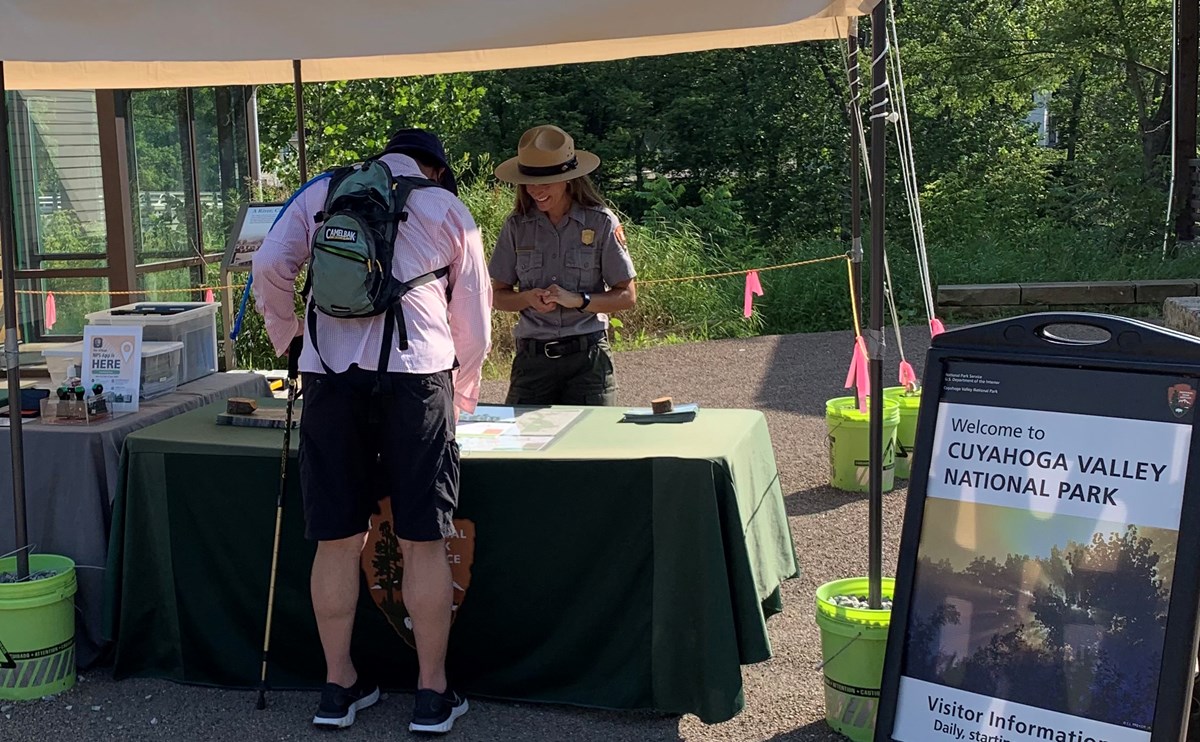 At Cuyahoga Valley, we call this the division of Interpretation, Education, and Visitor Services. Some parks include Volunteers in the title of this workgroup. Other parks, where visitors pay an entrance fee, may include their fee collection staff in this group. The common thread through most of these careers is working with the public - talking to people, answering questions, sharing information, and giving directions.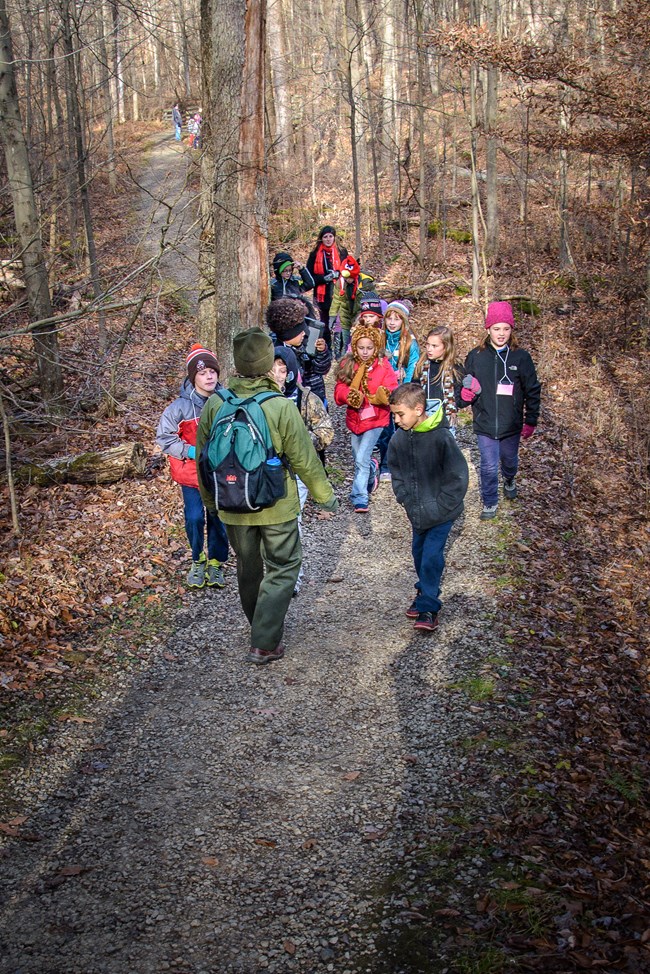 What is "Interpretation"?
Interpretation can be a confusing term because it has multiple meanings. No, we don't all speak another language!

In this context, interpretation refers to the work of rangers and other staff who interpret the park to visitors. Interpreters, as they're known, aim to help visitors make their own connections to the park and its stories. They want the people who visit to see themselves in park stories and make intellectual and emotional connections to park resources.

To help people make these connections, interpreters try to learn a lot about the park where they work. Ideally they should have a good understanding of the things people ask about: the history of the park, the plants and animals that call it home, and lots of other related topics. Interpreters need to do their homework!
Rangers Who Lead Hikes
There is much more to it than that, but it's true – many interpreters hike as part of their job. Sometimes these rangers lead school groups on field trips or lead hikes for the visiting public. In some parks they may lead kayak programs or tours of historic buildings or forts. Other times they "rove" trails, answering questions and providing assistance as needed to the visitors they meet. Either way, interpreters tend to get plenty of steps during a typical workday. If you like the idea of a job where you get paid to hike, bike, or paddle, this might be the career for you.

There are sedentary parts of interpretation too. Working at visitor center desks, answering phone calls and emails, and working on the park website are examples of indoor tasks performed by interpreters.
What Kinds of Careers Are There?
There are several different careers that fall into this category. Some of the common positions include:
Park Rangers – create and lead interpretive programs; work in and manage visitor centers; write interpretive signs, brochures, and digital stories; supervise volunteers
Park Guides – lead interpretive programs, work in visitor centers, post to social media
Education Technicians – lead educational programs, develop curriculum
Visitor Use Assistants – collect entrance fees, monitor parking lots and entrance gates
Visual Information Specialists – create park maps and brochures, update park websites
Volunteer Coordinators – recruit and train volunteers, manage volunteer activities

Supervisory Park Rangers – supervise and lead other interpreters, create weekly and annual work schedules, coach other interpreters on their programs, manage special projects
What Skills Are Needed?
Interpreters come from many different backgrounds and have different educational journeys. Some study history or archeology. Others have a background in sciences such as biology or geology. Some studied to be teachers. Each one enjoys being outside and talking to people about parks.

The best way to get started in an interpretive career is to get experience working in a related setting. Some jobs require experience handling money and making change. Others require a person who has experience developing programs and is comfortable with public speaking.

A lot of interpreters start their career by doing an internship or signing up for a volunteer position. This is a great way to gain experience working in a park. Learn more about internships and the federal application process on our How to Apply page.