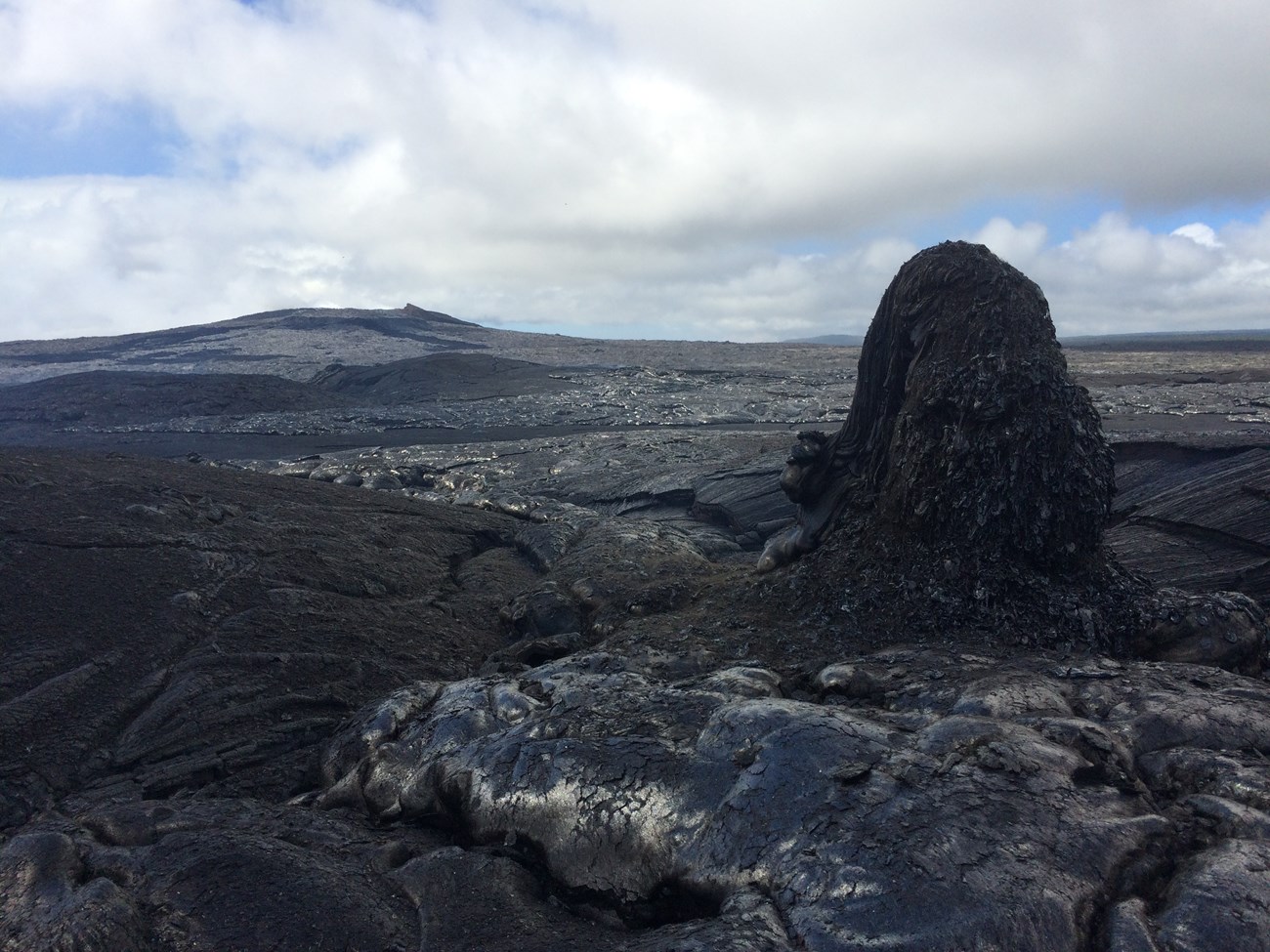 Introduction
Basaltic lava flows have two major types of morphological forms, 'a'ā and pāhoehoe. Pāhoehoe lava flows typically have smooth ropy surfaces, while 'a'ā flows are made of very rough and spiny blocks of lava called clinker. Beyond these forms, a number of other smaller structures may be found on the surface of lava flows, although most of these features are generally more common on pāhoehoe flows. Together, these surface features reveal important information of the specific dynamics that occurred during the eruption and emplacement of these flows.
Surface Features
Vesicles
Vesicles form from volcanic gases (mostly water, H2O; carbon dioxide, CO2, and sulfur dioxide SO2) escaping and expanding from molten lava. The upper portion of lava flows are typically vesicular, and are a result of gas bubbles growing within the flow and then rising towards the surface. Sometimes vesicles are elongated and shaped like pipes.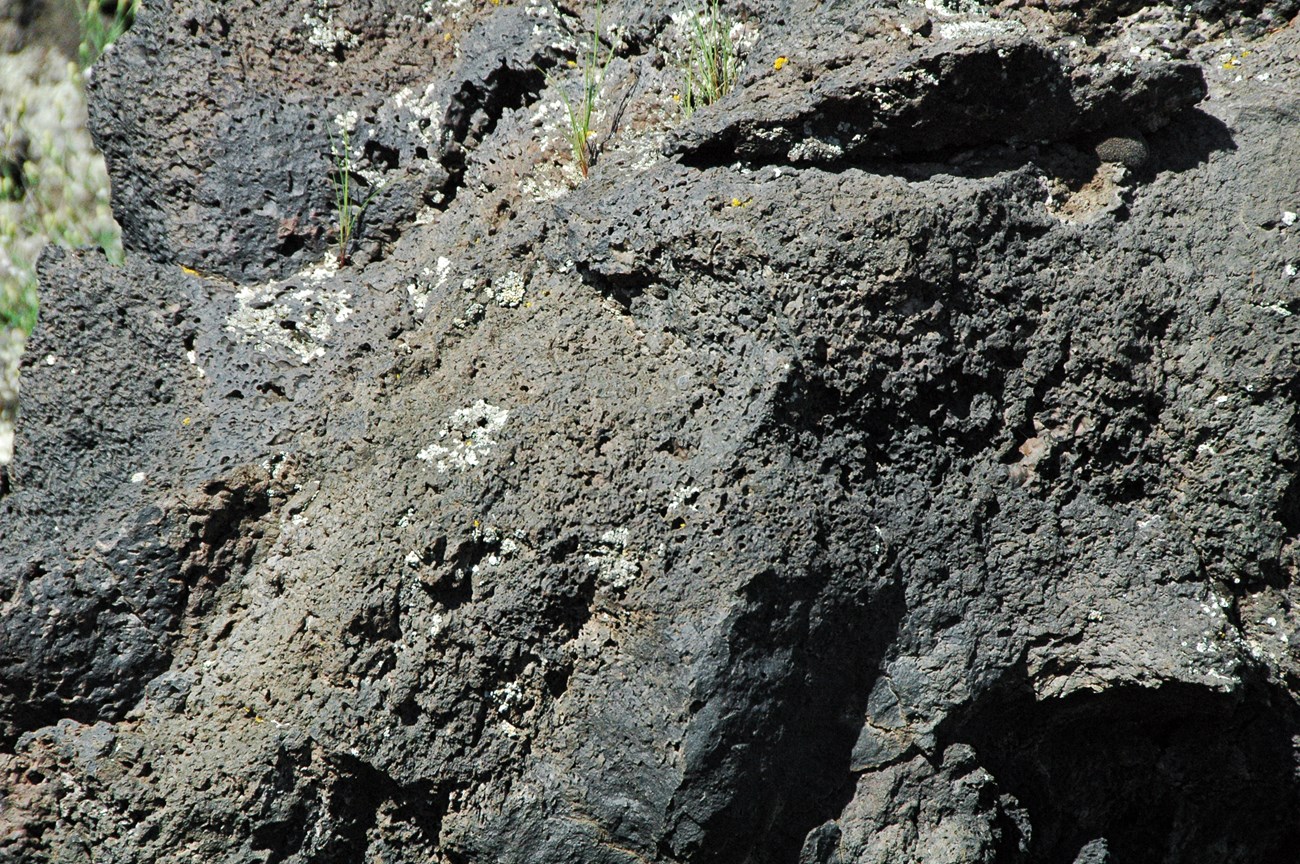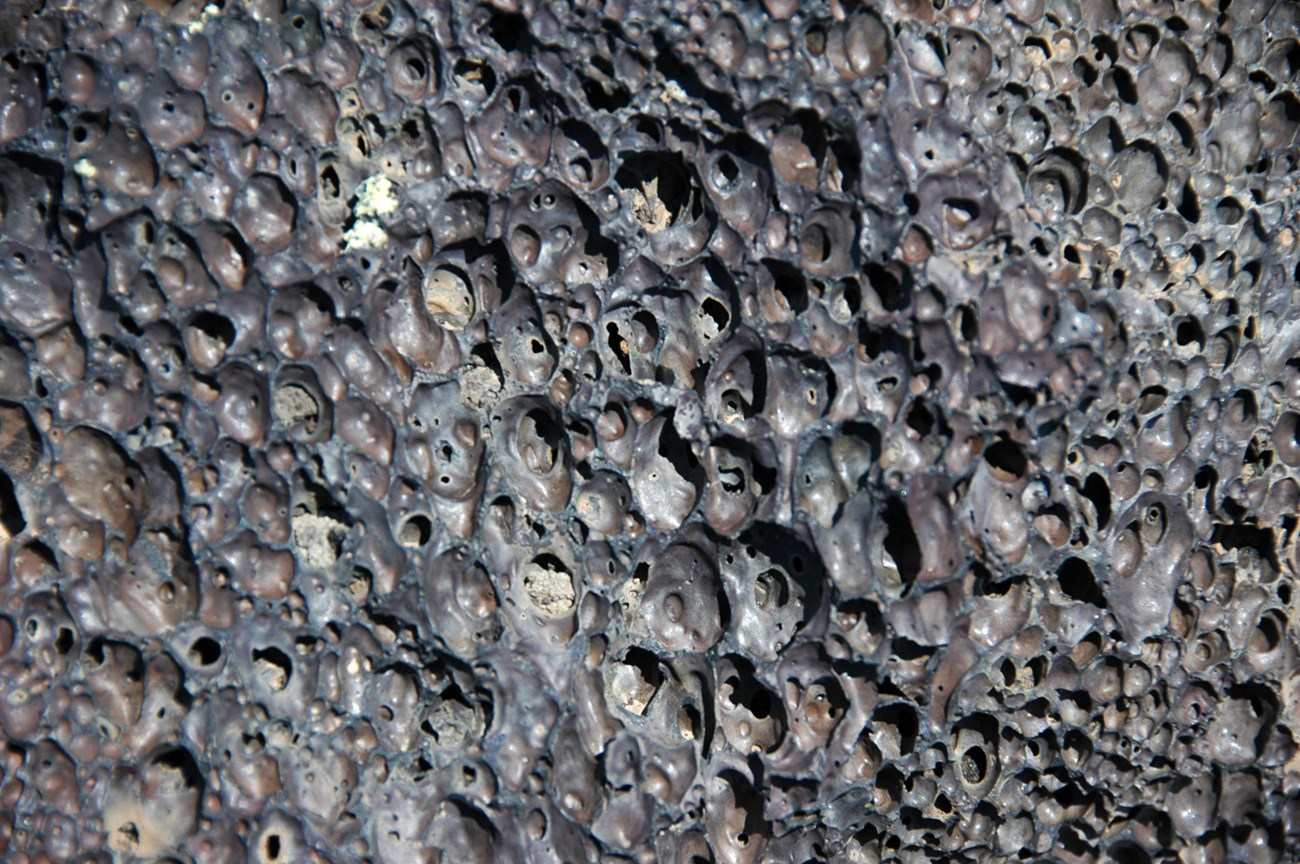 Hornitos
A hornito ("little oven" in Spanish) is a small mound or spire of spatter that formed on a lava flow or lava lake. They are rootless in that they develop away from volcanic vents when pressure forces some of the underlying molten lava through cracks or openings in the congealed surface and sometimes occur above a lava tube. They are mostly found on pāhoehoe lava flows.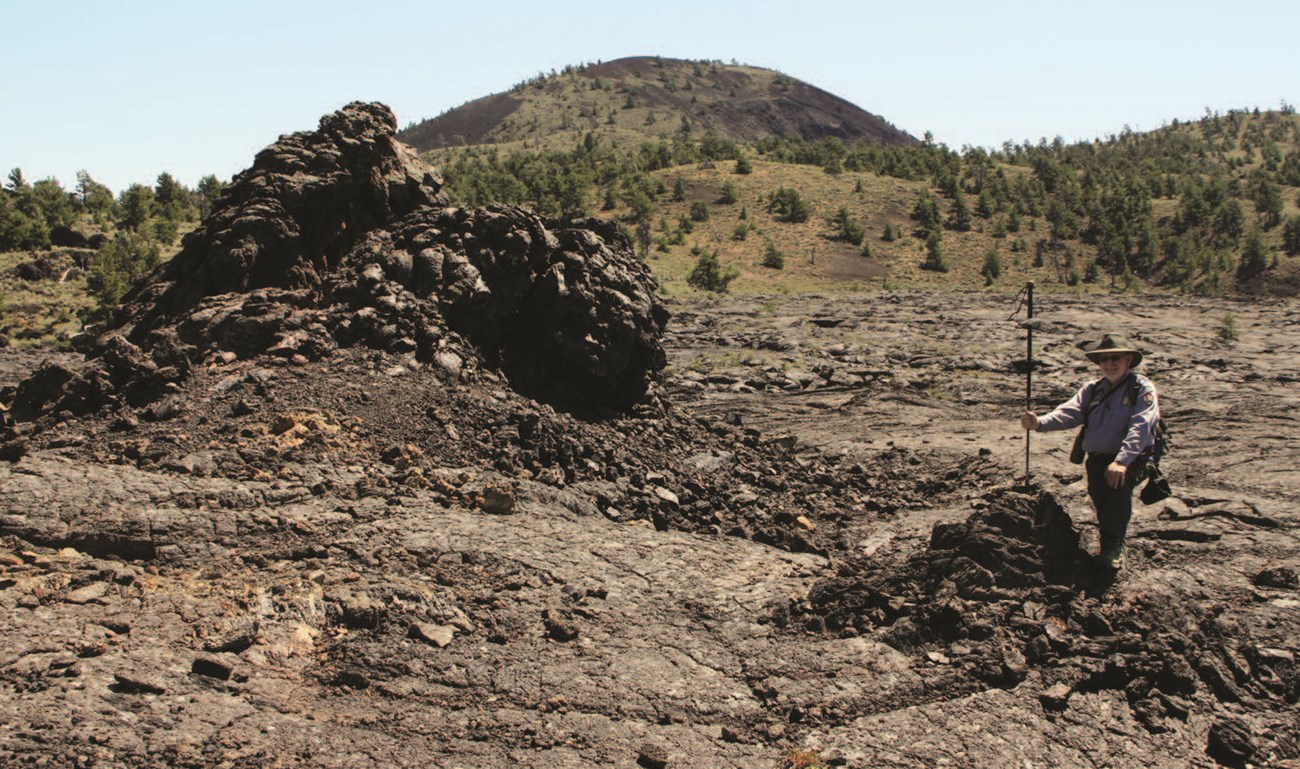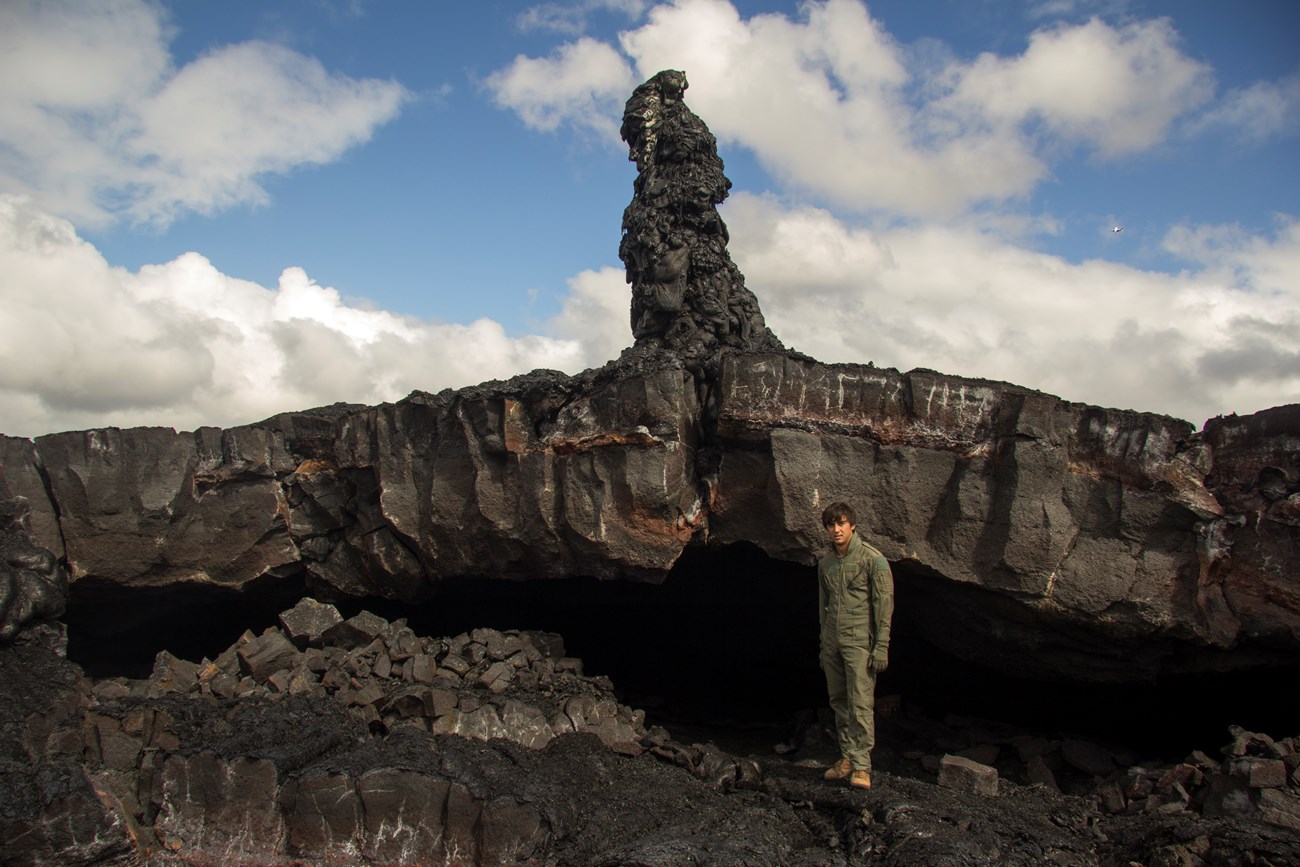 Levee
Lava levees are natural banks along the sides of lava flowing in a channel. They develop on the chilled margins of a lava flow and may be higher than the surface of the flowing lava flow if flow rate decreases.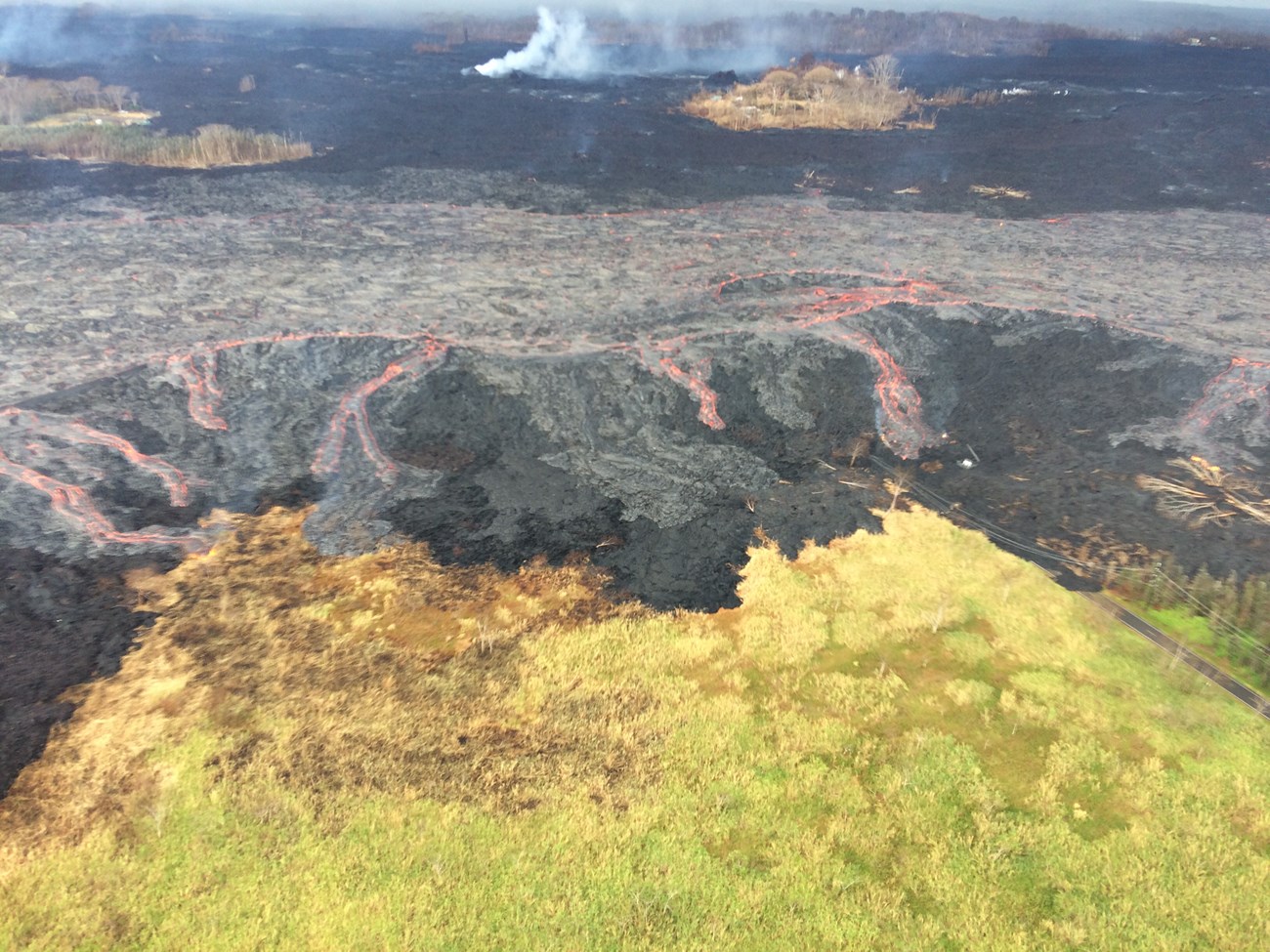 Pressure Ridges
Pressure ridges are elongated, usually arcuate, ridges on the crust of a lava flow formed by laterally directed pressure.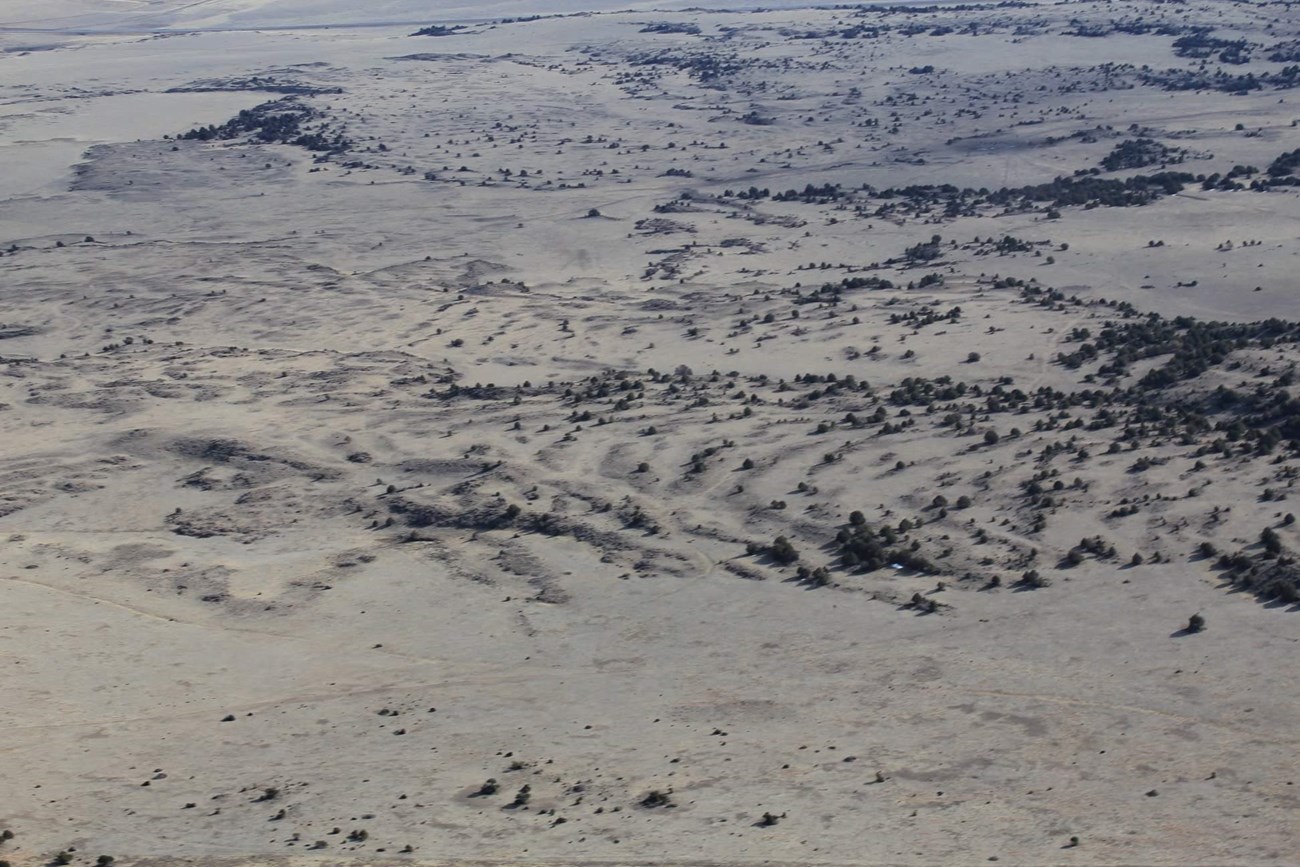 Festoon
A festoon is a subtype of pressure ridge. Festoons are formed by movement of underlying molten lava. They can be small features ranging from a few inches (cm) to large features that are 10s–100s ft (meters) in size.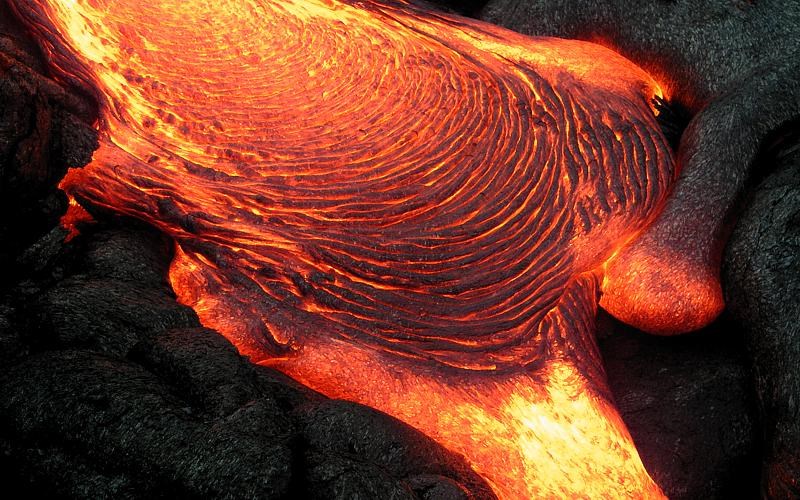 Tumulus
Tumuli (pl.) are small (usually less than 33 ft; 10 m) dome-shaped structures that are mostly found on the surfaces of pāhoehoe flows. They are formed when pressure within an inflating lava flow buckles up its solidified crust. Molten lava may sometimes be squeezed out through a crack in a tumulus. Unlike hornitos, tumuli aren't usually found above lava tubes.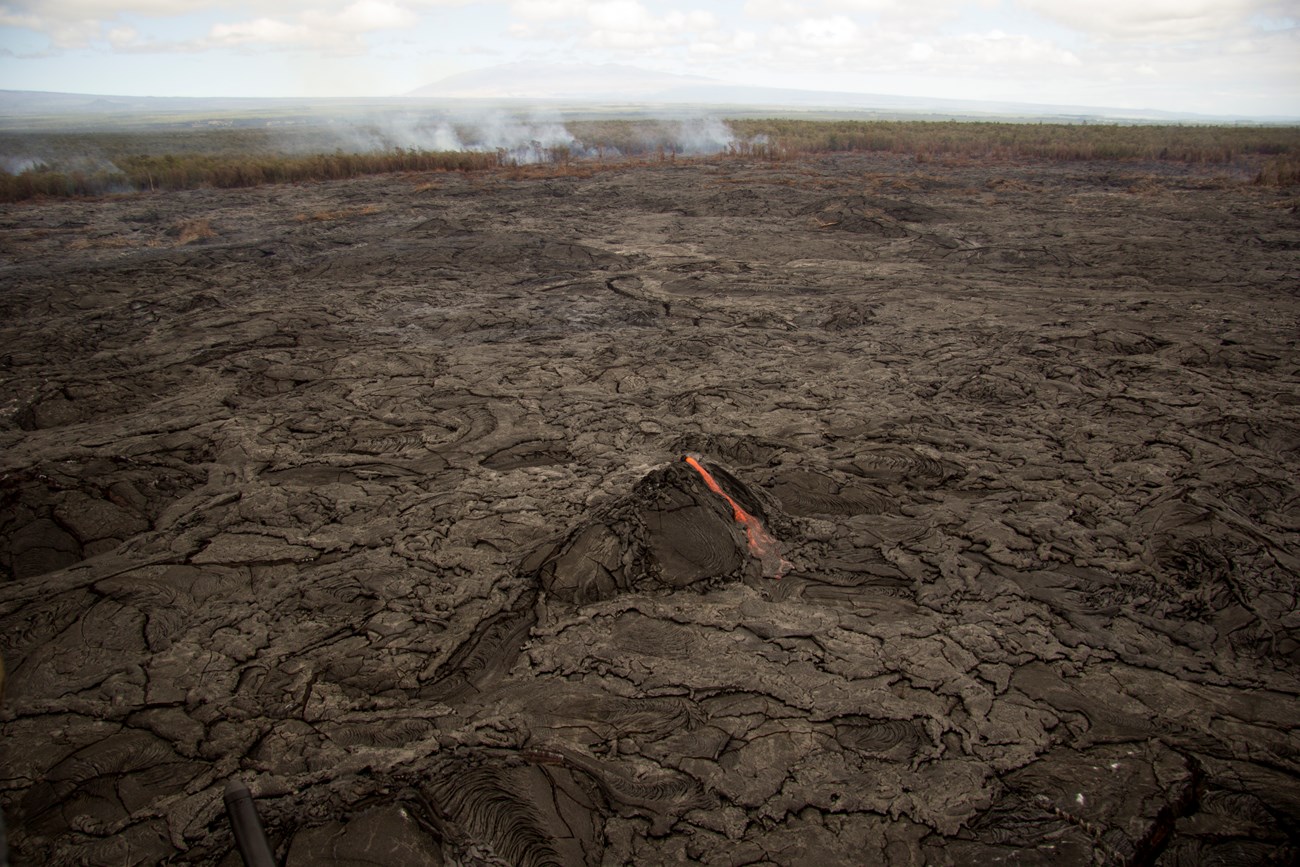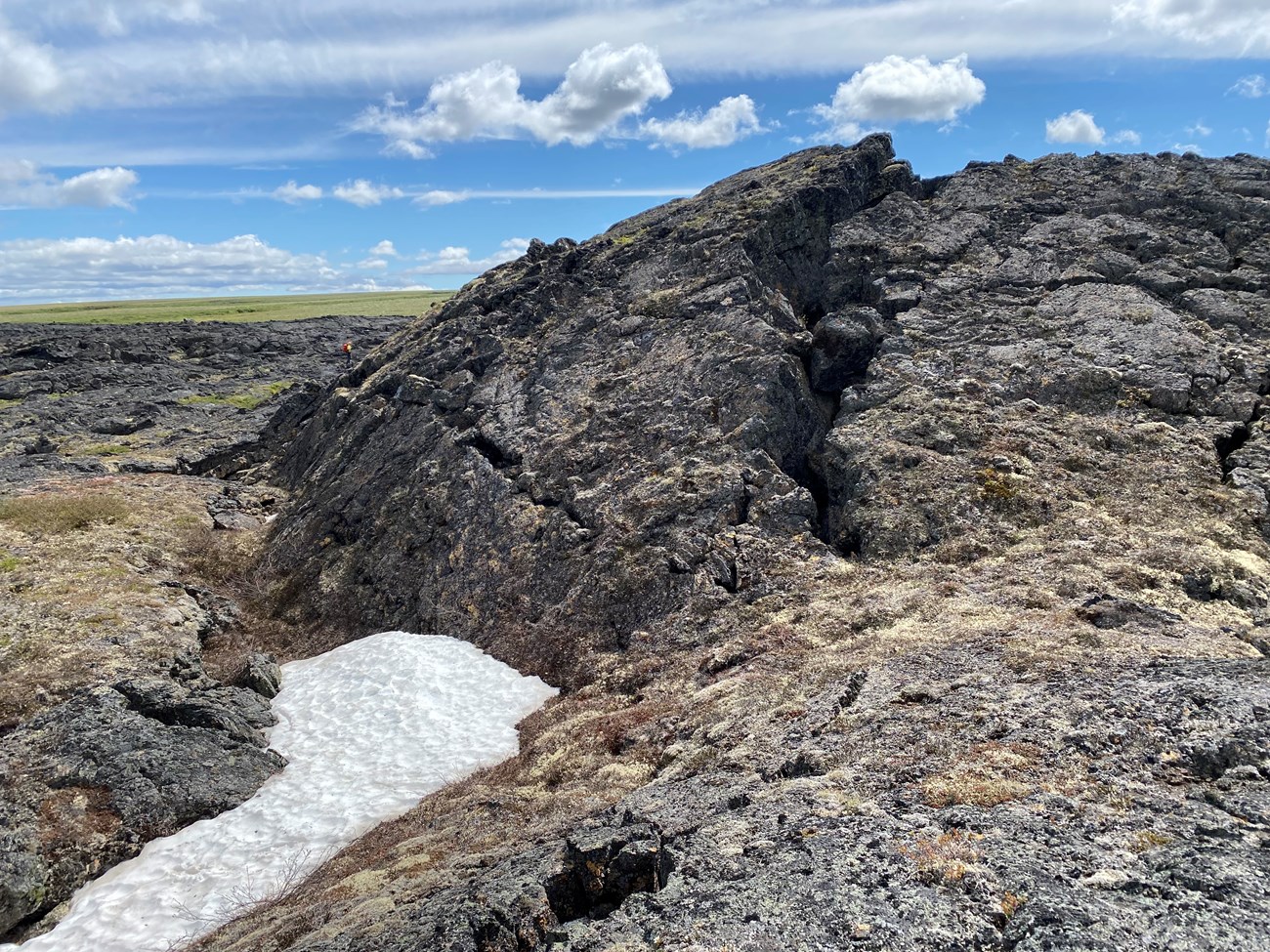 Squeeze-up
Squeeze-ups are small extrusions of viscous lava through a crack or opening in the solid crust of a lava flow. They are either bulbous and look like a mass of toothpaste squeezed from a tube or are linear wedges in the core of tumuli.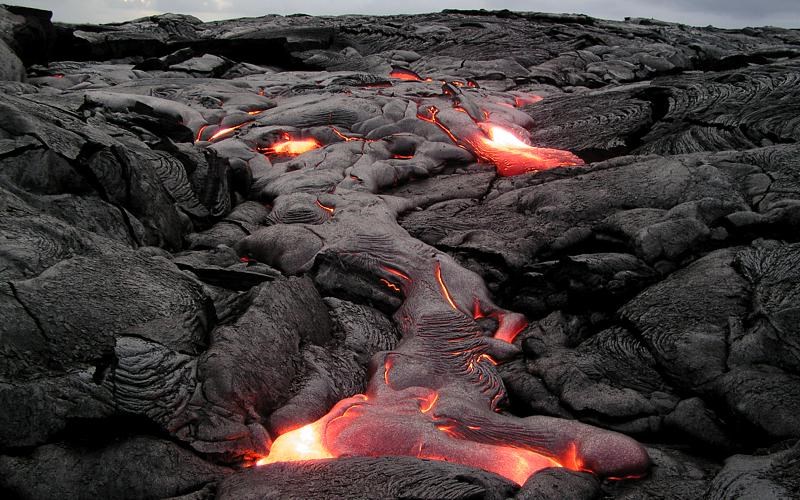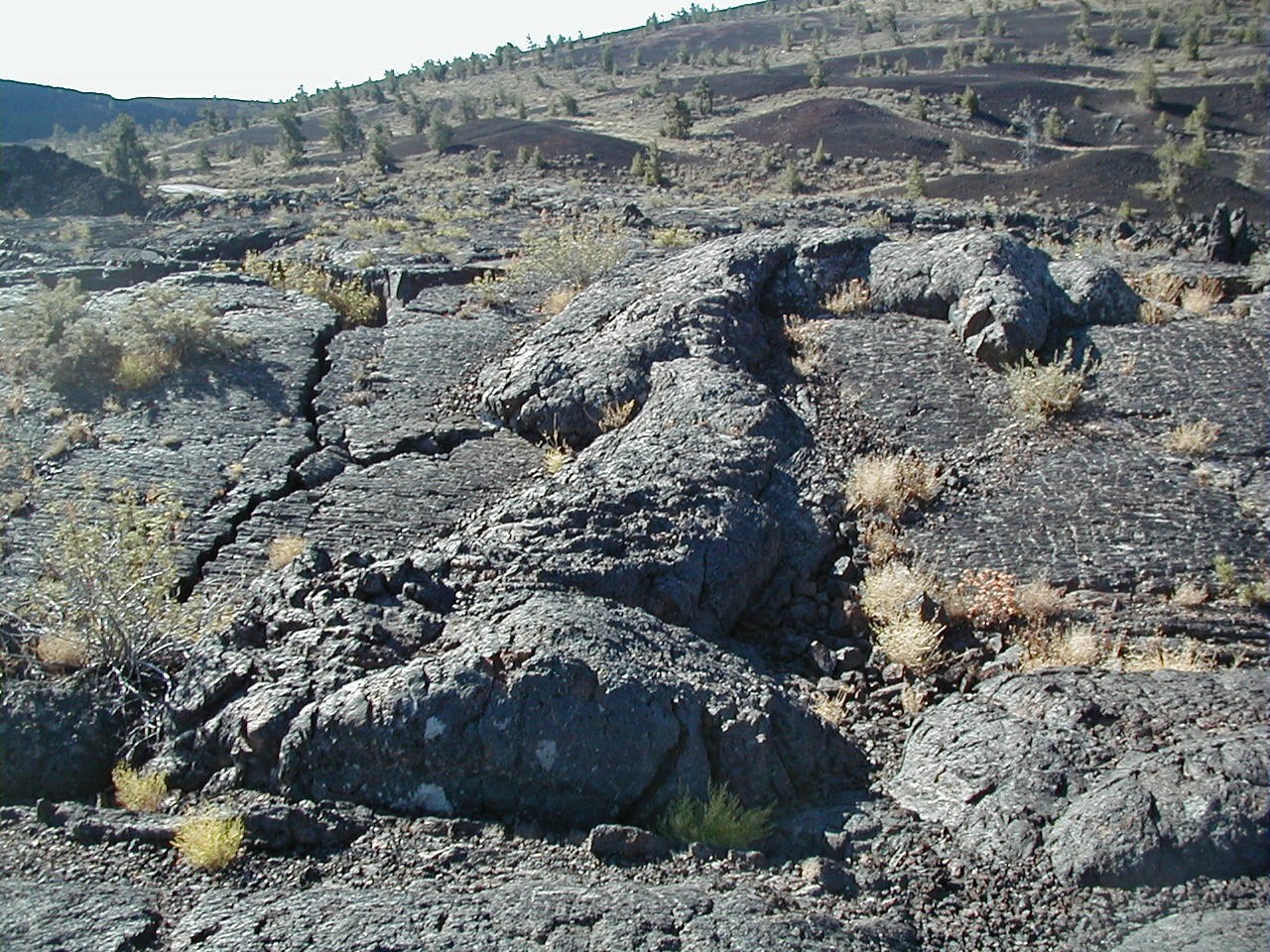 Tree Molds
Tree molds are fossils found in lava flows where lava envelopes a tree and forms an impression of it before the tree is burnt away by the hot lava.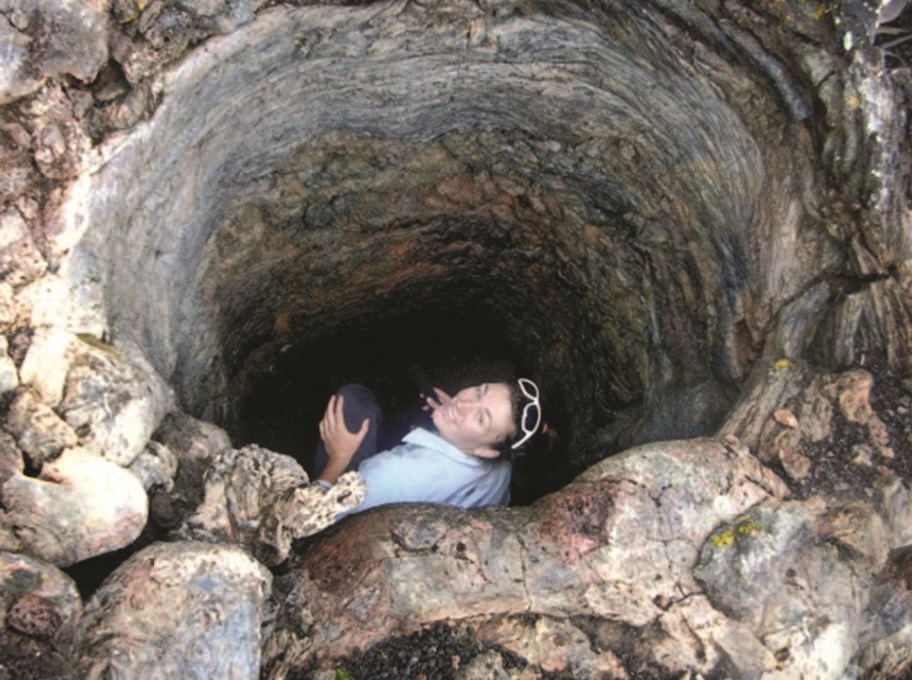 Flow Glaze
The outermost part of young unweathered lava flows typically retains its glassy rind, which most commonly has a shiny black color. But sometimes the glassy rinds on the surface of young lava flows have an unusual hue such as iridescent blue. Blue flow glazes are known from lava flows erupted from Kīlauea in Hawai'i Volcanoes National Park and the Blue Dragon Flow in Craters of the Moon National Monument. The blue color likely results from the refractive index of the glass and may be a result of the presence of titanium in tiny magnetite crystals embedded in the clear brown volcanic glass.