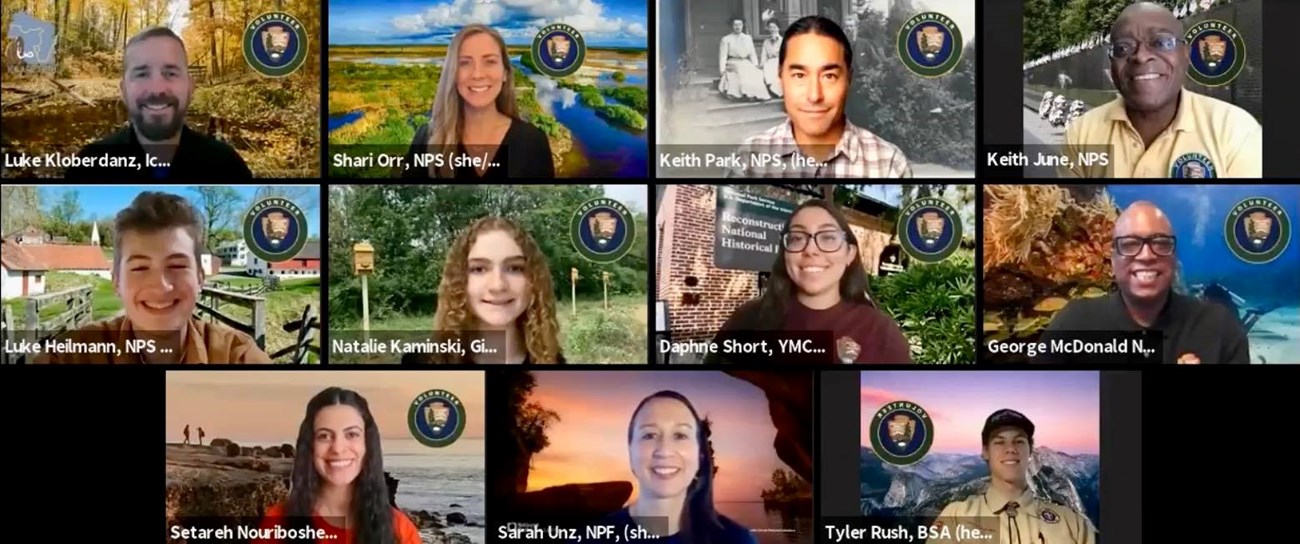 In celebration of the season of giving, the
National Park Service Youth Programs Division
co-hosted a virtual event, "
Stories of Service: Empowering Youth and Young Adults to Be the Future Face of Volunteering in National Parks
" on November 10, 2021 with the
National Park Service Volunteers-In-Parks Program
(VIP) in partnership with the
National Park Foundation
(NPF). A diverse panel shared their stories of volunteering in parks and the impacts, including park staff and youth volunteers, a veteran, a Gold Award Girl Scout, an Eagle Scout, a YMCA camp leader, a Community Volunteer Ambassador, and the Ice Age Trail Alliance (a friends group).
This event had 200 Zoom attendees and 2.6K viewers on the NPS Youth & Young Adult Programs'
Facebook page
(now up to 5.2K viewers). Following the event, a recording was published on the
National Park Service's YouTube Channel
, which currently has 302 views.
Through the VIP program, the NPS, along with hundreds of partners, engages nearly 300,000 people each year, who donate more than 6.5 million hours of service every year across the NPS. Youth and young adults make up an important part of this group. Many individuals got involved with working on their public lands through volunteering, and many now work for the NPS in different ways, including education, interpretation, historic preservation, public health, library and museum management, historic records, and others.
On one of the most rewarding aspects of volunteering, Shari Orr, Service-wide Volunteer Program Manager and moderator for this event, shared that having a sense of purpose and "that insider's perspective on their favorite national park...can be its own reward." Orr explained steps on how to volunteer and emphasized that one should be volunteering
with
a park and not simply
at
a park. She also pointed out needing to plan early, and different ways to volunteer, such as at annual events, like
National Public Lands Day
, or
Veterans Day
. Other resources for finding volunteer opportunities near you include
volunteer.gov
,
nps.gov/volunteer
, and park sites.
George McDonald, Chief of Youth Programs and Experienced Services Program Division explained that the purpose of these volunteer programs is to "get as many people involved in the protection of our natural and cultural resources on our federal public lands...We cannot do all the protection and provide all the tender loving care that these lands require without the able assistance of volunteers." To achieve this, increasing diversity is also important. He stressed the importance of understanding that our national parks are for everyone. "You can hear the stories of our country through these parks and also the magnificent landscapes," and "parks are great places for people to renew themselves, to get into nature, to feel, to reconnect with what's really important in life, which is really being happy."
To put into perspective the number of partners that support national park sites, Sarah Unz, the Director of Community Partnerships at the NPF referenced a report commissioned by the NPF, NPS, and leaders of the partner community, sharing that "there's over 450 partners supporting national park sites," and that "partners provide over 400 million in estimated direct and in-kind support to the National Park Service."
Just as partners play a crucial role in bringing volunteers to the parks, so do NPS staff that work with these partners and volunteers, such as Keith Parker, who is a horticulturalist and an arborist at the
John Muir National Historic Site
in California. He pointed out that whether it is working on furniture construction, helping to restore an old historic olive orchard, a creek restoration, or a garden expansion, volunteering helps with learning about the natural resources, history, and culture of the site, and connects all divisions, facilities, planning, cultural resources, and natural resources. "I would really emphasize just give it enough time for the planning and the park to really...get comfortable with what's going to happen," said Parker.
Another vital group of volunteers is our youth and young adults. Natalie Kaminski, a high school senior in Cincinnati, Ohio, recently completed her Gold Award as a
Girl Scout of the United States of America
, by helping the bat population at the
Charles Young Buffalo Soldiers National Monument
in Ohio. She noted, "the impact from my project will happen over the next two years because it can take up to a year for bats to find the houses, and then each house can hold from 50 to 100 bats."
Tyler Rush, who is now a sophomore in college, received his
Boy Scouts of America
Eagle Scout badge as a Boy Scout while working on repairing an old church at the
Santa Monica Mountains National Recreation Area
in California. After his volunteer project was delayed due to a devastating California wildfire in 2018, he adapted it to "replan and reposition the focus of my project...beautifying, restoring, and making the park safer for all visitors."
Through a partnership with the
Student Conservation Association
and the
YMCA
, Daphne Short, a junior at the University of Texas, spent the summer working as a YMCA camp leader at
Reconstruction Era National Historical Park
in South Carolina. What she loved most was helping students "connect with the idea that they're responsible for these next generations of how we're going to connect with the earth."
Luke Heilmann, a college student in Pennsylvania, started volunteering on his own as a high school student at the
Hopewell Furnace National Historic Site
in Ohio. He explained that "Hopewell Furnace, when it operated, sold its products and documented those sales in account books...so [NPS] had a project to digitize them and put them in an archive," which he worked on.
Anyone can start volunteering at any age, like Luke Kloberdanz, who is the Director of Philanthropy and began volunteering with the
Ice Age Trail Alliance
in Wisconsin when he was a teacher in 2001. He is most inspired by "seeing these young kids go out...and having them realize that...this can be a job, or this can be something that I can do regularly with my family."
In honor of Veterans Day, Keith June, a 30-year Army veteran, who serves at the
Vietnam Veterans Memorial
, which is part of the
National Mall and Memorial Parks
in Washington, D.C., reflected on the significance of volunteering here: "You are there at the wall with over 58,000 names that have families, and understand that each of those names represents a son, represents a daughter, represents a father, a classmate, and...understand their sacrifice, their loss, and put it in a greater context of understanding our nation and our nation's history."
Setareh Nouriboshehri interned at
Cabrillo National Monument
in California and is now a
Community Volunteer Ambassador
leader. She learned that "people connect very differently to nature and how to make those spaces more accessible and welcoming for an increasingly wider audience." She found volunteering can also provide social, mental, and emotional benefits.
During the Q&A, some of the main themes explored included the importance of partnerships, having inclusive narratives, structure in how to find and do volunteer projects, and connecting with underserved communities.
On what these individuals learned from their experience volunteering in national parks, Short shared, "you become a stronger person. You learn how to engage with a new set of people wherever you go." Heilmann said, "I learned a lot about how much care is taken to what visitors might need, how much thought goes into trying to draw as many people to events as possible, making them as accommodating as possible...There's also a lot of self-learning." Rush noted the importance of planning, "going back and forth with people who knew the process inside and out and just planning out all of the details even more so than I thought I could utilize." Kaminski did not know much about bats before her Gold Award project, so for her, "managing the project in general and bringing people together" were important in getting the support she needed to implement her project and build the four bat houses. June offered that volunteering at a site like the Vietnam Veterans Memorial can help one directly connect with veterans and their families, as well as with park rangers, and historians, that allow one to gain a better understanding and appreciation for American history, which can complement textbooks. Kloberdanz emphasized that the success of volunteers coming back year after year with the Ice Age Trail Alliance is that it is "a safe place to be...[The] projects are extremely well planned and organized, so people know exactly where to go, and they feel supported in that work." In addition, the organization helps make the parks more accessible and also provides training for volunteers.
Telling all the American stories through our national parks is a continuous effort and bringing in volunteers that make up our nation is a step towards unveiling stories of service that may not have been told before. "These are places to understand who we are as a country, as a people, to bring your family, to have fun, to have a smile on your face," said McDonald - and reflect on our history – all of it.
Have a question about Youth or Young Adult Programs? Please
e-mail us
. Learn more about what we do
here
. Be sure to follow us on
Facebook
,
Twitter
, and
Instagram
.