Anne Carter Lee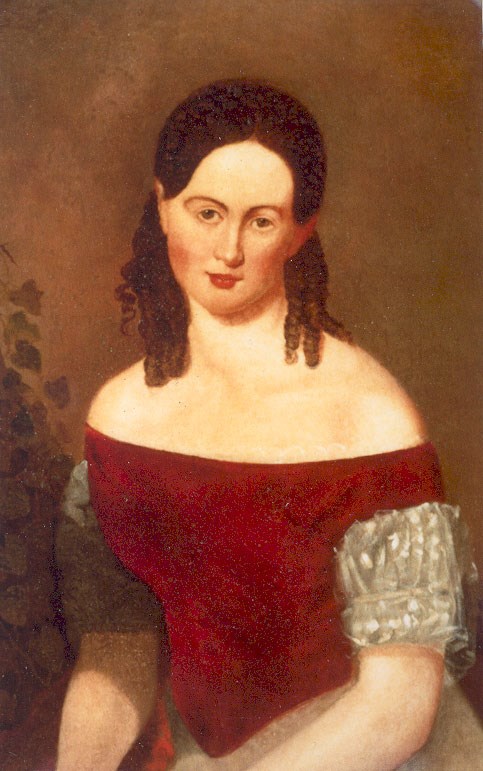 Anne Carter Lee, the fourth child and second daughter of Robert and Mary Lee, was born June 18, 1839, at Arlington House. They named her after Robert's mother. Just like the other Lee children, Anne soon acquired a nickname. At first, she was known as "little Raspberry," because of a birthmark that eventually faded away. The family then called her Annie.

Annie slept across the hall from her parents in a high four-poster bed that once belonged to George Washington. The bed was so high that when she was little, she needed steps to get in and out. She later shared a bedroom with her two younger sisters.

Growing up Annie had her usual share of childhood hijinks and illnesses, but there were a few incidents that alarmed her parents more than usual and caused her father to worry about his "gentle Annie."[1] When she was about three years old, she accidentally poked her eye with gardening shears. The incident resulted in a scar that for the rest of her life made her self-conscious. While away at school in 1857, she became so sick with an intestinal problem she was sent home to recover. She and her mother often traveled to springs around the state for the curing benefits.

Annie was closest in age to her sister Agnes, who was just two years younger. They were inseparable. A cousin called them "twin roses on one stem."[2] Of the two, Annie was the irrepressible one, the one most likely to tease or pull a prank on a family member or friend, and the one who was most self-deprecating in her sense of humor. She was the fun one.

Annie was also the responsible one. She taught some of the enslaved children at Arlington to read and write, even though it was illegal to do so in Virginia. When her mother's rheumatoid arthritis began to restrict her movements, it was up to Annie to manage the household and undertake the herculean task of preparing her youngest sister Mildred for boarding school.

When war broke out in 1861, the Lees sent Annie and Agnes to their cousins' nearby plantation Ravensworth, along with the family silver and portraits for safekeeping. The following spring, Annie joined her mother and sister Mildred at the home of a family friend along the Pamunkey River. Union troops arrived soon after and placed them under house arrest. In June, Lee asked Union Gen. McClellan to arrange a transfer for his family across Confederate lines so they could join him in Richmond.

In August 1862, Annie contracted typhoid fever. She and Agnes moved further south to Jones Springs, North Carolina, in hopes of improving her health. But her headaches, dizziness, and intestinal troubles increased. Still, everyone, including Annie, thought she would recover. After a few weeks, the symptoms sharpened, and her mother came down from Virginia to be with her. Agnes nursed Annie during the day, with her mother doing so at night. When Annie slipped into a coma, Agnes crawled into bed with her to try and keep her warm. On the morning of October 20, 1862, with her mother holding her hands, Annie Lee died. She was just 23 years old.

When Lee received a letter from his wife with the news of his Annie's death, he broke down in grief. He wrote to his wife, "To know that I shall never see her again on earth, that her place in our circle which I always hope one day to rejoin is forever vacant, is agonizing in the extreme."[3] Agnes was the hardest hit. She had lost her "twin," her confidante. Annie had been her best friend. She fell into a deep depression.

Agnes wanted to bring Annie to Richmond for burial so she could visit her grave, but her mother decided to bury Annie in North Carolina where she died. Since there was no official cemetery in the town, residents created family cemeteries on their property. The Jones family, with whom the Lees were staying, offered the Lees a plot in their cemetery, an offer Mary gratefully accepted.

In 1866, a group of local ladies erected an obelisk in Annie's memory at her gravesite. A few years later, in 1869, Lee and Agnes took a trip down to Florida. Their route passed through North Carolina and they stopped at Annie's grave. Lee wrote to Mary, "My visit to dear Annie's grave was mournful yet soothing to my feelings, & I was glad to have the opportunity of thanking the kind friends for their care of her while living and their attention to her since her death."[4]

In 1994, Lee family descendants arranged to move Annie's remains to Lexington, Virginia, to rest with her family in the Lee Chapel.

Notes:
Sources:

Coulling, Mary. The Lee Girls. Winston-Salem: John F. Blair, Publisher, 1987.
Nelligan, Murray. Arlington House. Burke: Chatelaine Press, 2005.
Pryor, Elizabeth Brown. Reading the Man. New York: Penguin, 2007.
Last updated: July 16, 2021