Mildred Childe Lee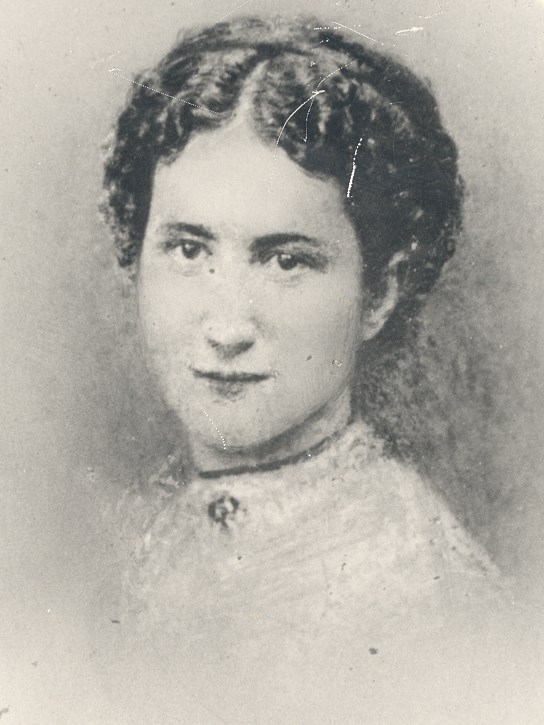 The fourth daughter, and youngest child, of Robert and Mary Lee, was Mildred Childe, named after Robert's sister. She was born February 10, 1846, at Arlington House. After the war, she became close to her father, who nicknamed her "Precious Life."

As she was five years younger than her next sister, Agnes, who spent most of her time with her closest sibling Annie, Mildred grew up entertaining herself. She did that with the help of a menagerie of kittens, chickens, and the occasional squirrel. She had her own space in the family garden at Arlington House, but she ran out of room to grow flowers because of all the cats she buried.

In the fall of 1860, Mildred enrolled at a boarding school in Winchester, Virginia. She was very happy there, though she often wrote of homesickness for her pet cat, Tom Titta. That Christmas she made her way home to Arlington, the last time the entire family was together for the holiday.

By Christmas 1863, she left school and joined her mother and sisters in Richmond. Mildred became a full-time knitter for the Confederacy, more specifically for her father's soldiers. Her other goal during her time wartime stay in Richmond was to domesticate a squirrel she found in the neighborhood. After a few months of bites and invasions into neighbors' homes, the squirrel disappeared. Mildred was the only one upset.

In the spring of 1865, Richmond fell to Union forces. While the city burned and citizens evacuated, the Lee women stayed. Union Gen. Godfrey Weitzel arrived at their doorstep and offered to move them to a safer place but Mary refused. Fires set by the Union Army reached across the street from their house but no further. They were safe.

Mildred's father joined them after the surrender at Appomattox. Mildred often took walks with him around the city in the evening which brought them closer together. Soon after the war, the remaining family moved to the home of a family friend. It was more isolated and did not offer much in the way of diversions, but Mildred was content to continue her collection of animals, especially chickens which she found to be a great comfort.

She had many suitors after the war but turned them all down, as none of them matched up to her father whom she idolized. She said of her father, "To me, he seems a Hero - & all other men small in comparison."[1] He relied on her to run the household after he accepted the position as head of Washington College and they moved to Lexington, Virginia. He teased her about her poor handwriting, her poor culinary skills, her penchant for dispensing unwanted advice, and for her love of animals that led to a house filled with cats. They enjoyed taking horseback rides with each other.

In 1868 she came down with typhoid fever. Her father refused to leave her bedside until she was out of danger a month later. Her recovery was slow, but he was so happy that for the next two Christmases, that he gave her every gift she asked for.

During his final illness, in October 1870, she nursed him during the day while her sister Agnes nursed him at night. They rubbed his hands to keep them warm as the rain fell outside.

Three years later, 1873, it was Agnes' turn to be nursed by Mildred when she came down with an intestinal disorder. When she died Mildred placed two roses on Agnes' body, taken from the bush their father planted outside. Three weeks later, her mother died. Mildred and her oldest sister Mary were now the only remaining Lee women, which instead of bringing them closer together drove them further apart.

Mary was 11 years older than her baby sister. They had different temperaments and had never been close. As their family ties continued to diminish over the years, so did their relationship. Mary traveled the world and was away when both Agnes and their mother died. Mildred was bitter about this. She wrote to a friend about Mary leaving the family to "bear our sorrow alone."[2]

Mildred was now on her own. She wanted to get married but she had no suitors. She stayed busy with her church and volunteered her time at bazaars and dinners. She split her time living with her brothers, Rob and Custis, who took over his father's position as head of Washington College. She took trips abroad, to the pyramids in Egypt, to France, the Mediterranean, and to England in 1887 for Queen Victoria's Jubilee.

A friend of the family asked if she could write a book about Mildred's life, but Mildred responded that she had not done anything worth the world to know. "[T]he true history of my life – and I suppose of any woman's – would read stranger, sadder, more inexplicable than any romance that ever was written."[3]

She only saw her sister Mary a few times over the remaining years. They were together for the unveilings of their father's statues in New Orleans and Richmond and came together in 1891 to be with their brother Rooney as he died.

Mildred "Precious Life" Lee died of a stroke on March 27, 1905 while visiting New Orleans. For her passing, flags flew at half-staff throughout the South. War veterans and alumni from Washington-Lee College accompanied her coffin on the train to Lexington where she was met by veteran delegations and members of the United Daughters of the Confederacy. She was placed in the crypt with her parents and her sister Agnes.

Notes:
Sources:

Coulling, Mary. The Lee Girls. Winston-Salem: John F. Blair, Publisher, 1987.
Nelligan, Murray. Arlington House. Burke: Chatelaine Press, 2005.
Pryor, Elizabeth Brown. Reading the Man. New York: Penguin, 2007.
Last updated: November 3, 2020