Eleanor Agnes Lee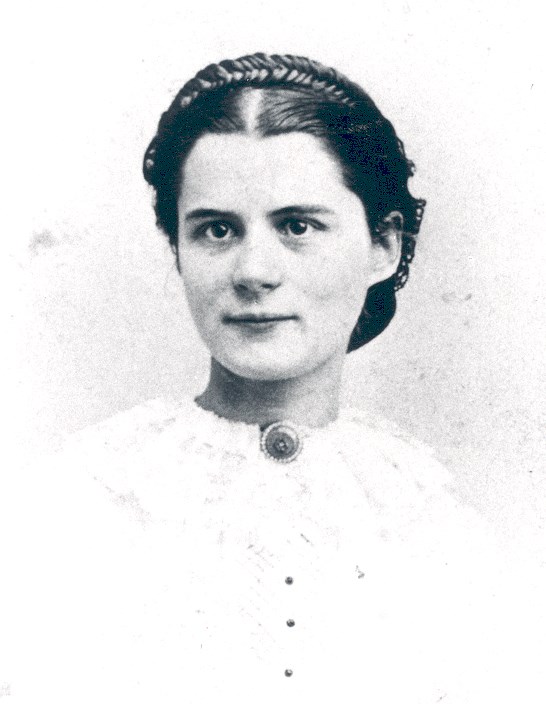 When Eleanor "Wiggy" Agnes Lee was born on February 27, 1841, at Arlington House, her father called her "the finest child that was ever seen."[1] She was the Lees' fifth child and third daughter. Closest in age to her sister Annie, who was only twenty months older, they shared a bedroom, toys, and numerous adventures. Agnes and Annie were inseparable. A cousin said they were like "twin roses on one stem."[2] Their parents called them "the Girls."[3]

At the age of 12, Agnes' governess gave her a journal for Christmas so that she could practice writing and improve her penmanship skills. Though she did not think anyone would really care about the musings of a 12-year old girl, she maintained the diary for five years. She wrote about events such as skating on the canal in the winter, a visit from writer Washington Irving, and crossing the river with her grandfather to celebrate George Washington's birthday. It is through her words that we know many details of the daily lives of the families of Arlington House.

When war broke out in spring 1861, Agnes and Annie were sent to their cousins' plantation, Ravensworth, in nearby Fairfax. They took with them silver from Mount Vernon and family portraits for safekeeping. Over the next four years, the Lee family became scattered as they moved from household to household to stay out of war's way. War found them anyway.

Annie and Agnes were enjoying a getaway at a springs retreat in Virginia, in August 1862, when Annie contracted typhoid fever. The sisters moved south to Jones Springs, North Carolina in hopes of finding a healthier environment. Annie's headaches, dizziness, and intestinal troubles intensified. Mary came down from Virginia to be with her ailing daughter. When Annie slipped into a coma, Agnes climbed into bed with her to try and keep her body warm. On the morning of October 20, 1862, Annie died. Agnes was devastated to lose her sister who had also been her best friend. Soon after, she would be hit with another loss.

That Christmas, while staying at Hickory Hill, the family home of her brother Rooney's in-laws, Agnes' distant cousin Orton Williams came to visit. Close friends since childhood, the family thought that at some point he and Agnes would marry. No one knows exactly what was said between the two during that Christmas, if he proposed and she turned him down or if he proposed at all. The visit ended with him abruptly telling the family goodbye and leaving the house. It was the last time Agnes saw him. Six months later, the federal army accused Orton and a fellow soldier of being spies and hanged them. Historians have yet to uncover documentation of whether they really were spies or caught up in a fatal lark. This was a particularly hard blow for Agnes who was still grieving the death of her sister. Her family noted that she became quieter after this point.

After her father's surrender at Appomattox in April 1865, the Lee family reunited in Richmond. Soon after, Agnes contracted typhoid fever, the same illness that had taken her sister three years before. Nursed by her mother and younger sister Mildred, she survived.

In the fall of 1865, Lee accepted the position of president of Washington College and the family moved to Lexington, Virginia. After the upheaval of the war, this offered the family a chance to establish a new house and begin again. For Agnes, life seemed to resume as before the war. She had a number of suitors, including an astronomy professor at the neighboring Virginia Military Institute, but she turned them down. The dual losses of her sister and close friend Orton Williams during the war deeply affected her life.

In 1869, her father became ill with a severe chest cold and doctors urged him to take a trip to a warmer climate. Agnes joined him on a trip to Florida. They traveled through North Carolina on the way and visited Annie's grave. In the time since Annie's passing, a local ladies' organization erected an obelisk at her gravesite. Agnes told her mother of the visit, "It was a great satisfaction to be there."[4]

The following year, Lee died on October 12, 1870. Due to her mother's deep grief, Agnes dressed her father's body for the funeral. She placed him in the black suit he had worn to her brother Rooney's wedding.

Her father's death resurrected Agnes's emotions surrounding Annie's death, causing her further grief. In the fall of 1873, she contracted a debilitating intestinal disorder. By October 12, the third anniversary of her father's death, Mildred could tell Agnes was terminally sick because of her "tired eyes."[5] Mary sat at her daughter's bedside and held her hand. Agnes called out for her brother Custis, and to him she whispered, "You must not forget me when I am gone." He replied, "Aggie, none of us will do that."[6] She passed soon after. Agnes had been Mary's favorite child, and three weeks later, on November 5, she too died.


Notes:
Sources:

Coulling, Mary. The Lee Girls. Winston-Salem: John F. Blair, Publisher, 1987.Nelligan, Murray. Arlington House. Burke: Chatelaine Press, 2005.Pryor, Elizabeth Brown. Reading the Man. New York: Penguin, 2007.
Last updated: November 3, 2020