Community Artist in the Parks Outreach Program Announced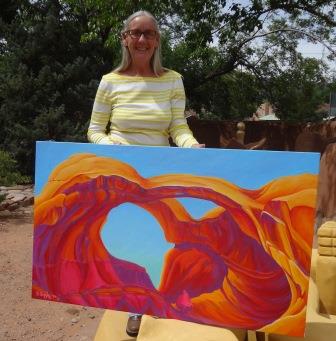 News Release Date:
December 1, 2014
Contact: Sharon Brussell, 435-719-2142
The National Park Service Southeast Utah Group is pleased to announce a community outreach program highlighting the works and experience of Serena Supplee during her tenure as the 2104 Community Artist in the Parks (CAIP).
A special program showcasing Serena and the works she created this season will be held at the Moab Information Center on December 11, 2014 at 7:00 p.m. Chad Neihaus, Community Artist Liaison and a co-founder of the program will also be on-hand with NPS staff to share how this successful program was created and the vision for its future.
Created in 2009, the CAIP program highlights the connection between a local artist and the surrounding landscape, particularly Arches and Canyonlands National Parks and Hovenweep and Natural Bridges National Monuments. This year's artist had the added honor of serving during Canyonlands National Park's 50th Anniversary Celebration.
The Community Artist shares his/her inspiration and creative process with visitors from around the world and creates work within the parks during a minimum of 24 hours per month, April through October. During the artists' tenure, a selection of their work is sold in the Arches and Canyonlands National Parks' bookstores by the Canyonlands Natural History Association.
Serena has enjoyed her time as the Community Artist noting "When people see me out drawing or painting, I hope they are inspired to get out their paints or their pencils or their colored pencils and express their passion for this land. Colors make me feel joy and I enjoy trying to show the depth of the landscape through vivid color." To view the many pieces Serena created this season, visit her
online image gallery
.
For more information about the program, please visit the parks' official websites listed below. Questions about the program may be directed to Sharon Brussell at 435-719-2142 or emailed to her at
e-mail us
.
Chad Niehaus, the Community Artist in the Parks Liaison, may also be contacted for program information at 435-259-9314 or by email at
Chad@waterpocketpress.com
.
Last updated: July 17, 2015