Canyon Country Outdoor Education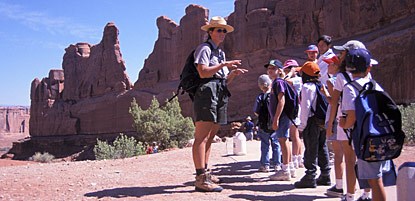 Canyon Country Outdoor Education (CCOE) is a cooperative venture between the National Park Service, local school districts, and nonprofit organizations in southeast Utah. Field trips are conducted to Arches National Park, Canyonlands National Park, Hovenweep National Monument, Natural Bridges National Monument and other areas.
CCOE serves local communities by enhancing state-approved curricula through creating opportunities for experiential learning on public lands.
The curriculum materials CCOE uses are available for download. They are designed for grades one through six engaging with desert habitats, but they could be adapted for other grades and other ecosystems.
Internships with the CCOE program are available spring and fall. If you like children and working outdoors, consider applying for one of these opportunities.
To learn more about the program or obtain help in adapting lesson plans, please contact:
National Park Service
Canyon Country Outdoor Education
PO Box 907
Moab, UT 84532
(435) 719-2206
Please note that outdoor education staff are only available during the school year (August to June). If you need assistance outside of this time, please contact the park directly.
Last updated: September 27, 2021