Volunteer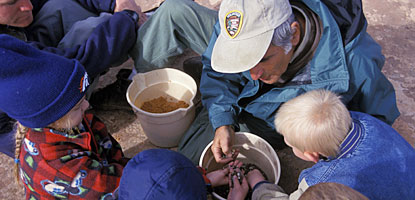 Environmental Education Interns
Great teaching experiences are available in canyon country. If you like children and enjoy working in the outdoors, a CCOE (Canyon Country Outdoor Ed) internship is the position for you. The following internships are available during spring and fall:
Arches/Grand County Internship
[19k PDF file]
Canyonlands/San Juan County Internship
[78k PDF file]
Student Conservation Association (SCA)
The National Park Service needs volunteers throughout the year to assist with all aspects of park management: from archeological surveys to campground hosts. Many of our volunteers work through the Student Conservation Association.
For information on joining the SCA, visit www.thesca.org.
Volunteer Program (VIP)
Volunteer positions are coordinated locally through the volunteer coordinator. For details on current openings in southeast Utah, contact:
Volunteer Coordinator
National Park Service
PO Box 907
Moab, UT 84532
(435) 719-2142
Current Volunteer Opportunities