Kayaking
Many people come to the Apostle Islands seeking the adventure of exploring the area by boat. Sea kayaks are very popular for travel among the islands and to the mainland sea caves. Operating small craft on Lake Superior is fun and exciting, but can also be extremely hazardous when weather conditions become unfavorable. Paddlers must know their equipment, know their limits, obtain a current weather forecast, and respect the ever-changing environment of Lake Superior.

For guided trips, safety classes, and equipment rentals, check the listing of authorized kayak outfitters. This list also has authorized water taxis who may transport paddlers and their gear to different locations around the Park.

Two kayak launches are located on the mainland section of the Park. One is at Meyers Beach (parking fee, and stairs to the beach to launch). The other is at Little Sand Bay, west of the harbor.
Weather
Lake Superior is renowned for its cold temperatures, rough seas, fog, and sudden squalls. Boaters should monitor marine weather forecasts and be constantly alert to changing conditions. Average daytime high temperatures range from 60 degrees Fahrenheit in May, to the upper 70s in mid-summer, to the mid-60s in September. Average lows vary from 40 degrees in May, to the upper 50s in mid-summer, to 50 degrees in September. Average water temperatures in May and June are only in the 40s. Even in late summer, surface temperatures rarely exceed 60 degrees, except in protected bays. Average summer winds blow at from 5 to 20 knots with waves of from one to four feet. Winds of 30 to 40 knots and 6 to 12 foot seas are possible.
Equipment
The National Park Service does NOT recommend the use of small (less than 16-foot) open boats, canoes, and open cockpit or sit-upon kayaks for travel between islands. Kayakers should use wet suits or dry suits when paddling in the Apostles. This is especially important in spring and fall when the risk of hypothermia is high. Regulations require boaters to carry one U.S. Coast Guard-approved Personal Flotation Device (PFD) for each person on board. Kayakers are encouraged to wear their PFD at all times when paddling. Paddlers should also be equipped with a spray skirt, bilge pump, compass, charts, extra paddle, paddle float, tow line, and throw bag. Boaters should prepare for possible weather delays by packing provisions for at least one extra day. We strongly advise boaters to also pack such items as: a marine radio, cell phone, first aid kit, extra paddle, self-contained stove, insect repellent, compass, maps, 50 feet of lashing line, rain gear, waterproof matches, and dry storage containers. We recommend that all boaters use the Apostle Islands Lake Survey Charts #14973 or #14966. Sea kayak rentals are available in Bayfield.
Paddling Concerns
Sea kayaks ride low in the water and are difficult for other boaters to see, especially during rough lake conditions. Always keep a lookout for approaching boats and use your paddle or flag to alert boaters to your presence. Brightly colored boats are more easily seen than those that blend with the surroundings. Bright colored clothing can also improve visibility.
Sea caves are enticing but can be extremely hazardous in rough seas. Rebounding waves can make boat handling difficult if not impossible. These shorelines do not offer safe landing sites and should only be visited when conditions are calm. It is easy to underestimate distances between destination points. Allow plenty of time to accomplish your intended route. We suggest paddling no more than 10 miles per day for beginners or 15 miles per day for seasoned paddlers. Be sure to inform a friend or relative of your travel plans so that someone will notice if you are overdue. Park rangers and the U.S. Coast Guard monitor marine channel 16. Try to notify a park ranger if conditions force you to change your plans.
Island Ethics
Apostle Islands National Lakeshore offers boaters the opportunity to experience and enjoy a variety of natural and cultural features. Paddlers must do their part to help protect park resources. Beaches are some of the park's most popular attractions. They also support fragile plant communities. Camping within 100 feet of the shoreline is not permitted unless in a designated camp area. Please walk near the water line or on established trails and take care not to trample beach grasses and lichen. Campfires are not allowed at Julian Bay beach on Stockton Island, on Raspberry Island beaches, or on any beaches adjacent to campsites with fire receptacles. Be prepared to pack out whatever you pack in. Try to leave no trace of your visit.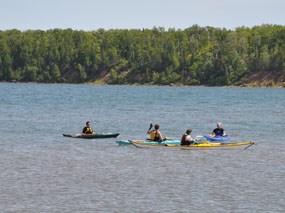 It's Not Just Another Lake Up North - Sea Kayaking on Lake Superior
Article by Gail Green
2013 Around the Archipelago
Apostle Islands National Lakeshore Newspaper
Last updated: October 17, 2017