Current Conditions
Apostle Islands National Lakeshore is open year-round; however, the islands become much more challenging to access during the winter. It is always a good idea to check on current conditions before setting out.

This site is updated regularly to reflect the latest conditions, as is the Ice Line at (715) 779-3398 x3 and Facebook. If needed, contact the park headquarters directly at (715) 779-3398, during normal business hours.
Winter Conditions
The mainland area of the park, accessed from Meyers Beach is often accessible during the wintertime. During major snow events, it may be a few days before the road to Meyers Beach is plowed. Sea Caves Watch provides real time imagery, wind, and waves at the sea caves.
Updated on January 16, 2020
Current status of Meyers Beach Road: OPEN
Current status of the Mainland Trail: OPEN

Much of the trail has been well packed, though new snow from Wed and the upcoming weekend will make travel more difficult. Snowshoes, traction devices and trekking poles are recommended, as the packed trail may be slick, especially in and out of the ravines.
Snowshoes may be valuable off trail, as there is still a good amount of snow.
There are many snowshoe paths heading in various directions, so keep an eye for trail markers to stay on the main path.

Current status of the Mainland Ice Caves: CLOSED

Access to the mainland ice caves on the frozen surface of Lake Superior is closed.
Floating pancake ice at the caves.
Pack ice and floating ice going out about 100 yards, then open water at Meyers Beach.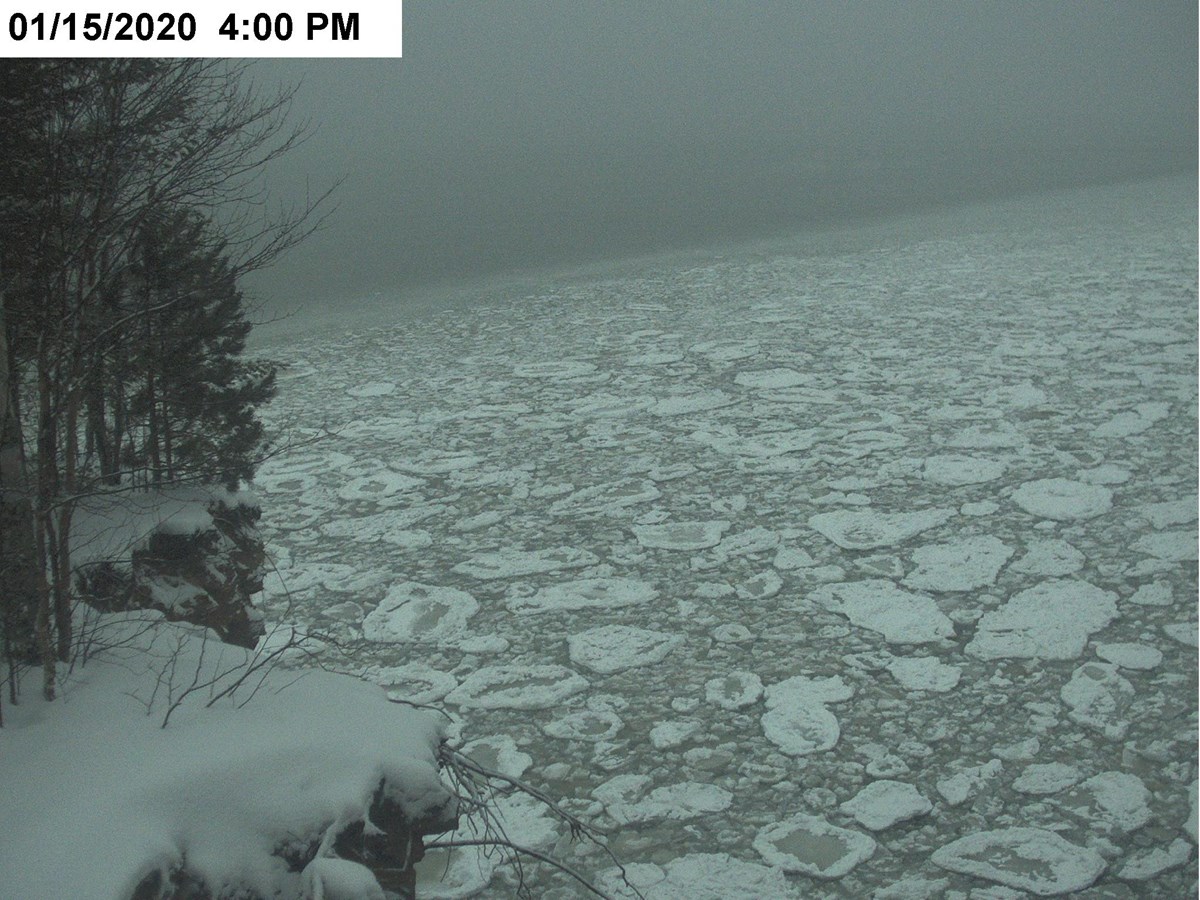 January 15, 2020 - Mainland sea caves
Loading weather forecast...
Summer Conditions
Sea Caves Watch provides real time imagery, wind, and waves at the mainland sea caves, as well as, wave conditions near Stockton Island and Sand Island.
Last updated: January 16, 2020