Current Conditions
Apostle Islands National Lakeshore is open year-round; however, the islands become much more challenging to access during the shoulder seasons and winter. It is always a good idea to check on current conditions before setting out.

This site is updated regularly to reflect the latest conditions, as is the Ice Line at (715) 779-3398 x3 and Facebook. If needed, contact the park headquarters directly at (715) 779-3398, during normal business hours.
Winter Conditions
The mainland area of the park is often accessible during the wintertime. During major snow events, it may be a few days before the road to Meyers Beach or Little Sand Bay are plowed. The islands become much more challenging to access during the shoulder seasons and winter. Winter weather can be quite cold and extreme. Sea Caves Watch provides real time imagery, wind, and waves at the Mainland sea caves.

During this time of increased safety concerns due to COVID-19, please follow park closures (listed below) and updated safety guidance.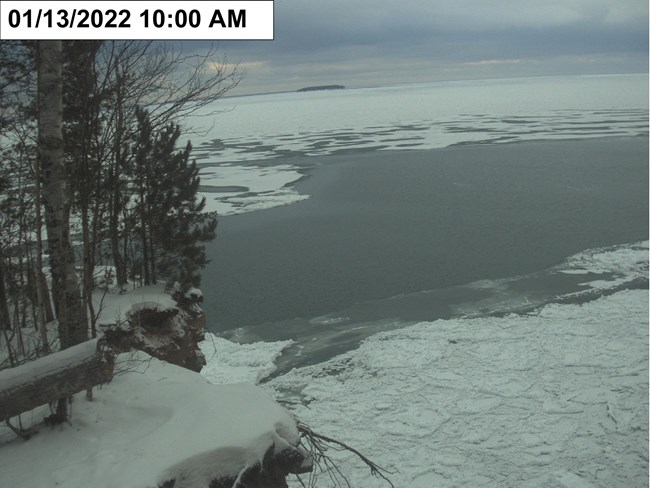 Updated on January 7, 2021
To promote our staff and visitors' safety, masks are required in all NPS buildings and on all forms of enclosed public transportation, regardless of location or vaccination status. Additionally, masks must be worn in outdoors spaces where physical distancing cannot be maintained, such as narrow or busy trails and overlooks.
Current status of the

Mainland Ice Caves: CLOSED

Open water at Meyers Beach and the mainland sea caves.
The current NOAA ice cover forecast for 2022 is for 8.5% maximum ice cover on Lake Superior. This forecast reduces the chances that the frozen lake surface will be accessible this winter.
The frozen surface of Lake Superior is CLOSED to public access at the mainland ice caves due to unsafe ice conditions.

Current status of Meyers Beach Road:

OPEN

There is currently no potable water available at Meyers Beach.

Please note: after snowfall, it may take a day or two before the road and parking lot are plowed.

Current status of the Lakeshore Trail at Meyers Beach: OPEN

Fresh snow on 1/5 may make the trail slippery. Consider traction devices and/or hiking poles.
If you are choosing to hike during this pandemic, practice appropriate COVID-19 safety measures, including social distancing of at least 6 feet from other people.

Current status of Meyers Beach and Little Sand Bay Beach: OPEN
Current Closures
Maintenance Closures
None at this time.
Information and Closures related to COVID-19
Apostle Islands National Lakeshore encourages everyone to follow CDC guidance to help reduce the spread of COVID-19. Together, we can help keep park staff, visitors, and the community safe and healthy and maintain access for everyone.
Visitor Centers - park rangers are always available by phone, (715) 779-3398, and email.

Bayfield VC - Closed for the Season. Appointments can be made in advance by phone or email.

Little Sand Bay VC - Closed for the Season.

Stockton Island VC - Closed for the Season.

Northern Great Lakes Visitor Center in Ashland - Entrance vestibule and gift shop currently open daily, 9 am - 5 pm.
Storm Damage Closures and Warnings
Devils Island:

Sand Island:

Little Sand Bay:

Hokenson Dock, herring shed, ice house, and beach area of Fish Camp - CLOSED
Loading weather forecast...
Winters in Northern Wisconsin can be quite frigid at times, with strong winter winds across the Lake, making it feel even colder. For the safety of our staff and visitors, the park will be closed under the following weather conditions:
Wind Chill of -40oF

Air Temperature of -25oF

Combination of -35oF wind chill & -20oF air temperature

Extreme snow conditions resulting in delayed removal of snow will close areas until snow can be removed (Meyer's Beach & Little Sand Bay).
During a park closure due to weather, park offices will be closed, snow removal operations may be delayed, and the Meyers Beach area will be closed, including the ice caves (if accessible at that time).
Last updated: January 7, 2022