Plan Your Visit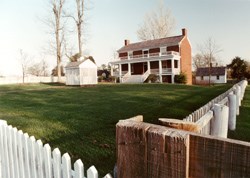 Welcome to the historic village of Appomattox Court House
Visitors- With over a dozen buildings, a museum, theater, and bookstore, we suggest allowing at least two hours for your visit.
Please know much of the village terrain is relatively flat; however, there is a 100 yard walk uphill from the parking lot to get into the village. If you need assistance to get from the parking lot to the visitor center please call us at 434-352-8987 extension 226 and if a cart is available we will come and pick you up at the flagpole.
Due to the historic nature of the historic village, surfaces are gravel, dirt, or grass and most buildings are not accessible to wheelchairs.
Teachers- If you are thinking about bringing your students to the park click on this link: Learn About the Park.
Click here to take a virtual tour of the park before your visit.
Operating Hours and Seasons
The Visitor Center is open daily from 9:00 a.m. to 5 p.m.
-with the exception of closures on the following federal holidays during the winter:
Thanksgiving, Christmas Day, and New Years Day.

In case of bad weather or emergency closure conditions dial:
434-352-8987 x 245
Accessibility
There are several problems with accessibility at the park including: the village is located on a ridge that requires visitors to proceed up a steep incline; the historic nature of the buildings in the park makes for many staircases that visitors have to traverse; while all visitors can see the films, there is no elevator access to the upstairs of the visitor center museum. For more information on accessibility issues click on the left
.


Last updated: November 14, 2017