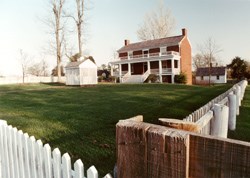 Welcome to the historic village of Appomattox Court House
Visitors- With over a dozen buildings, a museum, theater, and bookstore, we suggest allowing at least two hours for your visit.
Please know much of the village terrain is relatively flat; however, there is a 100 yard walk uphill from the parking lot to get into the village. If you need assistance to get from the parking lot to the visitor center please call us at 434-352-8987 extension 226 and if a cart is available we will come and pick you up at the flagpole.
Due to the historic nature of the historic village, surfaces are gravel, dirt, or grass and most buildings are not accessible to wheelchairs.
Teachers- If you are thinking about bringing your students to the park click on this link: Learn About the Park.
Click here to take a virtual tour of the park before your visit.