Current Conditions
Phased Re-Opening of Appomattox Court House National Historical Park
The National Park Service (NPS) is working servicewide with federal, state, and local public health authorities to closely monitor the COVID-19 pandemic and using a phased approach to increase access on a park-by-park basis. Based on guidance from the White House, Centers for Disease Control and Prevention (CDC), and state and local public health authorities, access to the park is as follows:
Open
Park grounds, trails, the McLean House, most buildings in the historic village, and Clover Hill Tavern restrooms are open. The main visitor parking lot will be open from 9:00 a.m. to 5:00 p.m.

The McLean House is open to the public from 9:00 - 5:00 daily, one family group at a time. People who are not fully vaccinated will be required to wear a face mask covering mouth and nose when inside the house.

Face masks are required for people who are not yet vaccinated in indoor spaces like the bookstore and historic buildings and outdoors when social distancing of six feet cannot be maintained. Masks must cover the nose and mouth and fit snugly around the nose and chin with no large gaps around the sides of the face. Masks not designed to be protective, masks with ventilation valves, and face shields do not meet this requirement.
The reconstructed courthouse visitor center remains closed.

The Park Store is open the following hours (may vary):
Thursday-Monday 9:00-5:00
Tuesday 10:30-4:15
Wednesday 10:30-5:00
Closed
The reconstructed courthouse visitor center remains closed at this time.
Know Before You Visit
Watch the park's 17-minute video before you visit, since the film is not available to view on-site.
Our on-site Junior Ranger program will not be available at this time because many of the answers for the program are found in the park's visitor center exhibits. Check out our online Junior Ranger program instead!
All of our staff will observe social distancing protocols. Please remain 6 feet away as you listen in for orientation or information and when you ask questions.
Accessibility Note: Much of the park is not accessible to wheelchairs, and many of our accommodations for those with other accessibility needs will not be readily available at this time. Please call ahead at 434-352-8987 x231 to coordinate your visit if you will need accessible accommodations.
Although visiting groups are still encouraged to call ahead to make reservations, we are currently unable to accommodate requests for talks or tours for large groups.

While the listed areas are accessible for visitors to enjoy, a return to full operations will continue to be phased, and services may be limited. When recreating, please follow state and local area health orders, practice Leave No Trace principles, and avoid crowding and high-risk outdoor activities.

The CDC has offered guidance to help people recreating in parks and open spaces prevent the spread of infectious diseases. We will continue to monitor all park functions to ensure that visitors adhere to CDC guidance for mitigating risks associated with the transmission of COVID-19 and take any additional steps necessary to protect public health.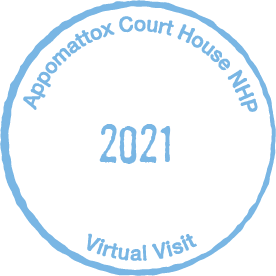 Can't visit in person?
Take this memento of a virtual visit for your Passport book in 2021!
Download the virtual visit stamp here.
Loading weather forecast...
Last updated: May 17, 2021