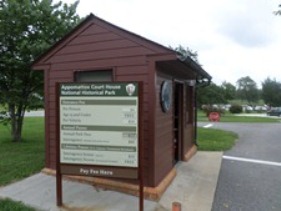 NO ENTRANCE FEE STARTING OCTOBER 1, 2016
Fees and passes through September 30, 2016
The entrance fee is $10 per vehicle (privately owned vehicles, less than 15 passenger).
Motorcycle entrance fee is $5 per motorcycle.
Commercial Bus Tour entrance fee is $100 per bus and should be scheduled in advance.
All valid National Park Passes are accepted.
Interagency Passes (National Parks and Federal Recreational Lands Pass Program) are honored.


These include:
Annual for $80
Senior $10
Park specific (Appomattox Court House NHP) annual pass $15
Access, Volunteer, Every Kid in a Park and Military passes are free to qualifying individuals with some restrictions.


Fees and passes starting October 1, 2016
Visitors will not be charged an admission fee to visit the park.
Qualifying visitors may obtain any of the passes for which there is no charge. Those passes include the Access Pass (persons with a permanent disability), Military Pass (active military) and Every Kid in a Park (4th graders with a printed voucher from
www.everykidinapark.gov
)


Vehicles are restricted to the parking area and paved roads.