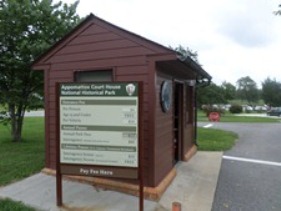 The entrance fee is $10 per vehicle (privately owned vehicles, less than 15 passenger).
Motorcycle entrance fee is $5 per motorcycle.
Commercial Bus Tour entrance fee is $100 per bus and should be scheduled in advance.
All valid National Park Passes are accepted.
Interagency Passes (National Parks and Federal Recreational Lands Pass Program) are honored.
These include:
Annual for $80
Senior $10
Access, Volunteer, and park specific (Appomattox Court House NHP) annual pass $15

Vehicles are restricted to the parking area and paved roads.