Things To Do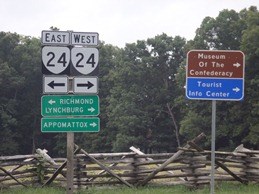 Special Programs
Check our Special Events page or the Schedule of Events calendar for special programs, especially during the Surrender and Freedom Day Anniversary week around April 9 each year and periodically throughout the summer.
Guided Programs
During the warmer seasons (Spring-Fall), the park offers a variety of guided programs for visitors to delve deeper into the park's many stories. Take a Ranger-led guided program, or hear a firsthand experience of the Surrender and what followed from a Living Historian! Find out more details here.
Hiking Trails
The park has close to 8 miles of trails ranging from short loop trails to long walks through nature and history. Check out our hiking trails page to choose which trail is right for you!
Exhibits
Exhibits include many original artifacts associated with the events surrounding the surrender of the Confederate Army of Northern Virginia. Artifacts range from the pencil used by General Lee to make corrections in the surrender terms to uniforms, documents, and military items associated with the historic events at Appomattox Court House.
Theater
The park visitor center has a 70-seat theater where the park's new film (released April 2015), "Appomattox, With Malice Toward None" is shown on the hour and half-hour. The first showing of the day is at 9:00 a.m. and the last show of the day is at 4:30 pm.
Last updated: December 23, 2020