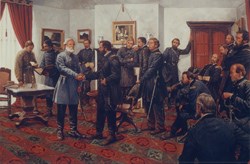 A Gentlemen's Agreement
On the morning of April 9, while General Robert E . Lee realized that the retreat of his beleaguered army had finally been halted, U. S. Grant was riding toward Appomattox Court House where Union Cavalry, followed by infantry from the V, XXIV, and XXV Corps had blocked the Confederate path. Lee had sent a letter to Grant requesting a meeting to discuss his army's surrender and this letter overtook Grant and his party just before noon about four miles west of Walker's Church (present-day Hixburg). Grant, who had been suffering from a severe headache, later remembered that upon reading Lee's letter the pain in his head had disappeared. He stopped to prepare his reply to Lee, writing that he would push to the front to meet him.
The location of the meeting was left to Lee's discretion. Lt. Colonel Orville E . Babcock and his orderly, Capt. Dunn, took Grant's reply and rode ahead. Babcock found Lee resting under an apple tree near the Appomattox River. After reading Grant's letter, Lee, his Aide-de-Camp Lt. Colonel Charles Marshall, and Private Joshua O. Johns rode toward Appomattox Court House accompanied by Federal Officers Lt. Col. Babcock and Capt. William McKee Dunn. Marshall and Johns rode ahead of Lee in order to find a place for the generals to confer. As Marshall passed through the village he saw Wilmer McLean in the vicinity of the courthouse. He asked McLean if he knew of a suitable location, and McLean took him to an empty structure that was without furniture. Marshall immediately rejected this offer. Then McLean offered his own home. After seeing the comfortable country abode, Marshall readily accepted and sent Private Johns back to inform General Lee that a meeting site had been found.