Accessibility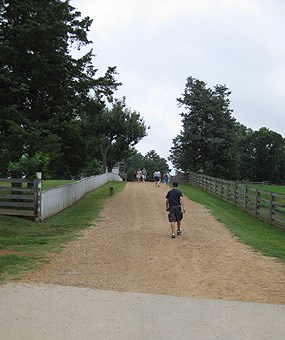 Much of the village terrain is relatively flat, but, there is a one-hundred yard walk uphill from the parking lot to get into the village. If you need assistance going up this hill please call the visitor center at 434-352-8987 extension 226 and we will send a cart to pick you up at the flag pole. Surfaces in the village are gravel, dirt, and grass.
Due to the historic nature of the historic village, most buildings are not accessible to wheelchairs. Many of these structures feature steps to enter and narrow hallways.
In the visitor center there is a 15-minute film that shows at the top of the hour and at the bottom of the hour. The film is shown in the upstairs auditorium, but may also be seen on the first floor. Exhibits are located on the second floor, accessible by stairs only. A picture album of the second floor exhibits and other areas of the park that are not accessible is available in the visitor center.

Ipads are available for visitors to use Facetime at the visitor center or the McLean House. This will allow one member of the group to transmit a video to the person who cannot get to the upper floors. It also allows the individuals to communicate with each other. For further information ask at the visitor center front desk.
Wheelchairs may be borrowed at the visitor center, on a first come first serve basis. There is no charge for loan of wheelchairs, but we ask for a driver's license while the chair is on loan. Visitors should note that while wheelchairs can be taken all around the park, the gravel and dirt surfaces can make it relatively strenuous work.
For braille readers, there is a table-top braille map of the village and a braille guidebook of the village available in the visitor center. Large print handouts are also available at the information desk in the Visitor Center.
Last updated: September 17, 2019