News Release
Appomattox Court House NHS and Appomattox 1865 Foundation to Host Free Concert August 31
Date:
August 16, 2017
Contact:
Robin Snyder
, 434-352-8987 Ext. 222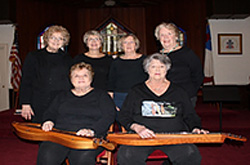 Appomattox Court House NHS and Appomattox 1865 Foundation to Host Free Concert August 31
Appomattox, Va.
– Appomattox Court House National Historical Park and its friends group, the Appomattox 1865 Foundation, will host "Dynamic Dulcimers and Friends" in a free outdoor concert on August 31, 2017. Bring a lawn chair, blanket, or picnic to enjoy the traditional string music on the grounds of the McLean House from 6:00-8:00 p.m.  
This family-friendly event is part of the Sweeney Concert Series, sponsored by the Appomattox 1865 Foundation to honor the region's musical heritage. "Dynamic Dulcimers" presents a selection of music from O'Carolan, the legendary Irish harper for the 16
th
Century and Celtic and Americana music. They invite the audience to sing along on selections of Celtic and Americana folk songs.  
You can find this and other programs listed on the park's website,
www.nps.gov/apco
, or call the park at 434-352-8987 ext. 222. Please follow the park on Facebook and Twitter to learn more about park activities and resources.   
Last updated: September 7, 2017