News Release
Arts in the Park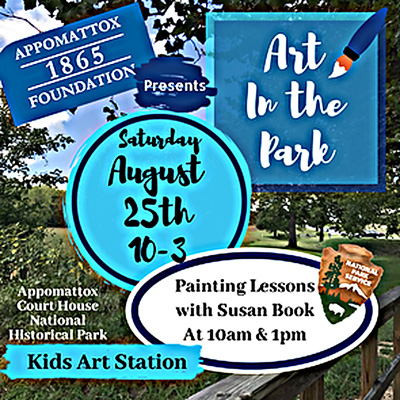 News Release Date:
August 8, 2018
Contact: Shea Klein, 434-664-0012
Appomattox Court House NHP News Release
August 3, 2018                                                                                          Contact: Shea Klein
Release Date: Immediate                                                                          Phone No: 434-664-0012
Art in the Park at Appomattox Court House NHP August 25, 2018
From 10-3 on Saturday, August 25, 2018, Appomattox Court House NHP and the Appomattox 1865 Foundation will host "Art in the Park," a day featuring plein air painting and a children's art station. The event will be held in the historic village section of the park, and it is free and open to the public.
Plein Air Painting:
Painter Susan Book will offer plein air painting lessons at 10am and 1pm to paint the McLean House, the Courthouse, or the Stage Road. Participants can keep their painting and artwork as a souvenir for the day.
The Children's Art Station will feature coloring, sketching, and acrylic and watercolor painting from 10am to 3pm behind the McLean House, with story time at noon. Learn new artistic techniques and explore the stories of the McLean family, the enslaved people who lived behind the house, and the famous 1865 surrender!
Appomattox Court House National Historical Park will be open from 9am to 5pm, and the park will offer regularly scheduled Living History presentations and Ranger Talks throughout the day. The Appomattox 1865 Foundation will provide beverages and offer information regarding membership at the event. Step back into 1865, and paint the historic village!
-NPS-
About Appomattox Court House National Historical Park: On April 9, 1865, the surrender of the Army of Northern Virginia in the McLean House in the village of Appomattox Court House, Virginia signaled the end of the nation's largest war. The stories of Appomattox Court House go far beyond the final significant battles of this nation's Civil War. Learn more at www.nps.gov/apco.
About the National Park Service. More than 20,000 National Park Service employees care for America's 417 national parks and work with communities across the nation to help preserve local history and create close-to-home recreational opportunities. Visit us at www.nps.gov, on Facebook www.facebook.com/nationalparkservice, Twitter www.twitter.com/natlparkservice, and YouTube www.youtube.com/nationalparkservice.
About The Appomattox 1865 Foundation: The mission of the Appomattox 1865 Foundation is to enrich the understanding and appreciation of the heritage and significance of Appomattox Court House National Historical Park. The Foundation focuses on efforts to preserve the past, augment financial support, commemorate history and enhance each and every visitor's experience.
E X P E R I E N C E

Y

O U R

A

M E R I

C
™
A
The National Park Service cares for special places saved by the American people so that all may experience our heritage.
A PDF of this news release is
available.
Last updated: August 7, 2018