Final Attack Trail-Stop 4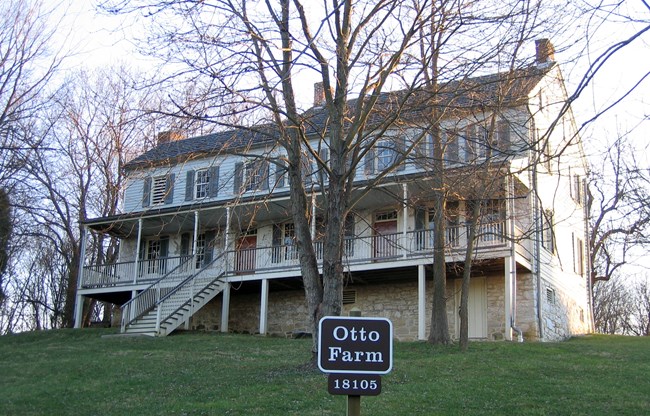 Stop 4 - Otto Lane Respite
As you enter the historic Otto Lane the trail continues south (left). However, first walk down to the 11th Ohio Monument for stop 4, then come back and rejoin the trail. This entire trail is located on the Otto Farm. John and Kate Otto's home is just to the north down this historic farm lane. You passed the house on your drive to the Burnside Bridge. One of Otto's two enslaved people, Hillary Watson, remembered how on September 16th, "The hill at our place was covered with the Rebels. They'd walk right into the house and say, 'Have you got anything to eat?' like they was half starved…The Union troops, who come into our place few days later, wasn't so hungry. The rebels was always hungry, and the men were miserable dirty." Hillary Watson was emancipated, but stayed on the farm. Later he bought several pieces of property and lived in Sharpsburg. Following the battle, the Otto and Sherrick Farms served as field hospitals, primarily for the men of the 9th Corps.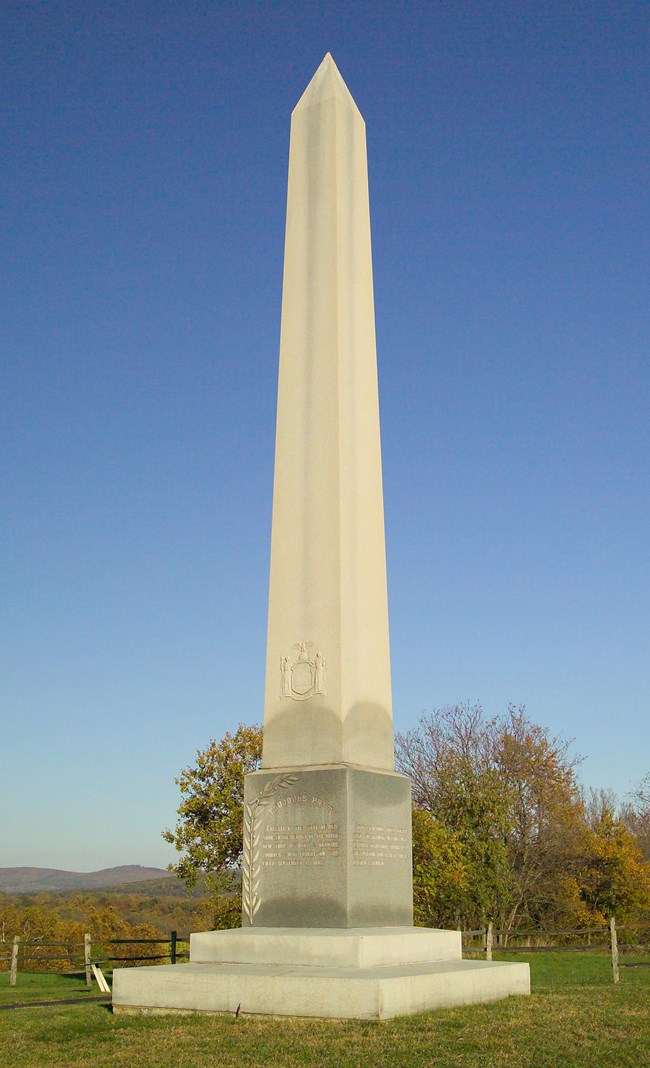 After they advanced under the terrible fire from rifles and cannons to this point, Union soldiers would use the gully that you are standing in to seek respite from the terror. Col Harrison Fairchild's small brigade with the 9th (Hawkins Zouaves), 89th and 103rd New York Infantry (about 940 men) continued on, driving farther west than any other brigade in the 9th Corps. They paid dearly for their bravery with approximately 48% of their men killed and wounded, a higher percentage than any other Union brigade in the battle. A member of the 9th New York remembered that "The loss was frightful." As you walk, look at the top of the hill. The tall obelisk is a monument dedicated to the 9th New York and it marks their farthest advance. Supporting Fairchild was Col George Crook's Brigade with the 11th, 28th and 36th Ohio who also advanced to this spot. The veterans of the 11th Ohio would return and dedicate this monument in 1903.
Eyewitness
"After reaching the crest of the hill we had to pass over quite a stretch of ground before we commenced descending into a hollow lying between the ridge occupied by the enemy and ourselves. The enemy not only had a direct, but a cross fire on us. It was going down this slope that Col Clark [Col Melvin Clark, 36th Ohio, Crook's Brigade] commanding the 36th was killed by a round shot that came from our left. It struck him sideways, just above the hips, tearing him almost in twain. He died almost instantly."
Colonel George Crook, 2nd Brigade, Kanawha Division

Backtrack to the trail which follows Otto Lane south. You are paralleling the Union lines of battle.
Last updated: February 24, 2021