Final Attack Trail-Stop 2
Stop 2 - Advance on Sharpsburg
The next two stops provide exceptional views of the Antietam Valley and the series of ridges and farms that the 9th Corps advanced across. At Stop 2 you are facing mostly east. Antietam Creek is at the bottom of the hill below you and the Burnside Bridge is 300 yards to your right. The Union 9th Corps gathered behind the hill on the other side of Antietam Creek and made their assaults on the bridge.

Once the Burnside Bridge was taken, about 8,000 Union soldiers gathered on this side of the creek, many of them moving up the creek valley below you toward Sharpsburg. One other key feature is the cleared ridge line at the base of the mountain to your front right about ½ mile away. This was a crucial Union artillery location, where up to 24 guns dueled with Confederate artillery to the west.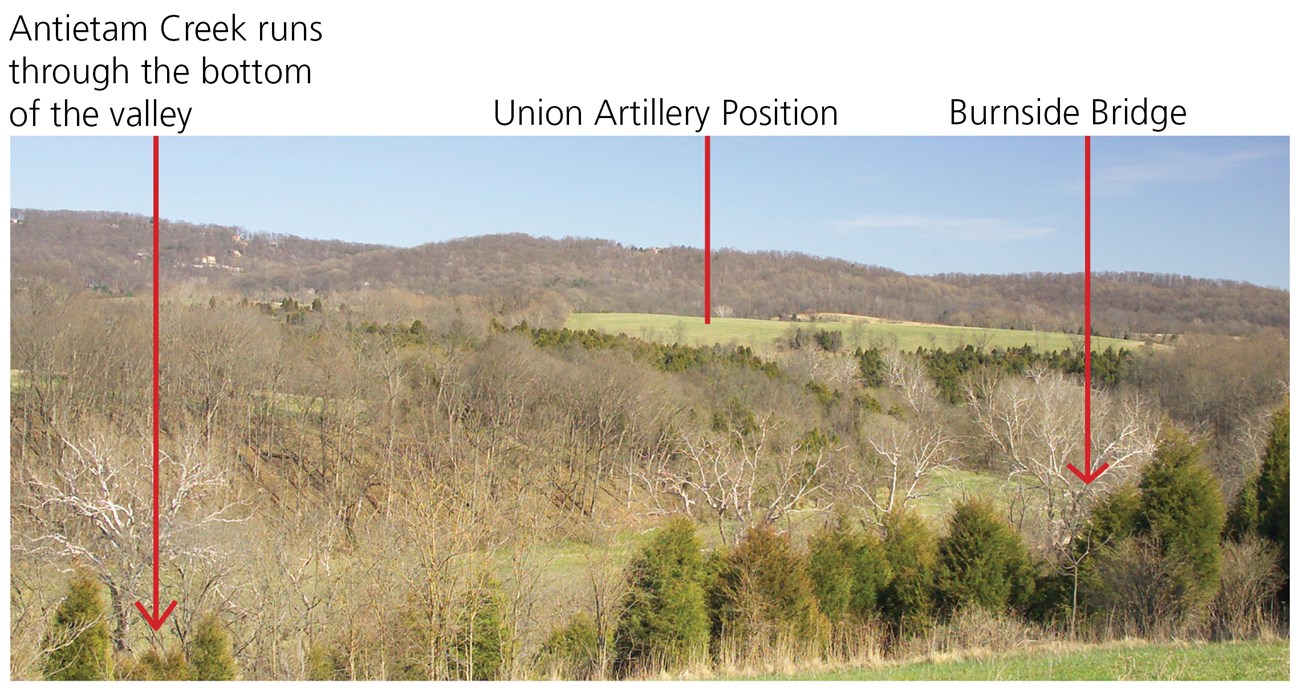 Eyewitness
"We heard all through the war that the army was eager to be led against the enemy, but when you came to hunt for this particular itch, it is always the next regiment that had it. The truth is, when bullets are cracking skulls like eggshells, the consuming passion in the breast of the average man is to get out of the way. Between the physical fear of going forward and the moral fear of turning back, there is a predicament of exceptional awkwardness from which a hidden hole in the ground would be a wonderfully welcome outlet."
Private David L. Thompson, 9th NY Infantry, Fairchild's Brigade

As you continue on the trail toward Stop 3, you are heading in a more westerly direction.

Last updated: February 24, 2021