Welcome Teachers!
Discover Miocene Epoch fossils found in the late 1800s and early 1900s. Agate's great bonebed reveals one or more death events of a rhino that once roamed North America. Other strange beasts, long extinct, include animals from the chalicothere and entelodont families.
Learn of a friendship between rancher James Cook and Chief Red Cloud of the Oglala Lakota that resulted in the James Cook Collection of American Indian artifacts.
Explore the mixed-grass prairie and Niobrara River on two trails.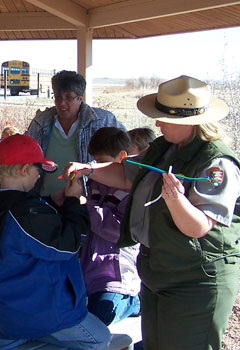 Last updated: April 10, 2015