Field Trips
On Site Field Trips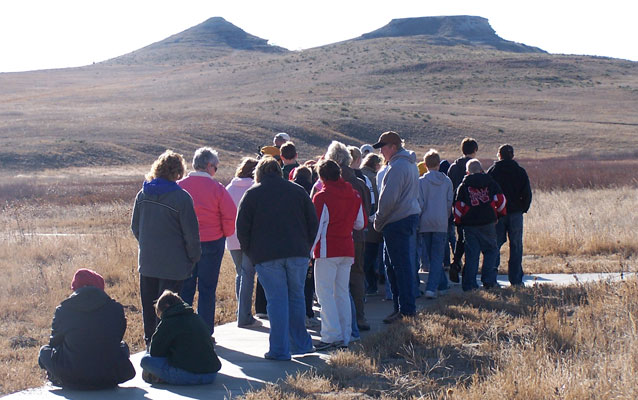 Description
Indoor programs:
Diorama Talk

Visit the Great Bonebed of Agate and learn about the death scene of hundreds of Miocene mammals, especially the small rhino, Menoceras. Discover the best examples of long-extinct creatures from 20 million years ago with names like Moropus and Daeodon. Learn how fossils were formed, discovered and analyzed.

Touching History
Uses of buffalo parts and other natural items as tools, clothing, utensils, expressions of art and culture are discussed.  See and touch reproduced American Indian items similar to those you will see in the James H. Cook gallery. Learn about "wintercounts" in general and a special wintercount that was painted for our museum. Concludes with a visit through the gallery.
Outdoor programs:
Guided hike on the Fossil Hills trail, 2.7 miles roundtrip

Experience the natural mixed grass prairie and Niobrara River on the way to University and Carnegie hills, where universities and museums excavated the Agate Bonebed in the early 1900s. View geologic traces of the ancient river in the cliff face and learn to identify fossils.

Guided hike on the Daemonelix trail, one mile roundtrip
Learn about the mysterious trace fossil "Devil's Corkscew" that first captivated the paleontologists' time and interest. View the Agate Springs ranch where James Cook lived and the American Indians visited. Learn to identity paleosols and other evidence of long past landscapes.
Field trips usually range from one to four hours, depending on the size and interests of the group and time available. Trails have easy-to-walk surfaces with gradual elevation gains of 100+ feet.
Contact
Ranger office
308-436-9760 or 308-668-2211
Details
Subject:

American Indian History and Culture, Art, Biology: Animals, Biology: Plants, Climate Change, Earth Science, Geology, History, Paleontology, Pioneer America, Science History

National/State Standards:

Nebraska  History- K-1: 1.1, 1.4  2 - 4: 4.2, 4.5, 4.6, 4.7  5 - 8: 8.1.7, 8.4.2  9 - 12: 12.1.1, 12.1.4, 12.1.12  Science K-2: 1.1, 2.1.1.a, 2.1.1.d  3-5: 1.2, 5.1.2.a, 3.4, 5.3.4.a  6 - 8: 4.4 8.4.4.b  9-12: 3.4, 12.3.4.c, 4.4, 12.4.4, 12.4.4.b

type:

Field Trips