Stargazing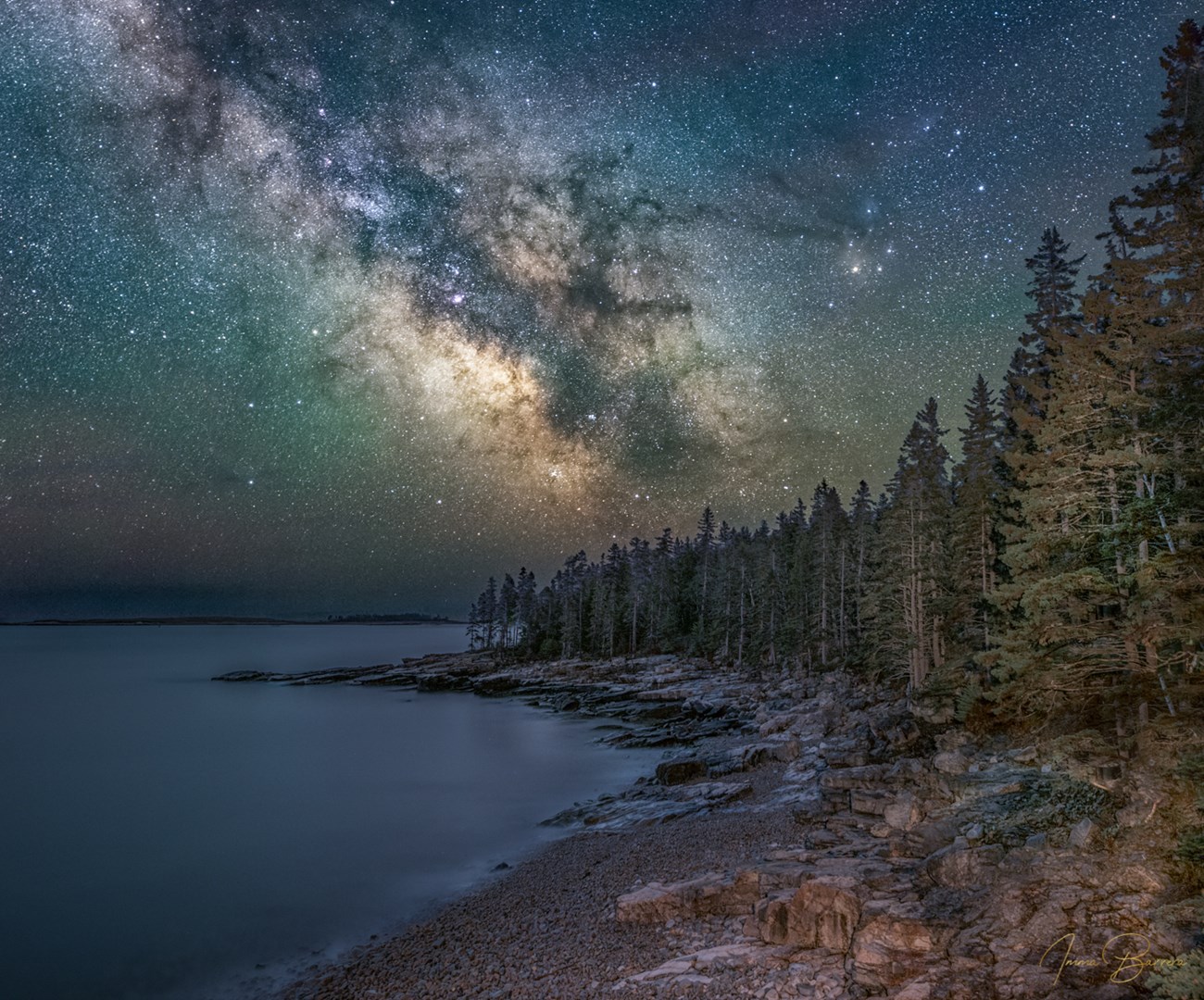 Stargazing at Acadia
The night sky is one aspect of our environment that everyone across the world can experience. It is a resource that humans throughout time have looked to as both a mode of navigation and a realm for the spiritual. Though the night sky at Acadia looks a little different than the night sky in the Southern Hemisphere, everyone has the access to gaze up into what lies beyond our planet. Stargazing is a great way to experience nature, explore science, and ponder history.
Acadia Night Sky Week 2023
The Acadia Night Sky Festival will not be held in 2023. The sponsors continue to consider options for conducting the festival in the future. We are very thankful for all of our followers, visitors, and collaborators.
Alternatively, the National Park Service is offering a series of free public programs for Acadia Night Sky Week on Sept 10-16, 2023. Find program descriptions in the online calendar below. For more information, please call 207-288-3338.

Where to Go
Vehicle access for Stargazing at Cadillac Summit is limited to a few months of each year. The Park Loop Road is closed for winter, typically Dec 1-Apr 14. From May into October, daytime access is managed by a Vehicle Reservation System and the road closes each night at 10 pm. Overnight parking is prohibited. Vehicle reservations are not required to hike or bike to the summit, however. Always bring flashlights or bike lights for night excursions.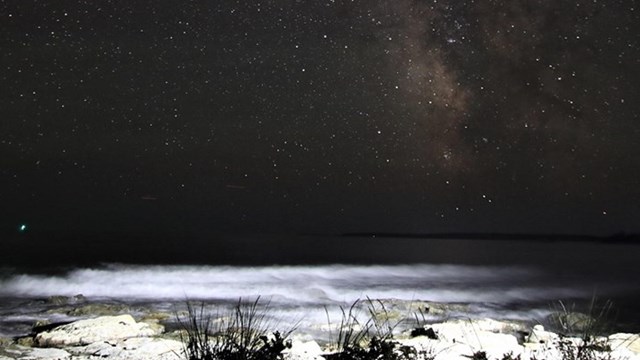 Stargazing at Seawall
Explore the night sky from the west side of Mount Desert Island while enjoying the ocean soundscape.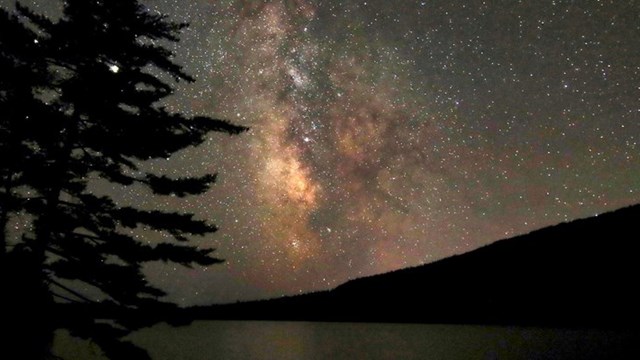 Stargazing at Jordan Pond
Capture the night sky from different viewpoints around Acadia's clearest lake.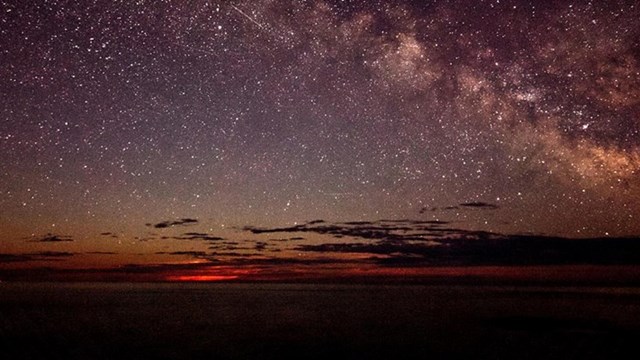 Stargazing at Ocean Path
Ocean Path offers many locations and opportunities for viewing and photographing the night sky.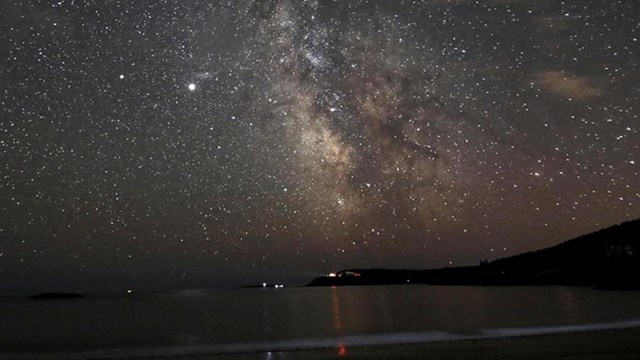 Stargazing at Sand Beach
Enjoy gazing up into the cosmos nestled comfortably on a blanket on Acadia's only and very popular sandy beach.
Know Before You Go
Astronomy can be daunting for beginners, but stargazing does not have to be hard. The two keys to enjoying a gaze up into the cosmos are going out in the proper conditions and arriving prepared.
Best Stargazing Conditions
New moon, before moonrise, or after moonset – Though a very fantastic and powerful celestial body, the moon and its brightness can impede your ability to see the stars in their multitude. Check the phases of the moon and the moonrise and moonset times.
Clear skies and good weather – Stargazing is best on a cloudless or minimally clouded night. Check the forecast for inclement weather and cloud coverage before you venture out.

An hour or two after sunset – Even after the sun sets, there remains some residual light. Stargazing will be best an hour or two after sunset, when this residual light has dissipated.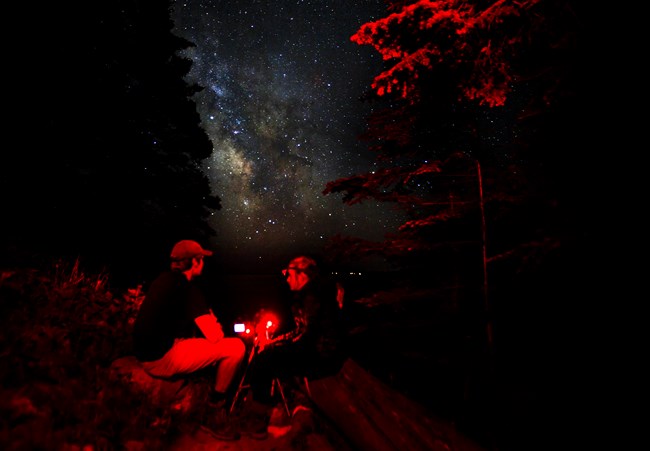 Stargazing Preparation and Safety
What to Bring
Flashlight/headlight (ideally with a red-light function): It is important to stay safe while navigating in the dark, but the bright white lights of a flashlight can impact your night vision and your ability to see all of the stars. Using a flashlight with a red light preserves your night vision, so your eyes do not need as much time to adjust to seeing the night sky.

Blanket, towel, chair, or something comfortable to sit or lie on: These items are recommended to most comfortably enjoy viewing the night sky and to prevent any upward gazing-induced vertigo.
Star map or stargazing app: If you are interested in identifying constellations, asterisms, planets, or other celestial bodies, star maps printed from the internet specific for the time of year or stargazing smartphone apps are useful tools.

Junior Ranger Night Explorer Book: For National Park Service Junior Rangers out enjoying the night sky, there is an astronomy and stargazing specific junior ranger program to work through.
Safety First
Careful when navigating in the dark, especially when traveling over uneven or rocky surfaces.

Careful when stargazing on beaches or coastlines and avoid going in the water at night.

Nighttime in Acadia can get colder than you might expect, so bring layers to stay warm.

Mosquitos are common during summer months near water sources. Come prepared with proper clothing or insect repellant for the most comfortable experience.
Astrophotography
Astrophotograhy is a type of photography involving the night skies. Although these images are different than what our human eyes can see, photographers use long exposure shots to capture the beauty of stars, constellations, and the Milky Way in a dramatic and inspiring way.

Check out the images from various stargazing locations at Acadia and be inspired to create your own.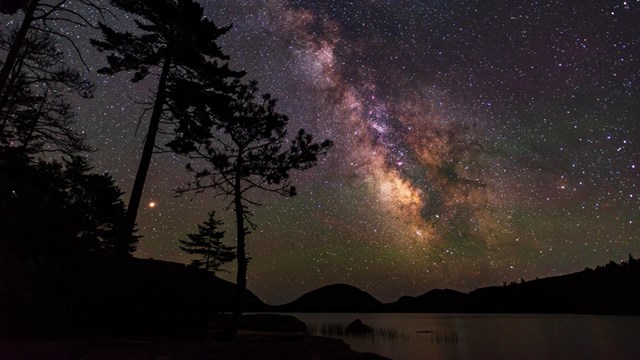 Acadia's Night Skies
Acadia National Park possesses remarkably dark skies for its proximity to Portland, Boston, and New York.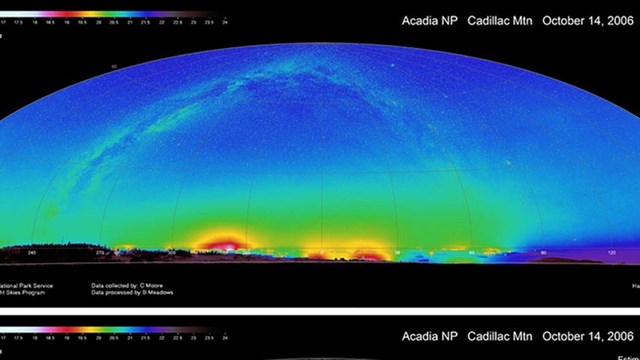 National Parks and Night Skies
Learn more about ways the National Park Service protects night skies across the country.
Last updated: September 1, 2023