Places To Go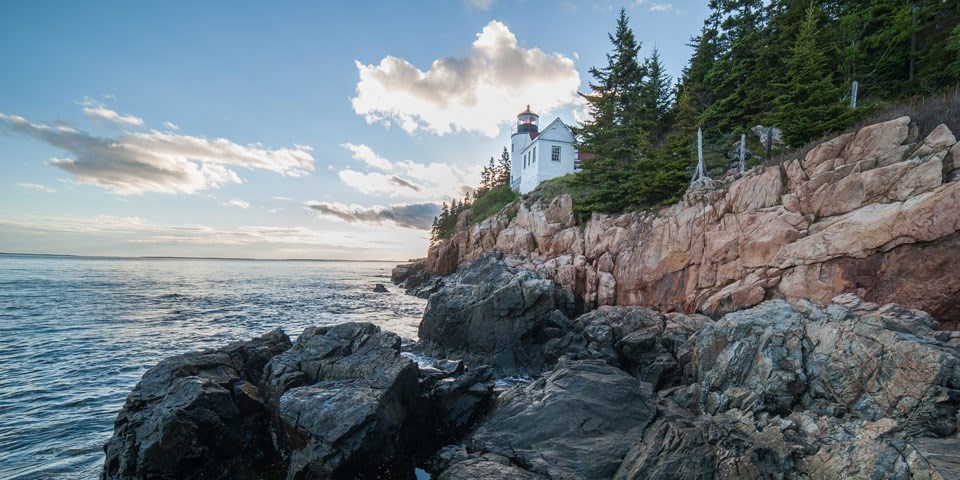 Scenic Areas
Bass Harbor Head Light is the only lighthouse on Mount Desert Island. The United States Coast Guard operates and maintains the lighthouse and surrounding buildings. While the lighthouse is not open to the public, visitors can view it up close by way of a short paved path or take a trail and stairway to view it from the shoreline. The lighthouse is located off Route 102A in the Town of Tremont and accessible by private vehicle. The Island Explorer does not directly serve the lighthouse, but it can drop passengers off the end of the entry road, which is about about half a mile from the lighthouse.
At 1,530 feet (466 m), Cadillac Mountain is not only the tallest mountain in the park, but also the tallest mountain along the eastern coast of the United States. Cadillac Mountain is accessible via a winding, narrow, 3.5-mile road. The road is closed from December through April 14 and whenever weather condtions (e.g. dense fog or ice) require.
"High Island" is the English translation for Isle au Haut, the name given by the French navigator Samuel Champlain during his explorations of the Maine coast in 1604. For more information, please visit the Isle au Haut page. If you are looking to camp on Isle au Haut (Duck Harbor Campground) visit our camping page for more information.
The 27-mile (43 km) Park Loop Road system offers outstanding views of the park's ocean shoreline, coastal forests, and mountain silhouettes. This historic road system is open from April 15 through November, 24 hours a day, weather permitting (small portions remain open all year).
The Schoodic Peninsula offers a wide array of opportunities for discovering Maine's rugged coast without all the congestion of Mount Desert Island. Whether exploring on foot, by bike, or by car, there is something for everyone. Learn more on our Schoodic page.
On less than one acre, the Wild Gardens of Acadia offer a microcosm of Mount Desert Island's natural habitats. As you stroll the level gravel and pine-needle paths, see what's in bloom and learn to recognize a variety of native plants, which are labeled to aid in identification. Watch the abundant bird life or just listen to the spring-fed brook in a most tranquil setting. Please refrain from smoking or bringing your pets into the Wild Gardens of Acadia.
Federal Parks and Wildlife Refuges
Saint Croix Island International Historic Site 125 miles (201 km) Located 8 miles (13 km) south of Calais, Maine, on U.S. Route 1, Saint Croix Island IHS commemorates one of the earliest European settlements in North America and the first attempt at permanent French colonization in the territory they called l'Acadie (Acadia). Visit Saint Croix's website for more information.
Maine Coastal Islands National Wildlife Refuge 50 miles (80 km) Composed of islands along the Maine coast, this wildlife refuge protects nesting habitat for diverse seabird and wading bird populations, as well as bald eagles. Visit Maine Coastal Islands' website for more information.
Moosehorn National Wildlife Refuge 150 miles (241 km) The eastern-most national wildlife refuge in the Atlantic flyway, this wildlife refuge protects migrating waterfowl, wading birds, shorebirds, upland game birds, songbirds, and birds of prey. Visit Moosehorn's website for more information
State Parks
Lamoine State Park 21 miles (34 km) This park is the closest state park to Acadia. Located across Frenchman Bay from Mount Desert Island, it includes a campground, picnic area, and boat ramp.
Baxter State Park 120 miles (193 km) Featuring Katahdin Peak, the tallest mountain in Maine and the northern end of the Appalachian Trail, Baxter State Park offers numerous recreational opportunities.
Area Museums

Abbe Museum, Downtown Bar Harbor
Parking and entrance in rear of building. Accessible restrooms are available.
http://www.abbemuseum.org/

Abbe Museum, Sieur de Monts
Assistance may be needed for ascending steep paved trail to museum.
http://www.abbemuseum.org/

George B. Dorr Natural History Museum, College of the Atlantic
Assistance may be needed at entrance. Wheelchair-accessible parking and restrooms are available.
http://www.coa.edu/dorr-museum-microsite.htm

Great Harbor Maritime Museum, Northeast Harbor
Open seasonally. Only the first floor is wheelchair-accessible. Parking and restrooms are also accessible.
https://www.facebook.com/greatharbormaritimemuseum

Mount Desert Oceanarium, Bar Harbor
Numerous hands-on exhibits. Wheelchair-accessible entrance, parking, and restrooms.
http://www.theoceanarium.com/

Old School House Museum, Mount Desert
Wheelchair-accessible entrance, parking, and restrooms are available.
http://www.mdihistory.org/the-old-school-house

Wendell Gilley Museum, Southwest Harbor
Ramp at side entrance; may require assistance.
http://www.wendellgilleymuseum.org/


Last updated: July 11, 2019