Places To Go
Acadia National Park may appear small on a map, but the park encompasses nearly 50,000 acres along the Atlantic Coastline of Maine — including Mount Desert Island, Schoodic Peninsula, Isle au Haut, and other outer islands. 60 miles of coastline, 33 miles of scenic motor roads, 45 miles of carriage roads, and more than 150 miles of hiking trails provide numerous ways to explore the park.

Unsure where to start? Use the map to orient yourself with the area. Explore the places below and learn about highlights, visitor services, and ways to get there.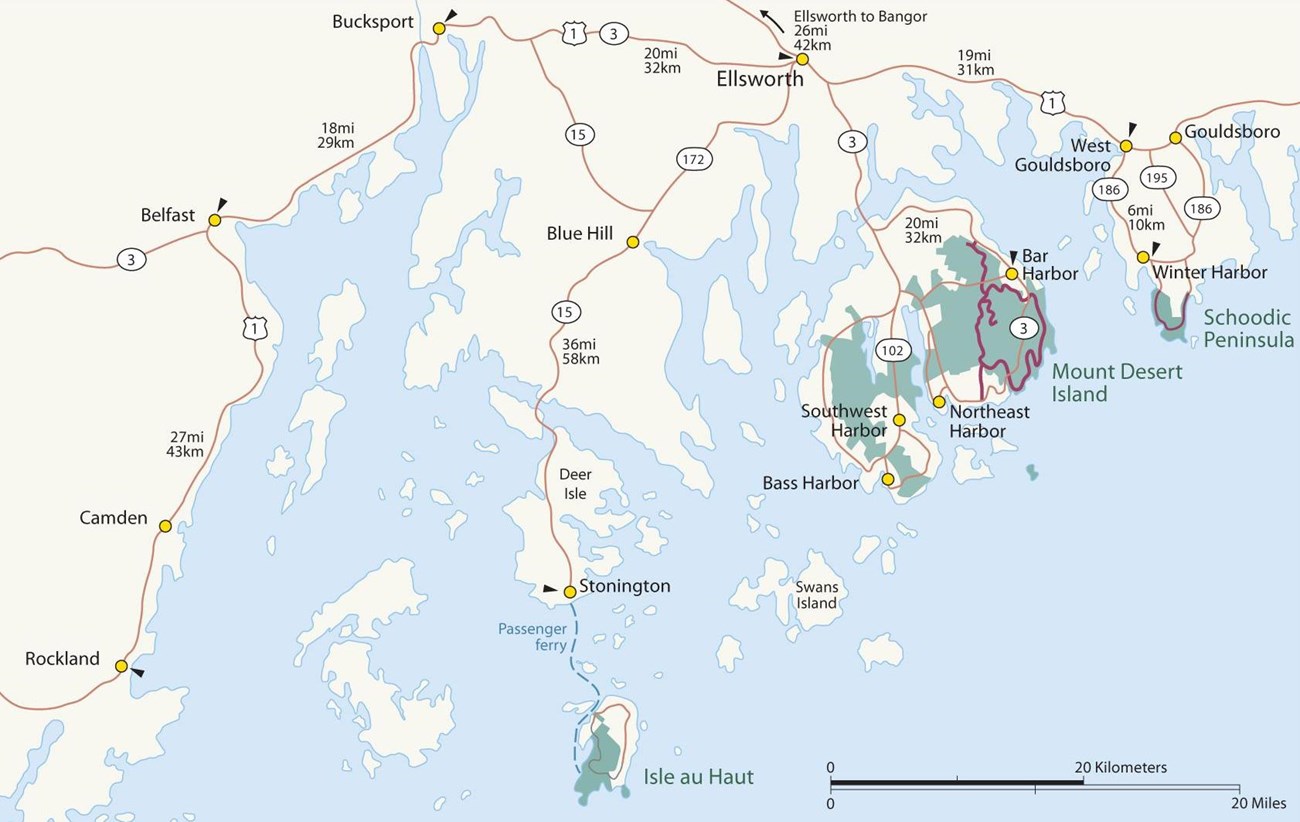 Mount Desert Island
Acadia National Park is mostly located on Mount Desert Island, the largest island off the coast of Maine. The park stretches across about half of the island, roughly divided by Somes Sound to create east and west sides.
The east side of Mount Desert Island is the most visited area of Acadia. The 27-mile (43 km) Park Loop Road system offers outstanding views and access to popular spots.

Highlights
Sieur de Monts, Sand Beach, Thunder Hole, Otter Cliffs, Jordan Pond, Cadillac Mountain, Eagle Lake, Bar Island, and Compass Harbor

Visitor Services
Hulls Cove Visitor Center, Sand Beach Entrance Station, Sieur de Monts Nature Center, Wild Gardens of Acadia, Abbe Museum, Jordan Pond House, Blackwoods Campground, Bar Harbor Chamber of Commerce, and Village Green Information Center

Access
By car, bicycle, or bus
The west side of Mount Desert Island offers quiet, more secluded recreational opportunities and coastal views from the park.
Highlights
Seawall, Bass Harbor Head Light Station, Acadia Mountain, Beech Mountain, Echo Lake Beach, and Carroll Homestead
Visitor Services
Seawall Campground, Seawall Ranger Station, and Pretty Marsh Picnic Area
Access
By car or
bus
---
Acadia Elsewhere
Outside the park on Mount Desert Island, Acadia manages land on Schoodic Peninsula, Isle au Haut, and 18 other coastal islands.
The Schoodic Peninsula offers a wide array of opportunities for discovering Maine's rugged coast on the mainland.

Highlights
Schoodic Point, Blueberry Hill, and Frazer Point

Visitor Services
Rockefeller Welcome Center, Schoodic Woods Campground Ranger Station, and Schoodic Woods Campground

Access
By car or passenger ferry (Bar Harbor to Winter Harbor, seasonally)
Isle au Haut is translated to "High Island" in English and located off the coast of Stonington, Maine. It is the most remote area of Acadia and accessible by ferry only.

Highlights
Duck Harbor, Western Head, and Eastern Head

Visitor Services
Duck Harbor Campground

Access
Passenger ferry only
Outer islands include the Cranberry Isles and Baker Island, located south of Mount Desert Island.

Highlights
Islesford Historical Museum and Baker Island Light

Access
Passenger ferry, personal watercraft, or boat tour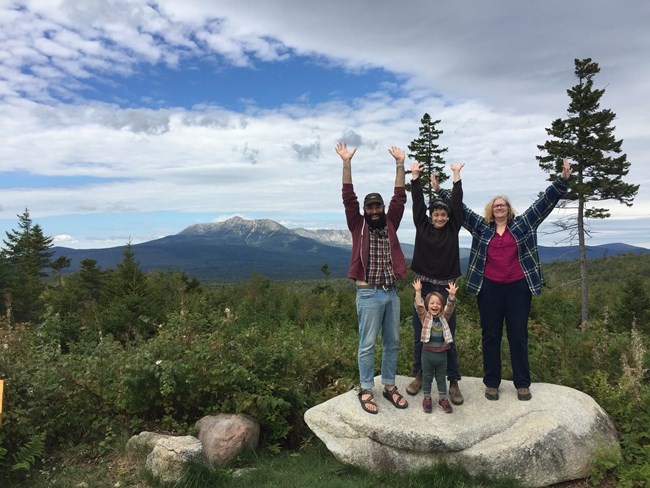 Extend Your Maine Adventure
Visit a list of all National Park Service sites across Maine, including –

Last updated: January 17, 2023