Horseback Riding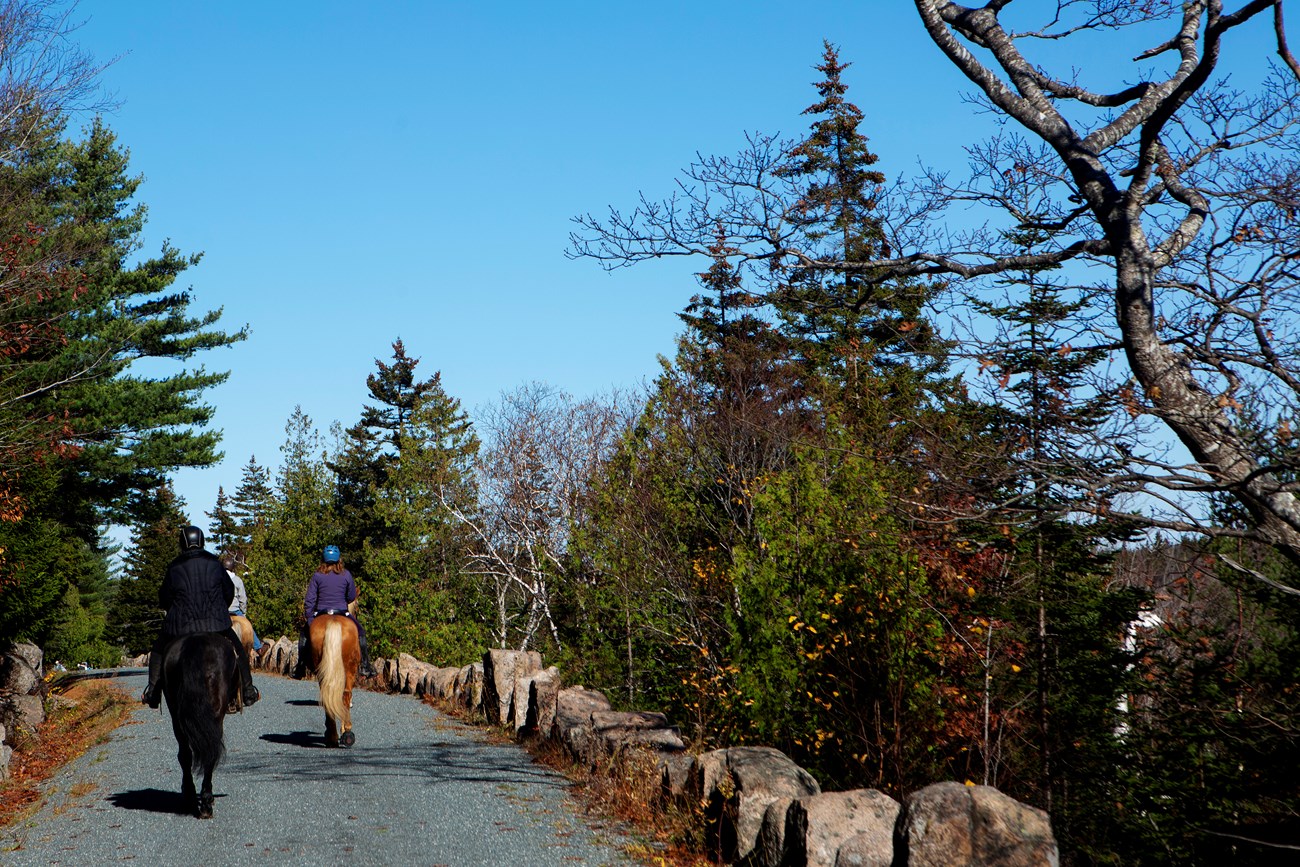 Carriage Roads
Forty-five miles (72 km) of rustic carriage roads, the gift of philanthropist John D. Rockefeller Jr. and family, weave around the mountains and valleys of Acadia National Park. Most of those roads are available for horseback travel either on a carriage ride with Wildwood Stables or on a horse of your own.
When horseback riding on Acadia's carriage roads be sure to have a copy of the Carriage Road User's Map to better identify the trails, routes, and roads where horses are permitted.

The use of pack animals is permitted on the following trails, routes, and roads:
carriage roads, except as noted below

Western Mountain Connector Trail, when Western Mountain Road and Lurvey Spring Road are closed to motor vehicles

motor vehicle roads when closed to motor vehicles

established crosswalks

the following upaved roads: Hio Fire Road, Man-O'-War Brook Fire Road, Marshall Brook Fire Road, and Valley Cove Fire Road

within the developed area of Wildwood Stables
The use of pack animals is prohibited on:
Witch Hole Pond and Paradise Hill loops of the carriage roads

Eagle Lake loop of the carriage road system except between junctions #7 and #8

hiking trails, off routes, and on motor roads when open to vehicular traffic
Horseback Riding Safety
All natural areas pose risk. Your safety depends on your own good judgement.
Brown Mountain parking lot and Wildwood Stables provide adequate room for horse trailers. Please do not block parking lot access. There is a fee to park at Wildwood Stables. Information about vehicle restrictions in other park areas is also available.
Please clean up after your horse in parking lots.
If riding during the winter, please do not let your horse walk in cross-country ski tracks. Remember that snowmobiles are permitted in certain areas of the park.
Last updated: June 20, 2023