Oversized Vehicles
Restrictions

The following areas are closed to recreational vehicles (RVs) and trailers:
Cadillac Summit Road
Echo Lake Beach Road (Only buses with permits are allowed.)
Lurvey Spring Road
The following areas are closed to buses, recreational vehicles (RVs) and trailers:
Duck Brook Road
Lighthouse Road
The dead end portion of Schooner Head Road (a.k.a. Great Head Road)
Sand Beach Parking Lots
Jordan Pond South Parking Lot
Bubble Pond Parking Lot (excluding Island Explorer buses)
Schoodic Head Road
The portion of Schoodic Loop Road from the Schoodic Woods Day Use Parking Area to the end of the one-way at Wonsqueak.
Arey Cove Road to Schoodic Point. (Excluding traffic specific to the SERC campus.)

Vehicles larger than 15-passenger vans are limited to paved roads and paved parking lots. Bus travel on unpaved surfaces is prohibited, with the exception of Stable Lane, the gravel access road to Wildwood Stables. Vehicles larger than 15-passenger vans are restricted from the following areas:
Lighthouse Road
southern end of Schooner Head Road
Schoodic Loop Road, beyond the entrance to Schoodic Woods Campground
Bubble Pond parking lot
Jordan Pond south parking lot
Sand Beach parking lots
Prohibited Access Roads
With limited exceptions, commercial transportation vehicles are prohibited from accessing Acadia National Park from the following roadways and routes:
Bar Harbor
West Street Extension
Great Meadow Drive
Kebo Street
Otter Cliff Road (only exit permitted)
Schooner Head Road
Seal Harbor
Stanley Brook Road
Jordan Pond Road
Northeast Harbor
Height Restrictions
Plan your route carefully. Many park roads feature historic bridges constructed with lower than conventional clearances. The shortest underpass on Park Loop Road is 11 feet 8 inches (3.56 m). Buses exceeding that height must exit Park Loop Road using Otter Cliff Road at Fabbri Picnic Area. If damage to a bridge overpass occurs, drivers will be cited and the park will seek restitution. Height restrictions are as follows:
Park Loop Road is closed to vehicles taller than 12 feet 2 inches (3.70 m) from Sieur de Monts to Sand Beach Entrance Station.
Park Loop Road is closed to vehicles taller than 12 feet (3.65 m) from Fabbri Picinic Area to Wildwood Stables.
Stanley Brook Road is closed to vehicles taller than 10 feet 4 inches (3.15 m).Fish House Road is closed to vehicles taller than 11 feet 6 inches (3.50 m).
Bus Parking Restrictions
Park Loop Road
Loading and unloading of passengers is permitted only at paved pull-outs and in designated bus spaces listed in this section. All wheels must remain on the paved area of the roadway.
Jordan Pond House
Tour bus parking is limited to 30 minutes unless a reservation has been made prior to arrival.
Jordan Pond House has only three parking spaces for commercial operators.
Parking is prohibited in spaces designated for Island Explorer.
Cadillac Mountain and Thunder Hole
Three bus parking spaces are available to commercial operators at each location. Buses must park in designated spaces.
Parking is limited to two buses per company.
Loading and off-loading is permitted only in designated areas.
No more than two buses per company are permitted anywhere on Cadillac Mountain- the road, parking lots, and overlooks.
Vehicle Stopping and Standing
Except where prohibited, stopping and standing in the right lane is permitted from Bear Brook Picnic Area to the end of the one-way section of Park Loop Road at the Stanley Brook Road junction. Except as noted on the next page, loading and unloading passengers is prohibited.
Engine Idling Traffic and Safety
Engine idling is prohibited throughout the park; bus engines must be turned off as soon as loading and unloading passengers is complete.
Stopping or parking in an area that could impede traffic (especially emergency vehicles) or endanger pedestrians is prohibited.
Motorists must share the road with bicyclists, mopeds, and pedestrians, and must give at least 3 feet (0.9 m) clearance when passing bicyclists.
Be particularly careful at crosswalks, especially where horses and carriages may be located.
Obey all posted speed limits.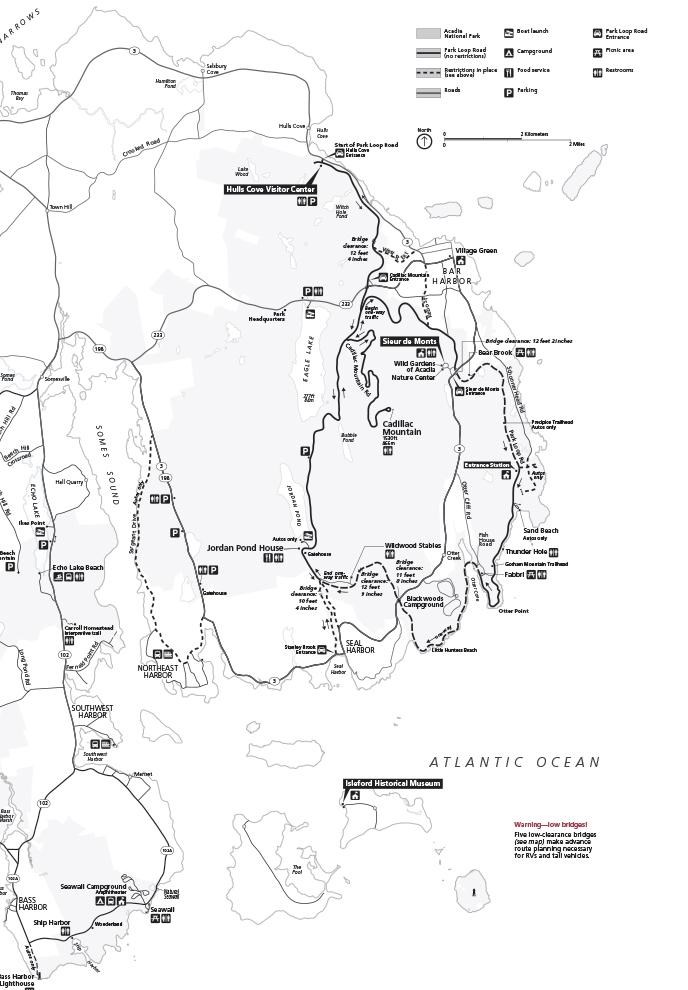 Last updated: September 16, 2021