Natural Disturbances
Wildland Fire
Wildland fire
has forever shaped the landscape, from the earliest lighting strike to the use of fire as an agricultural tool by ancestral
native peoples
. This was especially true during and after the widespread
fire of 1947
which blanketed much of the island in flames.
Historic
fire towers
once dotted this landscape, and in the case of Beech Mountain fire tower, still do. In the past, people used these fire towers to spot wildland fire and supress it. Today, the National Park Service
Wildland Fire Program
has changed the way we view wildland fire. Fire has become an important part of how we
manage
the landscape at Acadia.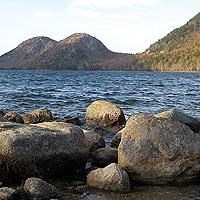 Earthquakes
Minor Earthquakes Shake the Park
At 8:07 p.m. on Monday, October 2, 2006 a minor earthquake of magnitude 4.2 shook the ground around Acadia National Park. The epicenter of the earthquake was located in the Atlantic Ocean just off Schooner Head, on the eastern side of the park. Damage appeared to be limited to rocks falling on the Park Loop Road, which re-opened after a brief closure, and some park trails. This earthquake followed several small aftershocks that occurred since the first earthquake on September 22 (magnitude 3.4).

According to the Maine Geological Survey, earthquakes in Maine are rare, with just 507 earthquakes occurring in the state from 1747 to 1992. During that time, only one other earthquake originated from Mount Desert Island. Most earthquakes that do occur in Maine are minor, and to date none have caused significant damage.
More About Natural Disturbances at Acadia
Last updated: March 31, 2022