Fire Towers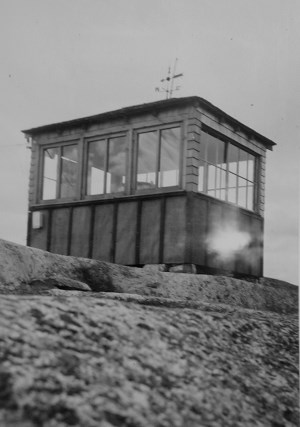 Lookouts help tell a story of fire management history on Mount Desert Island. Two were officially located on Beech Mountain and Sargent Mountain and used for short periods of the park's history. Only Beech Mountain Fire Tower remains and is one of more than 140 lookouts still standing across Maine.
Beech Mountain Fire Tower History
The original Beech Mountain Fire Tower was a wooden structure built by Civilian Conversation Corps (CCC) workers. It was in use as a lookout from 1941 to the mid-1950s. It was critical in the fire warning communications during the Fire of 1947.

After it began to deteriorate, a steel tower was flown in by helicopter in 1960 as part of the project "Operation Beech." The lookout became operational again in 1962, but staffing was eventually reduced from daytime hours to only times with fire danger. It has not been manned since 1976.

It was nominated for the National Historic Lookout Register by Superintendent Robert W. Reynolds and was added on September 16, 1993.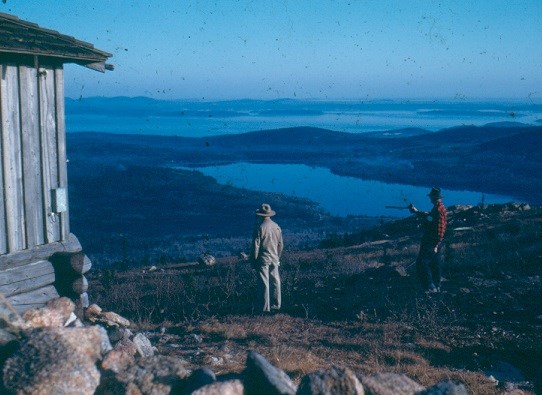 Other Lookouts
Sargent Mountain Lookout was also built by the CCC as a wooden cabin on a stone base. It was established in 1941. It was a challenge to regularly staff the lookout due to longer overnight manning and difficulties accessing the site from more strenuous hikes. Together with Beech Mountain Fire Tower, these lookouts provided nearly panoramic views of the park. Both were part of the Maine Forestry Service's fire lookout network. Other lookouts also existed on Blue Hill Mountain and Schoodic Mountain, both of which were razed in 1991 and 2005 respectively.

Sargent Mountain Lookout existed until 1949 and was soon after removed. The structure was never replaced or modernized like the one on Beech Mountain, and there is no clear indication for a reason.

Other structures at the top of Cadillac Mountain and Bernard Mountain were not officially lookouts, but fire warning was part of assigned duties for staff stationed there.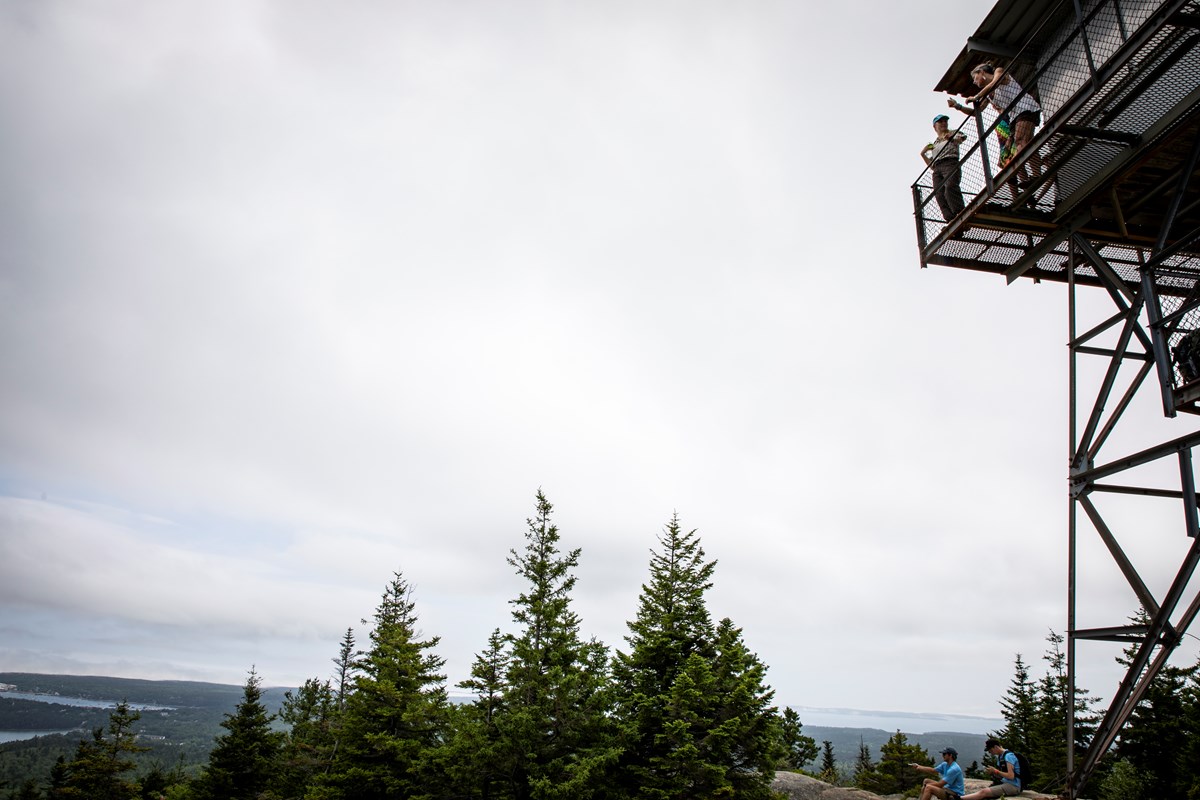 Beech Mountain Fire Tower Today
Beech Mountain is located on the west side of Mount Desert Island. Visitors can park at the Beech Mountain Parking Lot and hike a variety of trails to reach the fire tower. Beech Mountain is a popular place to watch sunset or view foliage change during autumn. From the summit, Echo Lake, Acadia Mountain, Bernard Mountain, and other surrounding mountains are visible on clear days.

When park staff are present, often during the summer months, the fire tower's platform and interior room are open for public access. Dogs on leash are allowed to accompany hikers on the trails, but cannot climb to the top of the tower because of the open grating on the steps and platform.
Last updated: October 7, 2020