Manage Visitors
Acadia National Park uses science and research such as social science to inform management decisions and planning efforts around visitor management. The science helps inform park managers and the public about visitor use and impacts and helps park staff plan to minimize visitor impacts to park resources and help ensure high quality visitor experiences. We inventory and monitor visitor use numbers, activities, behaviors, and impacts and mitigate visitor use through site management practices and Leave No Trace (LNT) and visitor education. The Transportation Plan was a major culmination of a multi-year effort to manage visitor use, protect the park, and provide for the best visitor experience possible in light of increasing visitation.
Acadia National Park is within a 12-hour drive of 25 percent of the North American population. In a recent study visitors represented 45 of the 50 United States and six foreign countries. Acadia is also regionally important, because public recreation land is scarce. Recreational opportunities are available inland, however, with only 6 percent of the Maine coast accessible to the public, and one-quarter of that acreage in Acadia National Park, the park is one of the most intensively used leisure destinations in the northeastern United States. Over the past decade, visitation to the park has been on a steep and steady climb.

As the volume of visitors to Acadia has increased, so has the impact. Congestion, visitors conflicts, and damage to the park have increased. Acadia National Park Staff use a variety of management tools to manage visitors to provide for the best visitor experience and to protect the park for future generations.
---
Protect & Serve
Protect the park includes serving the public. Commissioned law enforcement rangers provide law enforcement and emergency services to the public. Park rangers together with other park staff, partners, volunteers, and others educate and inspire visitors through interpretive and educational programming.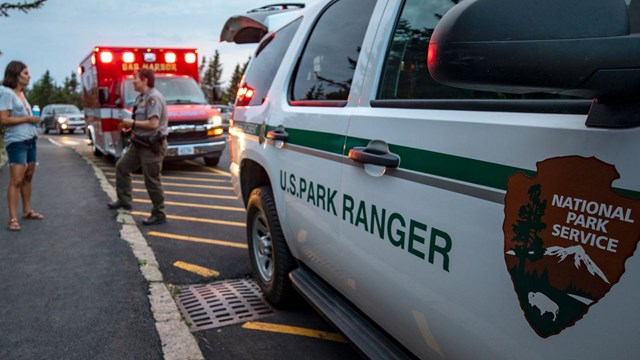 Law Enforcement & Emergency Services
Learn more about law enforcement, search and rescue, dispatch, firefighting, and incident management services provided by the park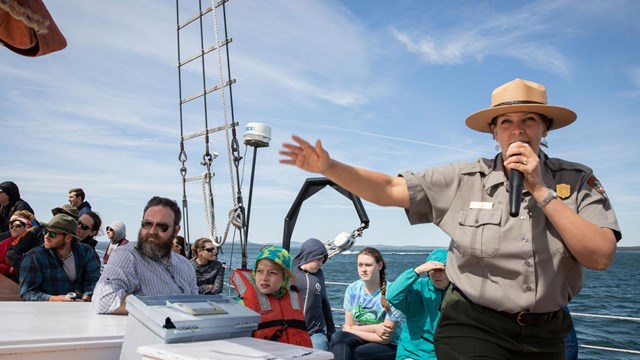 Educate & Inspire
Learn about the many ways that Acadia park staff educate and inspire visitors of all ages to better protect the park.
Visitor Use Management Planning

Managing Visitors on Mount Desert Island
Park Loop Road
Auto congestion, overflow parking, and erosion on popular trails are the most apparent symptoms of high use throughout park lands on MDI. Although park use has dropped dramatically from 2.8 million visits in 1995 to 2.5 million visits in 2002 and to 2.0 million visits in 2008, these symptoms continue in many locations throughout the park. Addressing visitor management and capacity for the MDI section of the park is complex and problematic, but it is recommended in the park's 1992 General Management Plan.

In 2000, Acadia National Park took the first step in this process, hosting a visitor capacity charrette (workshop). Park staff, local interests, and outside experts convened to brainstorm strategies for dealing with this issue.

The outcome was a report recommending ten potential strategies. This was followed up in 2003 by a visitor use management strategy prepared for the Acadia National Park Advisory Commission. A visitor management and capacity planning process began in 2003, and extensive social science research to support decision-making was conducted in 2004 and 2005. More research and inventory of resource conditions was conducted from 2007 to 2009. The intent is to address the popular areas of the park (such as Cadillac Mountain (see Cadillac Mountain link) as well as those sites less used. For details, see the link to the February 2006 Briefing Statement about the project.
Carriage Road Management
Biking on the park's historic carriage roads grew enormously in popularity in the 1980's thanks to the advent of the mountain bike. Complaints from visitors and residents about crowding and problem behaviors led the park to apply the Visitor Experience Resource Protection (VERP) Framework, a carrying capacity planning process. Dr. Robert Manning of University of Vermont conducted social science survey research on carriage road users from 1994-1996 to gather information to support the VERP process and carriage road management decisions. Many journal articles from this research are listed below.

A 1997 NPS summary report covers the research, application of VERP to the carriage roads, including indicators and standards, and subsequent management decisions. This document serves essentially as a management plan. Carriage road monitoring reports are also available from 1997-present, with a few recent reports provided below. Other reports describe the development of a second regression estimator for carriage road use, attitudes about equestrian use of the carriage roads, and the establishment of new indicators and standards for behaviors (2006 monitoring report).

Monitoring Carriage Road Use
Monitoring thus far indicates no violations of standards for crowding on the carriage roads. Carriage road visitation was flat for the period 1997 - 2003. Since 2004 there has been a steady upward trend in use that may be the result of the Bicycle Express van to Eagle Lake. We are planning another round of censuses in 2014-2015 to develop an updated regression equation. We will then apply the new equation to past years to determine if the upward trend is still present. Data also indicate some concerns regarding the four problem behaviors as more violations of established standards than were expected occurred in 2010; 2013 monitoring showed few problems however.
Village Connector Trails
Following a recommendation in the park General Management Plan, since 1997 we have been working with Friends of Acadia to reestablish old connections and develop new ones from local communities to the park for non-motorized recreation. The intent is to provide residents and visitors a chance to leave their cars behind, and in conjunction with the Island Explorer bus system, access the park more easily.
We completed an environmental assessment for six potential connector trails in 1999. Two of three trails that were approved through the EA process have now been built: the Great Meadow Loop in Bar Harbor and the Western Mountain Connector in Southwest Harbor. Several others were approved in the Hiking Trails Plan a few years later. For more information on village connectors visit the Friends of Acadia web site.
Managing Visitors on Isle Au Haut
Isle au Haut is a relatively remote island outpost of Acadia National Park located five miles south of Stonington, Maine. About half the island, or 2,700 acres, is in park ownership; the rest consists of the community of Isle au Haut.

The explosion of recreational use nationwide in the 1960s and 1970s was felt at Isle au Haut, and it helped create a contentious relationship between the park and island residents. Because of this, legislation was enacted in 1982 (PL 97-335) by the U.S. Congress requiring the NPS to establish a visitor capacity for park lands, and a capacity was adopted in 1989. Thanks to this and other park actions, the park relationship with the community has improved greatly.

Due to increases in use, the NPS recently decided to revisit the Isle au Haut visitor capacity issue. A visitor experience resource protection (VERP) planning process started in 2001. Social science and visitor impact studies were conducted from 2001 to 2003. Results of this research and the planning process will be posted here as they become available.

Isle au Haut hosts about 7,000 day visitors and 600 campers annually at the park's five lean-tos.
More About Managing Visitors at Acadia
Last updated: April 18, 2022