NO FIREWORKS

Reminder to park visitors. Fireworks are prohibited at Prince William Forest Park.
Oak Ridge Campground Site A29 closure

Oak Ridge Campground site A29 will be closed until safety concerns have been mitigated. Please do not use that site until it has been reopened.
Warm Wet Spring = More Ticks

Please check yourself and your pets for ticks continually during and after your visit. Ticks are less prevelent if you stay on trail or in mowed areas. Wearing light colored clothing helps you spot them before the attach.
Firewood

Outside firewood is prohibited in Prince William Forest Park, unless it is certified USDA 'bug free' firewood. Dead and downed wood may be collected from designated areas for use while in the park. Help us protect the forest from invasive species!
Visitor Center Remodel 2014

Over the next several months there will be new changes coming to the Visitor Center. Presently we are remodeling the bookstore area to give it more of a country theme. Next the exibit area will get all new exhibits. Thank you for your patience and support
South Valley Trail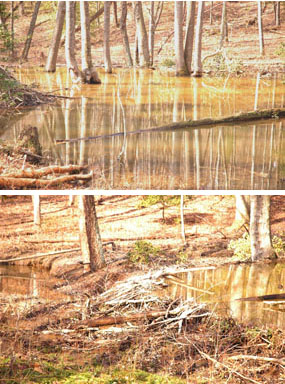 National Park Service
South Valley Trail (8.7 miles; 14.0 km)

South Valley Trail is the longest trail in the park. It runs from Oak Ridge Campground, south to Pyrite Mine Road along South Fork Quantico Creek. While traveling through the Oak Ridge area, you will notice burn marks on many of the trees. This is the result of a 318-acre wildland fire that began near the B-loop of Oakridge Campground. The fire began on March 27, 2006 and was finally extinguished on April 4, 2006 with the help of over 70 wildland firefighters. To view the full story, refer to park newsletter, The Oasis, Vol. 1 Issue 8.

About 40 minutes down the trail you will come upon a large beaver dam on South Fork Quantico Creek. This has opened up new habitats for many for many of the park's wildlife.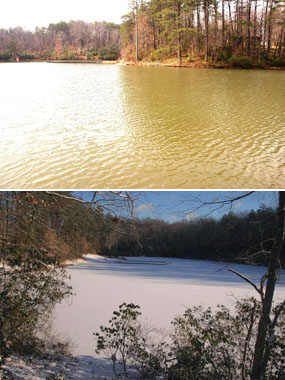 National Park Service
Cross over Mawavi Road, and Lake 2 and 5 will be about 15 minutes down the path. Across the lake you will see a group of cabins. There are five different cabin camps located throughout the park. All were built by the Civilian Conservation Corp (CCC)in the 1930s under FDR's New Deal. The CCC was created to reduce unemployment during the Great Depression, conserve natural resources, provide skills to young men, and create outdoor recreation areas for public use. The cabin camps were originally built for use by urban youth groups and welfare agencies. During World War II, the park and cabin camps used by the Office of Strategic Services as a training grounds for recruits. Today, the cabins can be rented out by different groups and individuals.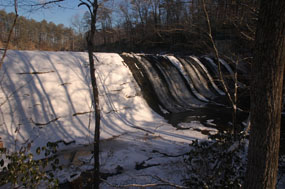 National Park Service
On the south end of Lake 5, there is a large man-made dam. Please be careful in this area and stick to the trail.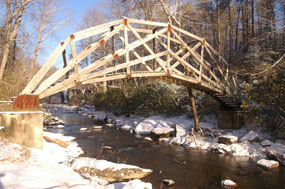 National Park Service
Just past the dam, you will notice an arching footbridge that connects South Valley Trail to Cabin Camp 5. This bridge was built by the Sierra Club for a bridge-building demonstration. The area just over the bridge is for permitted campers only.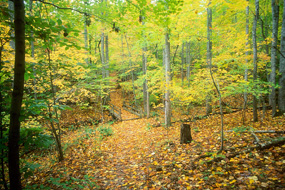 National Park Service
About an hour past Mawavi Road you will come upon
High Meadows Trail
. This trail leads up towards Parking Lot H and Turkey Run Ridge
Group Campground
and
Education Center
.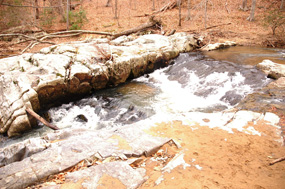 National Park Service
As you follow along the creek, there will be multiple opportunities to see small cascades.
About an hour after passing high meadows trail, you will cross over Scenic Drive. Before crossing Scenic Drive for the second time, you will pass Taylor Farm Road on your left.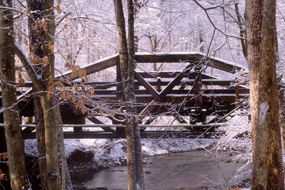 National Park Service
About 30 more minutes down the trail, you will pass over Scenic Drive for a third and final time. A few minutes past the bridge, which was built by the Civilian Conservation Corp, you have the option to take
Turkey Run Ridge Trail
.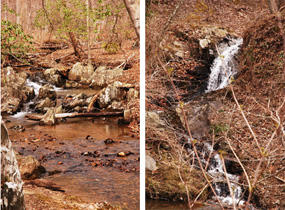 National Park Service
Past Turkey Run Ridge Trail, South Valley Trail becomes more hilly, providing hikers with more opportunities to see cascades. Also, notice Cabin Camp 3 on the hillside to the right. These cabins can also be rented by groups or individuals.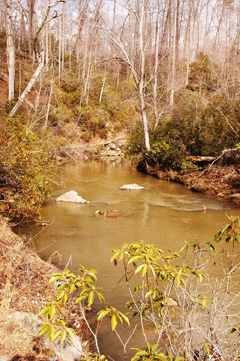 National Park Service
About 15 minutes past Camp 3, you can meet up with North Orenda Road. A few more minutes down the path, you will notice a small bridge to the right which takes you over the creek to Laurel Loop Trail. From here it is only about 30 more minutes until you reach Pyrite Mine Road and North Valley Trail.
Did You Know?
Prince William Forest Park preserves the largest inventory of Civilian Conservation Corps structures (153) in the National Park System. Four of the five cabin camps are listed on the National Register of Historic Places as historic districts.