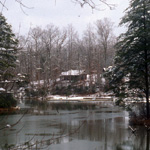 Rent a Historic Cabin Camp
Looking for a place to take your school group? How about an organizational retreat or family reunion? The 5 historic cabin camps at Prince William Forest Park offer a variety of options. These rustic camps contain sleeping cabins, mess halls with complete kitchens, craft lodges, council rings, and recreational lakes. Sleeping capacity in the camp rangers from around 70 to 200 people. Day use is also permitted.
Apply for Renting a Historic Cabin Camp!