Firewood

Outside firewood is prohibited in Prince William Forest Park, unless it is certified USDA 'bug free' firewood. Dead and downed wood may be collected from designated areas for use while in the park. Help us protect the forest from invasive species!
Warm Wet Spring = More Ticks

Please check yourself and your pets for ticks continually during and after your visit. Ticks are less prevelent if you stay on trail or in mowed areas. Wearing light colored clothing helps you spot them before the attach.
Temp. Closure C-Loop Bathroom

Due to sequestration cuts, the C-Loop bathroom at Oak Ridge Campground will remain closed. Please use the B-Loop restroom, a short walking distance away. We apologize for the inconvenience.
Cabin Camping
To reserve a cabin or cabin camp at Prince William Forest Park, call the cabin camp office at 703-221-5843 or email us!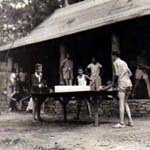 What makes the cabin camps historic?
Four of the five cabin camps in Prince William Forest Park are listed on the National Register of Hisoric Places. Each camp is composed of group of wood, stone, and brick structures constructed by the Civilian Conservation Corps and Works Progress Administration workers of the Great Depression. The camps were built as summer camps that the government hoped would instill the poor children of Washington, DC with the 'character and health-building' benefits of the great outdoors. In World War II, the camps were used by the Office of Strategic Services as a spy training area.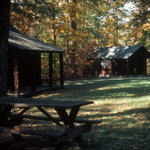 Rent a Historic Cabin
Looking for a way to camp without a tent? Does the idea of sleeping on the cold ground prevent you from camping? Our rustic cabins are the perfect solution! Complete with cots, a ceiling fan, and light bulb these wooden tents are a definite step up from camping in a tent. Cabins sleep 4, 6, or 10 people and come equipped with a picnic table and grill. Cabins are available from May-October. Application for 2013 Camping Season- Renting a Single Historic Cabin!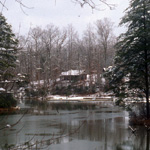 Rent a Historic Cabin Camp
Looking for a place to take your school group? How about an organizational retreat or family reunion? The 5 historic cabin camps at Prince William Forest Park offer a variety of options. These rustic camps contain sleeping cabins, mess halls with complete kitchens, craft lodges, council rings, and recreational lakes. Sleeping capacity in the camp rangers from around 70 to 200 people. Day use is also permitted.
Apply for Renting a Historic Cabin Camp!
Please note that pets are not allowed in any of the cabin camps.


Did You Know?
Capable of living as long as 100 years, the Eastern Box Turtle is Prince William Forest Park's longest living reptile, and if conditions are just right, can spend their entire life in an area no larger than a football field.