Pilot Fishing Program Closed Until Further Notice

The three miles of the Pecos River inside the park remains closed to public use. Public access to the river inside park boundaries is determined by condition of the resource. Please click "More" to link to the fishing page and additional information. More »
Plan Your Visit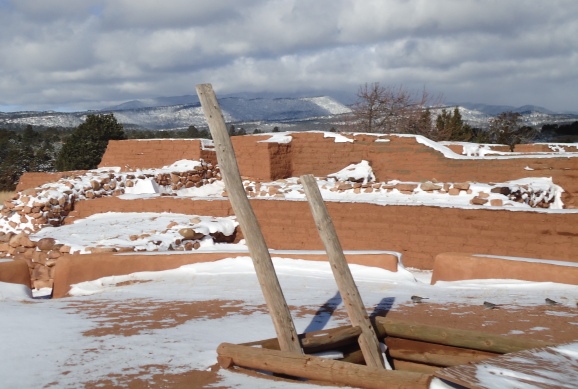 Photo by Eric Valencia
Stop in first at the
E.E. Fogelson Visitor Center (505-757-7241)
, where you can pay your $3.00 entrance fee or show your pass. Friendly and helpful rangers will provide a trail guide, show a ten-minute movie, answer any questions you may have, and encourage you to visit the excellent museum. After your 1.2 mile ruins trail walk, come back to the Visitor Center and you can get a gate code and directions to the 2.3 mile Civil War Battle of Glorieta Pass trail.

Park website links to help you plan your visit:
Santa Fe Trail history
People of Pecos
Spanish Encounters
Forked Lightning Ranch History
Story of Archeology at the Pueblo
Battle of Glorieta Pass
Guided Tour Schedule
Pecos National Historical Park is open every day except Thanksgiving, Christmas, and New Year's.
We will join America's 400 other national parks in offering free admission on nine days in 2014, including several holidays.
The remaining 2014 entrance fee-free days are:
April 19th to April 20th – National Park Week's opening weekend
National Park Week Video!

August 25th – National Park Service's 98th birthday
September 27th – National Public Lands Day
November 11th – Veterans Day
We look forward to seeing you at Pecos National Historical Park! Call the Visitor Center at 505-757-7241 for information about tours or special events.

Motorcyle Riding in National Parks



Did You Know?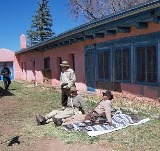 The Civil War Battle of Glorieta Pass was fought at Apache Canyon, Canoncito, and Pigeon's Ranch near Glorieta, NM. The photo depicts Texas Volunteers (living history participants) resting near Kozlowski's trading post at Pecos National Historical Park.