Pilot Fishing Program Closed Until Further Notice

The three miles of the Pecos River inside the park remains closed to public use. Public access to the river inside park boundaries is determined by condition of the resource. Please click "More" to link to the fishing page and additional information. More »
Operating Hours & Seasons
Even with 401 NPS units open for you to visit, we think a stop at Pecos NHP (505-757-7241) is well worth your while, from the excellent ruins trail, to the Civil War trail, to the engaging
guided tours
we offer.
Winter Hours: The Visitor Center is open from 8:00 to 4:30 from Labor Day through Memorial day; during winter hours, the park gate remains open until 5:00 p.m.

The park and Visitor Center are open daily except for Thanksgiving Day, Christmas Day and New Year's Day.Pecos NHP will join America's other national parks in offering free admission on nine days in 2014, including several holidays.
Summer Hours: The E.E. Fogelson Visitor Center (505-757-7241) and park grounds are open 8:00 a.m. to 6:00 p.m. from Memorial Day through Labor Day.
The remaining 2014 entrance fee-free days are:
September 27th – National Public Lands Day
November 11th – Veterans Day
For more information about park entrance fees and passes, click here.
Please note: camping is not allowed on the grounds at Pecos National Historical Park. However, campgrounds are located in the Santa Fe National Forest just north of the park on NM highway 63. For more information about camping and other permits from the Forest Service, contact: Pecos District Ranger Station, Box 429, Pecos, NM 87552 or call (505) 757-6121.

Motorcyle Riding in National Parks



Did You Know?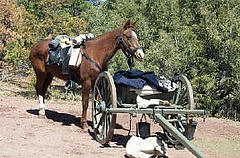 Confederate plans to advance west were thwarted at the Battle of Glorieta Pass when Union troops burned Confederate supply wagons at Johnson's Ranch. Henry Sibley wanted to advance north into the gold mines of Colorado and continue west to put Confederates in control of seaports in California.