Contact Us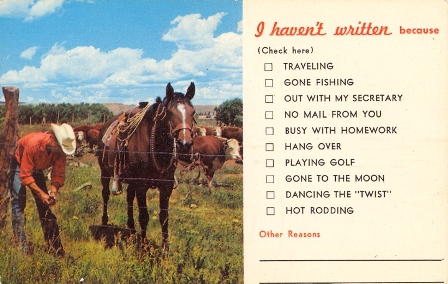 Vintage Postcard
Have you gone through the park website to find what you are looking for? Chances are the information is just a click away!
Our Frequently Asked Questions page attempts to answer likely inquiries.
If you are interested in our fishing program, click here.
Tour questions? Try this link: Guided Tours.
Also, don't forget we have helpful interpretive guides, brochures and site bulletins that you can obtain at the park Visitor Center.
Here is a link to our Events Calendar.
By Phone:
Visitor Information: 505-757-7241
Webmaster: 505-757-7212
By Fax: 505-757-7207
By email:
The park email address is peco_visitor_information[at]nps.gov
By snail mail:
Pecos National Historical Park
P. O. Box 418
Pecos, NM 87552-0418
Shipping address:
Pecos National Historical Park
2 miles south (of Pecos Village) on Highway 63
Pecos, NM 87552

Did You Know?

There are four churches located in Pecos National Historical Park. Of the four churches built at Pecos Pueblo three are located in the mission complex south of the Pueblo along the main loop trail. One is located to the northeast of the Pueblo; visitors can visit it through a ranger guided tour.