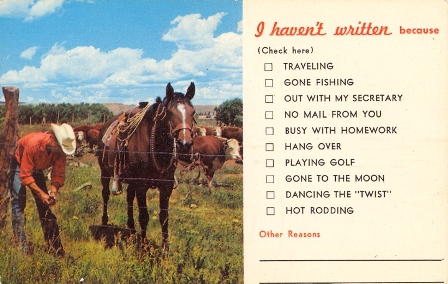 Vintage Postcard
Have you gone through the park website to find what you are looking for? Chances are the information is just a click away!
Our Frequently Asked Questions page attempts to answer likely inquiries.
If you are interested in our fishing program, click here.
Tour questions? Try this link: Guided Tours.
Also, don't forget we have helpful interpretive guides, brochures and site bulletins that you can obtain at the park Visitor Center.
Here is a link to our Events Calendar.
By Phone:
Visitor Information: 505-757-7241
Webmaster: 505-757-7212
By Fax: 505-757-7207
By email:
The park email address is peco_visitor_information[at]nps.gov
By snail mail:
Pecos National Historical Park
P. O. Box 418
Pecos, NM 87552-0418
Shipping address:
Pecos National Historical Park
2 miles south (of Pecos Village) on Highway 63
Pecos, NM 87552