Fishing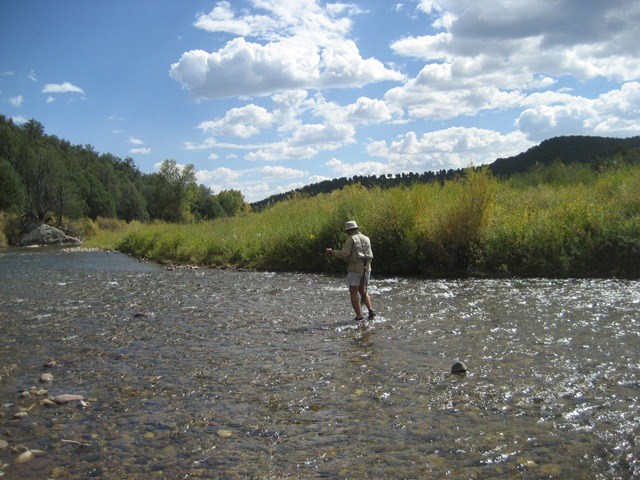 The Spring 2021 Fishing Season will begin Thursday, March 4th and will continue through Monday, April 12th. Reservations are required and can be made up to 30 days in advance at www.recreation.gov or by calling 1-877-444-6777.

A special note for 2021 Fishing: Following guidance from the White House, Centers for Disease Control and Prevention, and state and local public health authorities regarding COVID-19, the park may make modifications to the operations at any time. If you have any questions, please contact the park at the designated fishing line 505-757-7272.

As of February 2021, the summer fishing dates are June 10 to August 2 and the fall fishing dates are September 9 to November 15. These dates may change; please check back here for more information closer to the summer and fall dates.

Reservations: Reservations are available up to 30 days in advance and until 10:00 a.m. the day of arrival. You may book reservations for up to three people on one of the three available beats in the park. Please be aware that if you make one reservation, you may share the beat with up to two additional permit holders. Remember the park is closed to fishing on Tuesdays and Wednesdays.

All reservations are to be made through the online reservation system on www.recreation.gov or by calling 1-877-444-6777.

All individuals require a reservation and permit. Anyone wishing to accompany you to the river must make a reservation and obtain a permit. The three-people-per-beat limit remains enforced whether you are fishing or not.

Permit will be issued upon arrival. Your reservation is for a fishing time only. It is not a permit to fish. All anglers with reservations must check in at the visitor center to receive the fishing permit. The following documents are required:
Driver's license

Valid New Mexico fishing license

Proof of reservation including the confirmation number
Beat Descriptions
Beat 1

Length: 1 mile of river

Moderate Effort

The northernmost stretch of the Pecos River available for fishing in the park. Parking for this beat is about 100 yards from the downstream boundary of the beat where you can start fishing.

Beat 2

Length: 1 mile of river

Moderate Effort

The middle stretch of the Pecos River available for fishing in the park. Parking for beat 2 is the same area as beat 1 with about a 100 yard walk to the upstream boundary of the beat where you can start fishing.

Beat 3

Length: 1 mile of river

Difficult Effort

The southernmost stretch of the Pecos River available for fishing in the park. It is also the hardest to access as it has a separate parking area from beat 1 and 2, and has a 1.2 mile walk into the upstream boundary of the beat where you can begin fishing.

No Commercial Outfitters or Guides.

Fees and Cancellations: Fishing reservations are $15 per person. Until 10:00 a.m. the day of arrival, you may change the reservation at no cost or cancel for a $3 cancellation fee. All changes or cancellations need to be made directly through www.recreation.gov or by calling 1-877-444-6777.

Operating Hours and Seasons: Once you have a reservation, you must stop at the visitor center to obtain a permit.

Fishing reservations are available during the spring, summer and fall seasons.
Spring and Fall Fishing Permit is valid 8:30 A.M. to 3:00 P.M.

Summer Fishing Permit is valid 8:00 A.M. to 4:00 P.M.

Fishing License Requirements: All anglers must possess a valid New Mexico Department of Game and Fish fishing license with Habitat Management and Access validations.

Conditions: It is the responsibility of the angler to monitor stream conditions prior to making reservations or arriving at the park to fish.

Safety Risks and Stream Flow Variation: Check streamflow levels by visiting the USGS National Water Information System web page. The Pecos River may experience dangerous fluctuations in stream flow after melting of snow pack or rainfall in the valley or the headwaters. These variations can pose a danger to anglers. Monitor stream flow for your safety .

No Pets: There are no pets permitted on the river.

Violations: Law enforcement park rangers patrol the river. You may be cited if you wander from your assigned beat OR if you exceed the permit end time. Anglers must check in 30 minutes after their permit expires at the Visitor Center upon departure.

LIMITS:
Catch and Keep "Non-Native" Species to include, Brown Trout, Brook Trout and Rainbow Trout.
• Anglers are allowed to keep a total of 5 fish per day from the park. Anglers must follow state regulations on possession limits.
Catch-and-release of all "Native" Species of Fish.
ALL "native" fish species caught must be immediately returned to the water.

FISHING METHOD, EQUIPMENT and BAIT:
Fishing is permitted only by use of one handheld rod and line.
Only artificial flies or lures with a single hook may be used. A barbed hook may be used. Only one fly or lure per line is permitted. The use of more than two flies per line is prohibited.
The possession of any bait other than artificial flies or lures is prohibited.
Anglers must attempt to land fish without delay, use a landing net and avoid dragging fish on to the bank.
No bait such as worms, grasshoppers, salmon eggs, corn, etc, are allowed.
Fishing in closed waters or violating a condition or restriction established by the superintendent is prohibited.

What to Bring: Fishing gear, fishing vest, rain gear, extra line, sunscreen and lip balm, hat, sunglasses, drinking water, lunches or snacks, extra layer of clothing, binoculars for wildlife viewing, cell phone, trash bag.

Trash: Pack out all trash.

No Fires: No open fires are allowed in the park.

No Smoking: Smoking is restricted your own personal vehicle in the parking areas.

Disinfect Gear After Fishing: To prevent the spread of aquatic pests, disinfect gear by removing mud, snails, algae and debris from boots when leaving the river. Soak nets, boots and waders in 10% bleach solution for 10 minutes. Air dry 48 hours before re-use.

Management of the Pecos River: Pecos National Historical Park partners with neighboring agencies to manage the Pecos River watershed. The park's primary focus for the Pecos River is to conserve the native plant and animal species while managing for a healthy ecosystem.

Questions: For any questions regarding the fishing program, please contact the park via the designated fishing line at 505-757-7272.
Looking for more things to do? Check out the Things to Do page for other ways to experience the park!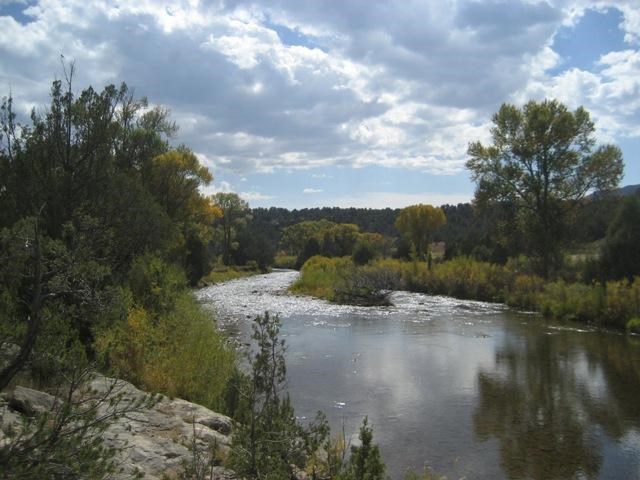 Last updated: February 2, 2021