Madison Falls Trail Closed for Repairs Beginning July 7

The one-tenth mile Madison Falls Trail and trailhead parking lot located in Elwha Valley will close to public entry beginning on Monday, July 7 while crews make improvements and repairs.
Hurricane Ridge Road Closed to Vehicles Sunday 8/3 (6:00a - noon)

Due to the "Ride the Hurricane" bicycle event, the road to Hurricane Ridge will be closed above the Heart o' the Hills entrance station from 6:00a to noon on Sunday August 3rd.
Visiting Kalaloch and Ruby Beach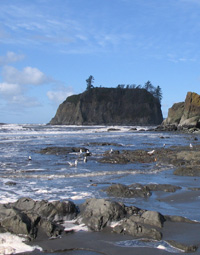 Katherine Gibbons
Location:
For thousands of marine species, these coastal waters are a safe haven. The marine environment and offshore islands are protected by three national wildlife refuges and Olympic Coast National Marine Sanctuary. The refuges manage the islands visible above high tide waters for 135 miles along the coast. Large nesting colonies of birds like common murres and tufted puffins need these rocky outposts.
Kalaloch is one of the most visited areas of Olympic National Park. Kalaloch and Ruby Beach are located on the southwest coast of the Olympic Peninsula. They are accessible directly off of Highway 101 (directions).
General information about the Kalaloch area, facilities, trails, camping, and regulations can be found on the Kalaloch brochure (pdf).
Places to Stay:
Campgrounds at Kalaloch and South Beach are the only places to camp on the southern coast of Olympic National Park. Kalaloch is open year-round, and has 175 campsites, four of which are wheelchair accessible. Make sure to reserve a site as early on in the year as possible, as they fill up quickly and most are booked throughout the summer. South Beach, just south of Kalaloch, has about 50 campsites and is open Memorial Day - late September.
Kalaloch Lodge, right on the beach, has rooms and cabins available upon reservation.
Recreation:
Hiking the southern coast of the Olympic Peninsula provides some amazing sights of the pristine beaches and marine wildlife. North of Ruby Beach, the Hoh River creates a natural boundary.
Kalaloch is a great place for bird watching. Western gulls, bald eagles, and other coastal birds can be spotted nesting and feeding along the southern coast.
When hiking the coast, always check the tides (current charts available at the Kalaloch Information Station). Certain areas may become impassable during high tides and overland trails must be used.
Nearby Areas:
To the north, the Hoh Rain Forest is about a 45-minute drive from Kalaloch. To the south, Queets and the Quinault are only 30 miles away. Make sure to consult the Getting Around page for a table of the different mileages between park destinations.

Did You Know?

That endemic Olympic snow moles are scurrying beneath this blanket of snow? Olympic National Park's Hurricane Ridge is blanketed with over ten feet of snow for most of the winter, providing water for summer and protection for snow moles in winter.