Olympic Hot Springs Road Closed

The Elwha Valley's Olympic Hot Springs Road is closed to public entry beyond the Altair Campground during removal of the Glines Canyon Dam. Olympic Hot Springs is not accessible from the Elwha.
Elwha River Closures

Boating is prohibited on the Elwha River between Upper Lake Mills Trail to Altair Campground.
Changes to Visitor Services Due to Sequestration

Due to mandatory, across the board budget cuts, some visitor services at Olympic National Park have changed. See the Plan Your Visit section for more information.
Visiting Quinault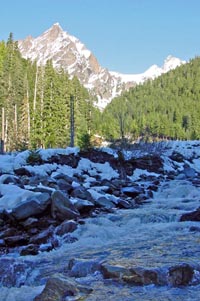 Location:

The Quinault Valley is a wilderness gateway to alpine meadows, jeweled lakes and ice-carved peaks. For shorter visits, the valley has a scenic loop drive and short trails through temperate rain forest in both Olympic National Park and Olympic National Forest.
Quinault is located in the southwestern area of the park, about a three-hour drive from Port Angeles and one hour from Forks (directions).
General information about the facilities, trails, camping, and regulations can be found on the Quinault Valley brochure (pdf).
Places to Stay:

There are two campgrounds in the Quinault Valley, the North Fork campground has 9 campsites and the Graves Creek campground has about 30.
There are also a variety of lodging opportunities in the nearby area.
Recreation:

A good place to start is the Quinault Rain Forest Ranger Station, open Thursday-Monday, June-September. The Quinault Valley has a number of short hiking trails, including a short 1.3 mile loop to the old Kestner homestead, and another that winds through groves of bigleaf maples.
Longer hiking trails through the Olympic Wilderness follow the North Fork Quinault River to the Low Divide, or the East Fork Quinault River to the historic Enchanted Chalet.
Nearby Areas:

Queets is a short drive to the west. Kalaloch is a little further, about 35 miles away. Make sure to consult the Getting Around page for mileages to different park destinations.
Did You Know?

Olympic National Park protects the largest unmanaged herd of Roosevelt elk in the world. Olympic was almost named "Elk National Park" and was established in part to protect these stately animals.