Madison Falls Trail Closed for Repairs Beginning July 7

The one-tenth mile Madison Falls Trail and trailhead parking lot located in Elwha Valley will close to public entry beginning on Monday, July 7 while crews make improvements and repairs.
Hurricane Ridge Road Closed to Vehicles Sunday 8/3 (6:00a - noon)

Due to the "Ride the Hurricane" bicycle event, the road to Hurricane Ridge will be closed above the Heart o' the Hills entrance station from 6:00a to noon on Sunday August 3rd.
Birdwatching in Olympic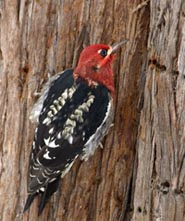 Ken and Mary Campbell
Over 250 species of birds use the extensive and diverse habitats of Olympic National Park and the adjoining coastal waters. In the mountain meadows, you may see blue grouse, woodpeckers, gray jays, and many more. Along the coast, bald eagles, rhinoceros auklets, western gulls, and a number of other coastal birds can be spotted feeding, or nesting in offshore trees.
Some of the particularly prevalent birds include the American crow, common raven, varied thrush, winter wren, Steller's jay, gray jay, ruffed grouse, blue grouse, belted kingfisher, and a variety of warblers, woodpeckers, kinglets, and sparrows.
Check out the photo gallery of birds in Olympic National Park.
Did You Know?
...that one criterion for the determination of a temperate rain forest is that the amount of moss and other epiphytes exceeds the weight of all the foliage (leaves and needles) per acre by at least two times.