Roadway Ditch Maintenance Along Park Roads: Motorists May Encounter Delays

Motorists may encounter delays along Sol Duc Road (9/30 - 10/1), Whiskey Bend Road (10/2), Deer Park Road (10/7-10/8), and Hurricane Ridge Road (10/9 - 10/10) between Sept. 30 and Oct. 1 due to routine maintenance to clean roadway drainage ditches.
Spruce Railroad Trail Closed from Lyre River Trailhead to Devil's Punchbowl

The trail will be closed for improvements from the Lyre River TH to approximately 0.25 miles east of Devil's Punchbowl. Work is expected to be completed by the end of October. The remainder of the trail will be accessible from the Camp David Jr. Road TH. More »
Safety Advisory: Mountain Goats

NPS has received reports of aggressive mountain goats near trails at Hurricane Ridge, Royal Basin, Seven Lakes Basin, Lake of the Angeles, & Grand Pass. Visitors are required to maintain a distance of at least 50 yards from all wildlife. More »
Birdwatching in Olympic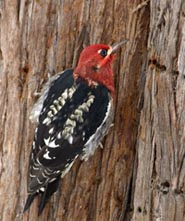 Ken and Mary Campbell
Over 250 species of birds use the extensive and diverse habitats of Olympic National Park and the adjoining coastal waters. In the mountain meadows, you may see blue grouse, woodpeckers, gray jays, and many more. Along the coast, bald eagles, rhinoceros auklets, western gulls, and a number of other coastal birds can be spotted feeding, or nesting in offshore trees.
Some of the particularly prevalent birds include the American crow, common raven, varied thrush, winter wren, Steller's jay, gray jay, ruffed grouse, blue grouse, belted kingfisher, and a variety of warblers, woodpeckers, kinglets, and sparrows.
Check out the photo gallery of birds in Olympic National Park.
Did You Know?

Although related to other marmots and groundhogs of North America, the Olympic marmot is unique. An endemic species, it is found only in the Olympic Mountains. Visitors to the high country of Olympic National Park may be lucky enough to encounter a marmot sunning itself near its burrow.