Ditch Maintenance Along Park Roads: Motorists May Encounter Delays

Motorists may encounter delays along Sol Duc Road (9/30 - 10/1), Whiskey Bend Road (10/2), Deer Park Road (10/7-10/8), and Hurricane Ridge Road (10/9 - 10/10) due to routine cleaning of roadway drainage ditches.
Olympic Hot Springs Road Closed

The Elwha Valley's Olympic Hot Springs Road is closed to public entry beyond the Altair Campground. Olympic Hot Springs is not accessible from the Elwha. The road is expected to re-open by Summer 2015.
Safety Advisory: Mountain Goats

NPS has received reports of aggressive mountain goats near trails at Hurricane Ridge, Royal Basin, Seven Lakes Basin, Lake of the Angeles, & Grand Pass. Visitors are required to maintain a distance of at least 50 yards from all wildlife. More »
Tides and Your Safety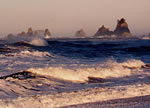 Don't get trapped by a rising tide!
Always carry -- and know how to use -- a tide table, topographic map and a watch whenever hiking along Olympic's coast!
Several points along the coast are only passable at lower tides. Always carry a tide chart, available at visitor centers and coastal ranger stations. DO NOT GUESS! Know when the tides will occur and plan your hike according.
Strong winds or storms can significantly elevate tides and create hazardous conditions. Be attentive to your surroundings and never underestimate the power of the Pacific Ocean.
NOAA Tide Predictions (most accurate)
La Push/Quillayute River Tide Table
Note: for Ozette area & Shi Shi Beach, add 30 min to the times listed on these charts.
When hiking the coast, you will need a topographic map that shows you the headlands that are only passable at lower tides. This map along with your tide table are essential to safely enjoying this rugged wilderness.


Did You Know?
...that one criterion for the determination of a temperate rain forest is that the amount of moss and other epiphytes exceeds the weight of all the foliage (leaves and needles) per acre by at least two times.