Olympic Hot Springs Road Closed

The Elwha Valley's Olympic Hot Springs Road is closed to public entry beyond the Altair Campground during removal of the Glines Canyon Dam. Olympic Hot Springs is not accessible from the Elwha.
Tides and Your Safety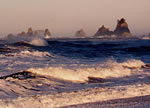 Don't get trapped by a rising tide!
Always carry -- and know how to use -- a tide table, topographic map and a watch whenever hiking along Olympic's coast!
Several points along the coast are only passable at lower tides. Always carry a tide chart, available at visitor centers and coastal ranger stations. DO NOT GUESS! Know when the tides will occur and plan your hike according.
Strong winds or storms can significantly elevate tides and create hazardous conditions. Be attentive to your surroundings and never underestimate the power of the Pacific Ocean.
NOAA Tide Predictions (most accurate)
La Push/Quillayute River Tide Table
Note: for Ozette area & Shi Shi Beach, add 30 min to the times listed on these charts.
When hiking the coast, you will need a topographic map that shows you the headlands that are only passable at lower tides. This map along with your tide table are essential to safely enjoying this rugged wilderness.


Did You Know?

That Mount Olympus receives over 200 inches of precipitation each year and most of that falls as snow? At 7,980 feet, Mount Olympus is the highest peak in Olympic National Park and has the third largest glacial system in the contiguous U.S.